The COVID-19 consumer is forced to stay indoors to avoid getting impacted by the pandemic. In such a scenario, digital/online mediums are the go-to advertising channels for all businesses to connect and engage with this consumer.
As per SmartInsights, Search is still the most important channel driving 68% website traffic, of which organic search contributes to 40% while paid search contributes to 28%
Nearly 46% of all Google searches are seeking local information. The importance of local search will continue to grow with 4 in 5 consumers using search engines to find local information as per Think with Google. Moreover, 18% of local smartphone searches led to a purchase within a day, whereas only 7% of non-local searches led to a sale.
So, how do you convert this organic local traffic faster without increasing the call volume? This is where Google's Business Messages comes into play.
First, let's understand what Google's Business Messages is and how it can help you see unprecedented growth in acquisition and faster conversions.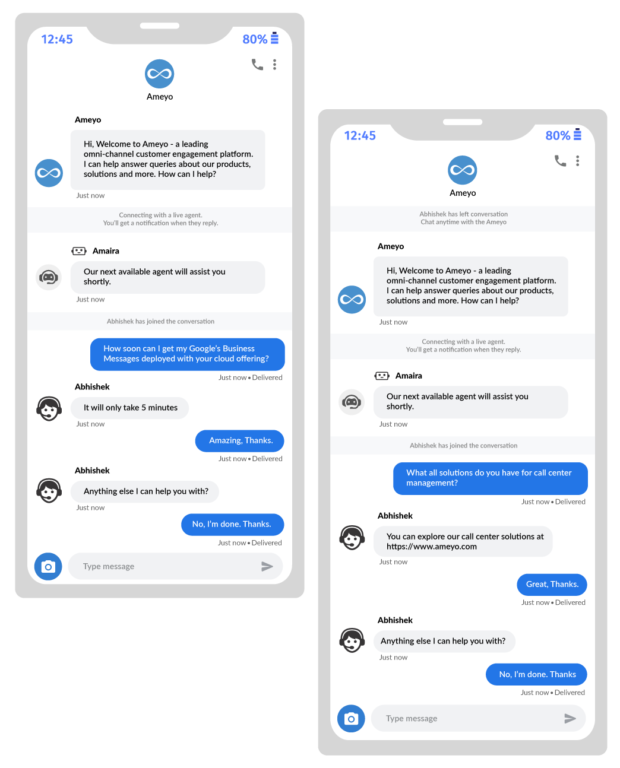 What is Google's Business Messages?
According to Google, "Google's Business Messages is a mobile conversational channel that combines entry points on Google Maps, Search, and brand websites to create rich, asynchronous messaging experiences." 
It adds a "Message" icon to Google Search & Maps on Android devices and allows consumers to initiate a quick conversation with brands using a bot and live agent.
With Google's Business Messages, you can respond to prospects' queries in real-time using Human and Artificial intelligence – bot/automation and live agents to convert them to customers ultimately.
When you engage your prospects and customers in two-way relevant conversations and help them with required local information, they trust your business. This results in improved customer acquisition, high customer satisfaction (CSAT) rates, a measurable decrease in call volume, and of course, quick resolutions.
Which Businesses Should Opt for Google's Business Messages?
Businesses across different industries can find Business Messages exceptionally beneficial for its rich features like carousels, suggested replies, and photos that enhance customer service and support. It lets you expand the conversation to drive loyalty, purchasing, scheduling, and upselling.
Few industries with examples of brands using Google's Business Messages are as follows:
When you integrate Google's Business Messages with a contact center software, you enable your customers to reach out to you directly from Google Search, which otherwise is a multi-touchpoint journey since they search for your business, find your website, fill up a form there and then keep waiting for an executive to return to them. This process might be frustrating at times when a customer would want to hear from you sooner.
Remember, as customers, we all are impatient and expect immediate responses from businesses, be it a purchasing or a support query. Companies that meet these expectations in a quick and meaningful way build strong relationships with their customers. And for this, businesses prefer to have a proactive chat channel to interact with their customers, resolve queries faster, and witness a remarkable improvement in conversions. Google's Business Messages is highly recommended for such businesses.
Benefits of Business Messages
Connect Directly with your Local Business Searchers
Local searches can turn into high conversions if responded with appropriate and insightful information. This is a unique opportunity that can lead your business to improve your overall experience for local prospects. 
Answer Queries in Minimum Time
You can serve more queries via messaging and even integrate a bot for common or usual questions to save your agents' time; however, the bot can transfer the chat to a live agent for precise resolution in minimum time for complex queries. With Ameyo's omnichannel customer engagement platform in place, you can implement intelligent routing algorithms.
Boost Customer Acquisitions
Since it is the most comfortable and most convenient way a prospect can get in touch with your business, you can resolve their queries while sending relevant attachments (images, gifs, videos) with its rich media support. This builds trust and reliability in your prospects and improves your customer acquisition.
Witness Faster Conversions
Business Messages enables you to answer business queries in real-time and build trust with your prospects by showing expected wait times, name, and a picture of the live agents, which allows your customers to know that it is a human-to-human interaction. This enhances your brand reputation and gets you higher and faster conversions.
Google's Business Messages is built on a sheer understanding that customers expect a seamless, smooth, and convenient way to connect with your business, and that's why it leverages you with exactly that and even more with these additional capabilities.
Customize your Welcome Messages
Receive Notifications
Update your Business Hours
Add Photos
Respond to Reviews
Add Agents' Profile Name and Picture
The Business Advantage: Why Ameyo for Google's Business Messages
One Platform for All Channels, Including Business Messages
It is essential to have a unified view of all queries coming through different interaction channels. This saves your agents' time by avoiding any need for toggling between different screens or interfaces and adds to their productivity. Ameyo's omnichannel customer engagement platform helps you optimize the customer experience across the entire conversion journey from Message to Bot to a Human Agent.
Ameyo has been recognized as a reliable name in the contact center space for over 17 years now. With advanced contact center technology, the intuitive platform empowers you with distinguished monitoring and supervising capabilities to keep a stringent track on your business operations. You can manage and monitor all your Business Messages queries through Ameyo's robust contact center software.
Implement in Less Than 5 Minutes
Ameyo's cloud offering for Google's Business Messages empowers you to get started in less than 5 minutes. 
The Enterprise Security Shield
We understand our customers' potential privacy issues; Ameyo is PCI DSS compliant with certified public cloud environments across India, Asia Pacific, Africa, and the Middle East regions. We are ISO 27001 as well as ISO 27018 certified to offer end-to-end security.  
Ameyo offers a 'pay as you go' payment model to reduce the CAPEX costs and scale in a cost-effective way as per your business requirements.
2,000+ brands across 21 verticals have trusted Ameyo in 60+ countries, including marquee brands like HDFC ERGO General Insurance, Sridhar Insurance, Apollo Health and Lifestyle, Zolo, BYJU'S, D.Light, STC Channels, LR Data, SP Madrid, Toppr, Jubilant FoodWorks, Spice Money, Rebel Foods (Faasos), and VistaPrint
To conclude, Google's Business Messages can prove out to be a valuable tool for a business. Direct messaging with the power of influencing local searches can get you an immensely improved customer acquisition, faster conversions, as well as a strong brand reputation with excellent customer experience. So overall, it offers you an excellent return on investment and is a truly recommended new engagement channel for businesses.