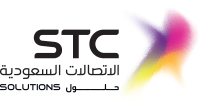 Saudi Telecom Solutions
Ameyo's partner in providing customer engagement solutions in Saudi Arabia.
STCS share a future vision with their customers where the needs of society, the enhancement of education, the attainment of better citizen and customer outcomes, and safer, securer and smarter environments are not just a long term aspiration; they are achievable with them.
STCS is accelerating their customer's digital transformation journey to play a key part in a growing economy; being there for customers, citizens, employees, children, students, patients, and those with whom they collaborate when it matters.
Key areas that they work in:
Healthcare: Smarter solutions for hospitals and ambulances
Real Estate: Protecting asset value, improving planned maintenance, and optimizing location-based services
Education: Creating the next generation schools and universities experience