Call Center Software for Healthcare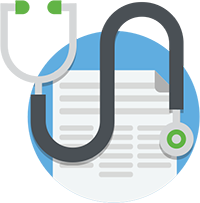 Today, every person expects top-notch customer service and after-sales support. This is further true for healthcare establishments. According to a Deloitte report, tele-medicine will attract 7 million patients by 2018. With the growing relevance of virtual healthcare, improving patient experience, integrating various medical services and streamlining processes will be a top priority for hospitals in the coming years.
Be it via phone calls, e-mail, social media, chatbots or text, customer service agents at hospitals should be able to communicate with the patients and their family member in the most fluid manner.
In short, there is a growing need to leverage CX technology and adopt a customer experience platform that improves buyer's journey with call center software for healthcare.
3 Primary Concerns for Healthcare Organizations
Poor Call Connect Rate: Reaching out to the customers as well as high call abandonment rates
Agent Productivity – Higher agent response time
Keeping pace with multi-channel customer demands: Appointment booking/cancellation, handling complaints
Dial 108 in Emergency
Learn how an emergency ambulance service provider managed to handle 3000+ inbound calls with Ameyo
Ameyo Call Center Software for Healthcare

Improve Patient Experience
Deliver meaningful experience to the patients and their families using advanced features which allow your contact center to surpass patient's expectations.

Securely Maintain Patient Records
Maintain patient records in a secure environment with our robust contact center software for future reference when looking for patient history.

Faster Complaint Redressal
Use intelligent routing to direct the patient queries to the right agent in the first contact itself thus, reducing their hold time and improving query resolution rate.

Post Discharge Engagement
Continue engaging with the patient even after the patient is discharged. Send health tips or checkup reminders over an SMS, email or voice call.
Deliver Superior Patient Experience with Ameyo Fusion CX