Industry's First Mobile Call Center Solution
Full-Scale, Secure Enterprise Call Center on Mobile
Trusted by Leading Brands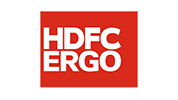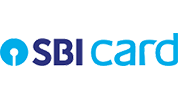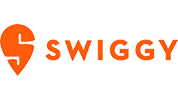 Enterprise Call Center Now on Mobile

Zero Agent Infrastructure Needed
All you need is a Smartphone and Internet – Your Remote Contact Center is ready

Enterprise-Grade Features
Complete call center functionality with high call quality – Business as usual

Ease of Use
No more productivity loss due to tab toggling – Complete Contact Center Suite

Comprehensive Remote Monitoring
Much More than a Cloud telephony solution – Hold your Agents accountable

Enterprise Ready Security
No data storage on agent device – Prevent customer data breach

Infrastructure Monitoring
Track the health of remote agents' system and devices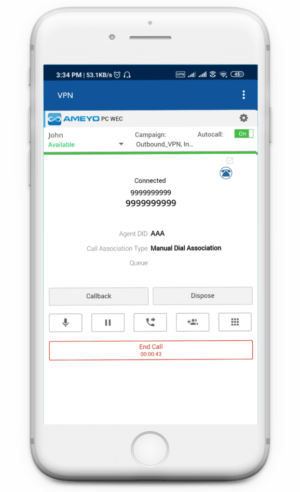 Get Past Your Infrastructure Worries
Minimal Contact Center Infrastructure
Do not limit yourself with infrastructural constraints. With Ameyo Mobile Call Center Agent Application, let your agents deliver high-quality customer service with just a smartphone and stable internet connection. Ameyo Call Center Mobile Agent backed by mobile WebRTC ensures you do not compromise on voice quality while offering top-notch customer experience.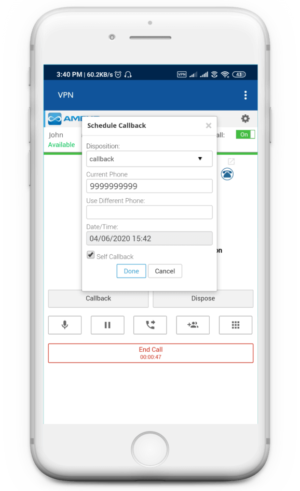 Don't Compromise on Call Center Capabilities
Enterprise Ready Features
Going remote shouldn't mean a gap in your call center management. The Mobile Call Center Agent application is not your usual call center app as it works as a full-on contact center with dialers to automate your outbound calling, WebRTC for voice quality, CTI integration to access all the customer information along with agent self-tracking for routine tasks – calls handled, number of breaks.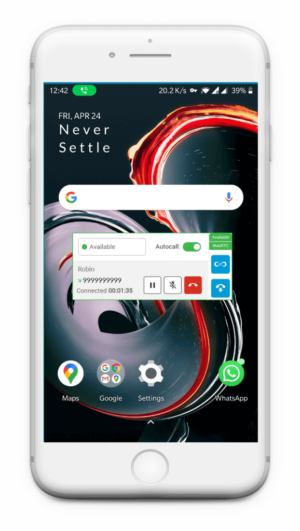 Boost Your Remote Agent Productivity
Ease of Use
Use the Ameyo Call Center Mobile App floating widget to let your agents have quick access to call-related activities while browsing other apps. Agents can simply click-to-dial and even dispose the call from the floating button itself. Additionally, allow the customer service reps to copy and paste data in the toolbar which they can then access in Ameyo.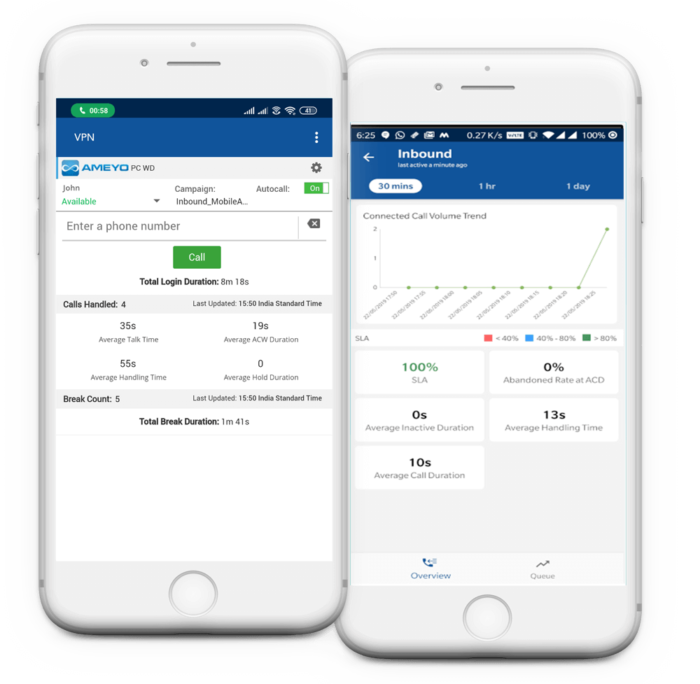 Stay on Top of Remote Call Center Operations
Comprehensive Performance Monitoring
Have complete visibility of call center KPIs with campaign level dashlets for making on the go decisions. Since the agents can easily use Ameyo Mobile Application to do post-call activities like marking call dispositions and notes, the supervisors can view the same to change dialing strategies or aligning callbacks.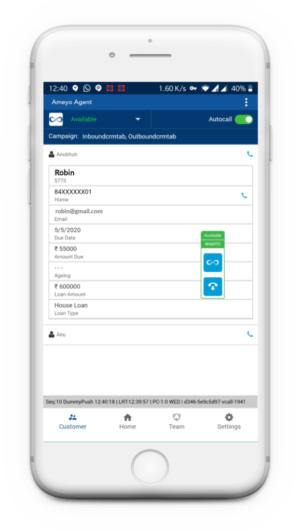 Secure Your Customer Data
Enterprise Ready Security
Even when the agents are using their own Mobile device to manage customer interactions, call center application ensure complete data security with features like IMEI Whitelisting, the ability to block call recording and screenshots along with secure VPN support. Thus, comply with business regulations at all times.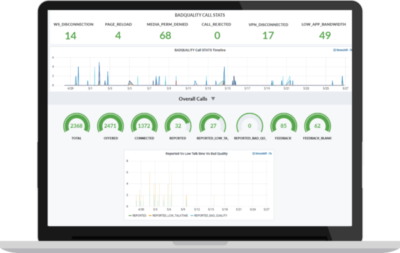 Overcome Remote Infrastructural Challenges
Infrastructure Monitoring
Monitor the health of devices and systems of your remote agents irrespective of their work locations. Managers and supervisors can make use of Ameyo's contact center application advanced monitoring and reporting capabilities to fetch Device Management Report to identify call failures due to device (mobile) failure and derive and take corrective measures.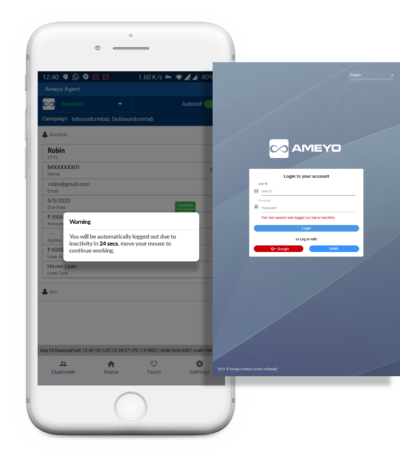 Higher Remote Agent Work Adherence
Session Timeout on Agent Inactivity
The session on the app will automatically log out when the agent is inactive for a time duration, which can be configured by the supervisor. The session disruption is reported as "Inactivity Auto Logout"  to supervisors to enable precision on agents' productive hours. Moreover, the agents are nudged to remain active with a notification before the session timeout.
Make the Most of
Ameyo Call Center App Features

Inbound and outbound Calling

CTI Integration

Digital Channels

Live Chat

IMEI Whitelisting

Click-to-Dial

Superior Call Quality

Consistent Metrics Tracking

Dispositions & Notes
Experienced and Trusted by 2000+ Customers worldwide
Not The Usual Call Center App
How Ameyo' Mobile Agent App compares with other Mobile Call Center Solutions
Watch Ameyo Mobile Agent Application in Action
See how Spice Money Improved its remote contact center agents productivity in two weeks' time
Ameyo empowered Awash Bank with an end-to-end system
Ameyo empowered us with an end-to-end system that was easy to use. Furthermore, we were delighted with the capability of the solution to match to our specific business processes and enhance our customer experience
Yohannes Tsegaye
Director, Customer Experience Directorate | Awash Bank
Ameyo is a feature-rich solution with several integration capabilities
We have been using Ameyo to handle our calling operations and the journey has been really good so far. It is a feature-rich solution with several integration capabilities, which truly makes Ameyo our first-ever choice in contact center solutions space. What further aligns Ameyo with us is our shared vision of expanding in the Middle East region and I am sure Ameyo will help HalaSat in the mission.
AlHashem
Contact Center Manager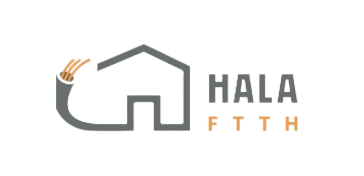 We are really pleased to use Ameyo's service, especially the salient feature of VoiceBot
We are really pleased to use Ameyo's service, especially the salient feature of VoiceBot which is enabling Human Line Conversation. Our customers interact with Ameyo's VoiceBot by perceiving it as a Liveperson, so they respond in a similar way. Moreover, we can able to achieve a 40% cost saving on operational costs due to automated calls.
Thanks a lot for the Wonderful Product.
Special Thanks to the team for patiently handling our request & delivering beyond expectations.
Kumar Konar
Collection Head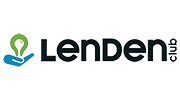 Ameyo helped Gulf African Bank make their business more efficient and profitable by offering them unique solution
At GAB we have had the pleasure to use the system for about 2 years now. Overall, it has been able to meet the desired expectations that we had as well as improved our quality of service.
Phidelis Mwarenge
Contact Center Team Leader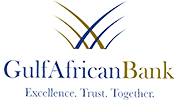 Metro Edge Technologies increases its productivity by 60%
Ameyo's Remote Contact Center Solution has helped us increase our productivity by 60%. It is a very effective solution that helps our agents
Kingsley Bennett
CEO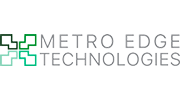 Khan Bank chooses Ameyo because of its highly efficient, flexible, and secure solution
The implementation scale was huge with lot of complexity. It was a major task for us to comply with security requirements and other business requirements. The project team worked effortlessly, satisfying all the requirements.
Bilegt Tumurkhuyag
CX Senior Specialist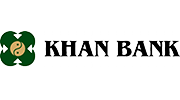 <
>
Frequently Asked Questions