Automated Call Center Software
Experience Enhanced Customer Engagement and and Customer Contact Solution To Engage With Your Customers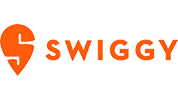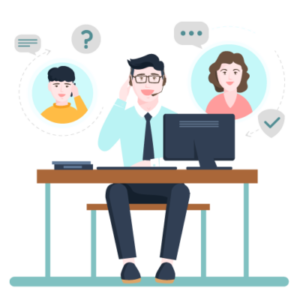 Outbound and Inbound Call Centre Software
Ameyo call centre solution software help businesses in Nigeria to deliver an exceptional customer experience with advanced capabilities of Customized IVR, Intelligent Routing, Auto Dialer, CRM Integration, Robust Call Monitoring System, and Precise Reporting for performance tracking. With proven expertise in Inbound Call Center Software, Outbound Call Center Software, and Blended Call Center Software, many reckoned businesses in Nigeria trust Ameyo call center solutions for their specific requirements.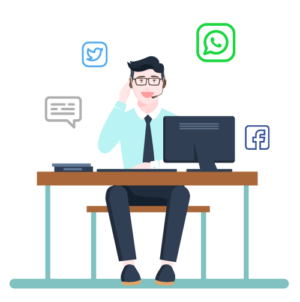 Omnichannel Customer Support
Your customers don't want to wait to talk to an agent over call, they have their channel preferences. Businesses are now moving to omnichannel customer contact solutions where their customers can reach out to them via Voice Call, Email, SMS, WebChat, Mobile In-App Chat, Social Media Platforms like Facebook, Twitter, and Instagram, and Popular Messaging Apps like WhatsApp, LINE, and Viber. Ameyo's Omnichannel Contact Centre Software offers all these channels on a single platform where your agents can handle queries without toggling between the screens.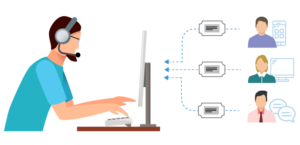 HelpDesk Software
Modern contact centers use helpdesk software to streamline their customer conversations while keeping track of all customer requests via automated ticketing capabilities. These ticketing operations are highly preferred by businesses that require to work within pre-defined SLAs, Ameyo Help Desk Software offers Auto Ticket Creation, Ticket Prioritization (Based on AI-Powered Customer Sentiment Analysis ), as well as Configurable Automated Workflows. Ameyo Fusion CX brings together the capabilities of omnichannel customer contact solution and helpdesk software.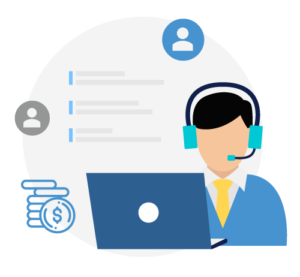 Debt Collection Software
Businesses in Nigeria trust Ameyo Collect for its advanced features of a Debt Collection Software with Automated Dialing capabilities. It is an automated debt collection software that allows you to discover, prioritize, and recover debts faster. It offers automated bucketization, intelligent dialing, smart reminders, backend interactions, mobile support, and quality monitoring, all in one platform. Ameyo Collect can be smoothly integrated with enterprise-grade CRMs and ensures secure transactions with robust quality monitoring dashboards.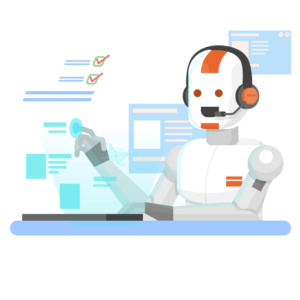 Automated Call Center Software
Customers want their queries to be resolved in the least possible time and this has led businesses to adopt automated call center software. Automated customer service and support can dramatically reduce overall TAT and streamline your customer conversations without having customers waiting on an IVR. Ameyo Voicebot automates your call centre operations and enables you to witness as high FCR as 80% by answering repetitive customer service queries via bot.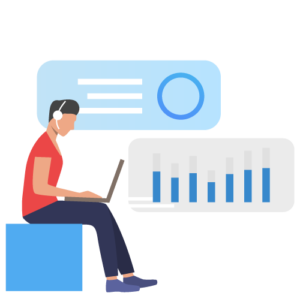 Remote Call Centre Solutions
Ensure unremitting business operations while your workforce is working remotely. Many businesses in Nigeria have already deployed Ameyo Remote Call Center Software Solutions to ensure business continuity. These solutions enable your agents to work with their smartphones and laptops from remote locations with all the call center capabilities. Ameyo's remote contact centre solutions embrace advanced contact center features with strong real-time call quality monitoring capabilities.
Call Center Software Features That Boost Productivity

IVR System
Ameyo provides a customizable IVR system that helps businesses to deliver exceptional customer engagement to their customers. Welcome greetings and tones and business-specific IVR scripts can be incorporated using the Ameyo IVR system.

ACD
Automatic Call Distributor ensures that businesses connect their customers to the right agents to ensure high FCR. Ameyo ACD is an intelligent system that routes customers based on various algorithms like Skill-Based Routing, Preferred Agent Routing, and Behavioural Pattern-Based Routing.

Auto Dialer
Automate your outbound call center operations by adding an auto dialer in your call centre software. Ameyo offers Predictive Dialer, Preview Dialer, and Progressive Dialer that you can choose from, per your business requirements.

Click-To-Call
Ameyo offers a Click-to-Call feature to enable your agents to dial customer numbers with a single click, without having a need of manually dialing out. Businesses can improve their operational efficiency by click-to-call capability.

Unified Agent Desktop
Enable your agents with a 360-degree view of the customer journey irrespective of the interaction channel. Ameyo offers a unified agent desktop that ensures complete visibility of customer insights and their historical conversations on a single interface.

Call Monitoring
Live call monitoring is an essential part of Ameyo Call Centre Software. It empowers call center managers and supervisors to ensure high call quality by listening to live calls and recorded calls, and keep track of each agent's performance on monitoring dashboards.

Reporting
Ameyo call centre software solutions incorporate a variety of reports to get deep insights on agents' performance, campaign performance, and to keep a track of overall productivity. The reports are schedulable and are essentially important in making informed business decisions.

Automation Rules
With Ameyo contact center in place, you can configure the routing and automation rules according to your business's specific requirements to ensure automated call center operations and improved customer satisfaction rate.
Upgrade your Legacy PBX System to the Modern Contact Center Software
Choose On-Premise or Cloud Based Call Center Software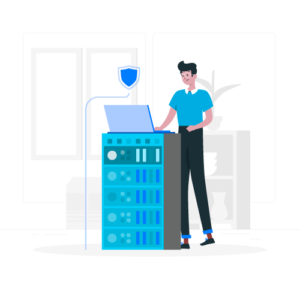 On-premise Call Center Software
If your business requires on-premise call center deployment with servers physically placed on your premises, Ameyo On-Premise Call Center Software is the right solution for you. With on-premise call center software, you can have great control over the server security. It involves more investment which returns enterprise-grade security.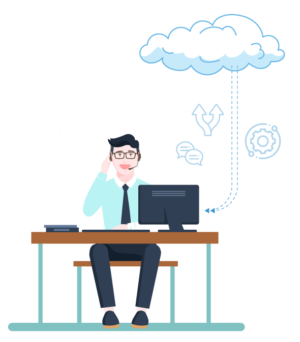 Cloud-based Call Centre Software
Cloud-based contact center software eliminates infrastructure costs and is highly scalable when you want to expand your business. Ameyo offers Cloud-Based Call Centre Software that brings high-end security to your call center operations. It prevents data leakage with VPN security and lets you converse with your customers without any security issues.
See how Dalex Finance Increased Their Lead-Conversion Rate from 25% to 60%
Ameyo Helped us in Attaining our business goals
Ameyo paved the way for us by automating solutions to our requirements. We have been able to monitor our execution of the business processes, consequently expanding our presence and attaining our business goals

National Life & General Insurance Company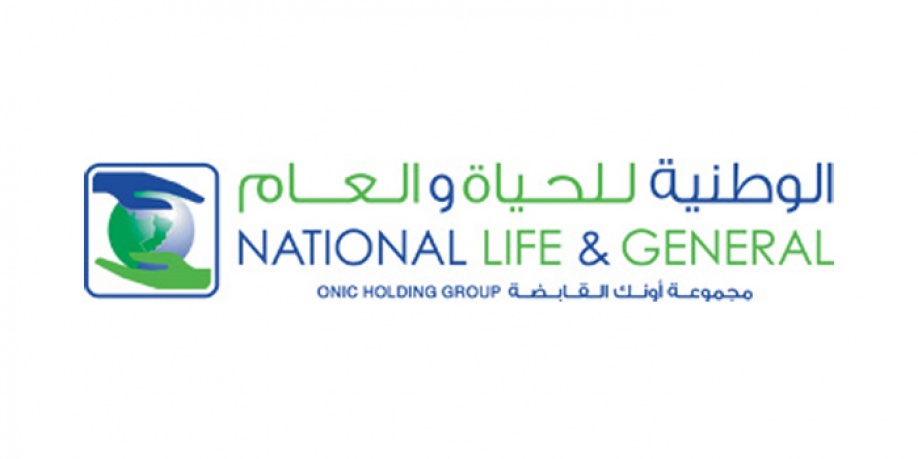 Supportive and Cooperative Team
Ameyo Engineers, Account Managers, and Project Manager are supportive and cooperative. They immediately attend to our requests and very patient in understanding our requirements.
Jeffrey Montiano
IT Manager, Admerex Solutions

Our Customer Satisfaction Improved Greatly
Ameyo ensured the proper monitoring of issues is done because of which 'Chili' has increased customer satisfaction greatly
Nitish Kumar
Manager, MTML

Advanced Capabilities to Improve Customer Experience
Ameyo assisted us to enhance our customer experience with its advanced capabilities.
Ian Madrid
General Manager SP Madrid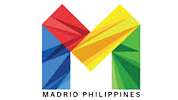 Ameyo customized the Solution as per our Requirement
"We wanted a flexible solution with customization as our organization progressed. Ameyo understood our business well and programmed the call flow and the telephony. I think it's incredible."
Sharmistha Majumdar
General Manager, Customer Service – Spoton

Empowered us with an end-to-end System
"Ameyo empowered us with an end-to-end system that was easy to use. Furthermore, we were delighted with the capability of the solution to match to our specific business processes and enhance our customer experience"
VIKAS KAPOOR
ASSOCIATE DIRECTOR-IT INFRASTRUCTURE, JABONG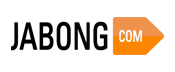 <
>




Sankar Rao A.
Director - Products
Ameyo software is being used as a CTI for Ola customer and partner support. The software has met the expectation of Ola and we were able to extend it to meet Ola's unique requirements.





Shivam M.
Sr Network Engineer
Our connectivity increased with retry time and campaign settings.Working with AMEYO has a great experience mostly in terms of Customer support on any issues identified. Ameyo is economical. Its flexibility with interating different CRM and it will keep stable.





Ehab M.
Head of Electronic Banking
Easy to use and customize application with excellent support team





Mitesh S.
System Support Engineer
I like this software because of the capability to handle large numbers of call flows. I like the efficiency of this software like how it works and gave us the option to supervise the agents activity on a real time basis and the proper reports which helps alot to conclude many things.
The Ameyo Advantage
Leader in Customer Experience & Contact Center Solutions
Honorable Mention in Gartner Magic Quadrant for 3 Years
Awarded Frost & Sullivan Asia Pacific CCI Leadership Award
Deloitte Technology Fast 500 ASIA PACIFIC, 2014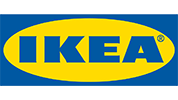 ---
Take your Customer Experience to the Next level with
Ameyo's Customer Engagement Platform