Uplifting Contact Center Operations (2022 Edition)
The upside of change: a bright future of contact centers
Since the world has been hit by the COVID-19 pandemic, industries across the globe have transformed. For contact centers, we are probably in the middle of the transition of the century. The contact center industry, which was perceived among least remote-friendly ones, has adopted the remote solutions fast are and now one the largest business enablers for different industries.
In this guide, we discuss how the contact center industry is transforming in APAC, Africa, and India.
What Will This Guide Offer?
Stats and insights on latest contact centers practices
Quick actionable suggested by experts (including Michael Bellido - Nearsol, Krenz Michael Monsalud - Reliance United, Sachin Bhatia - Ameyo, Ramanshu Mahaur- Spinny, Maureen Blessing Ebony - Outcess, Ikenna Odike - Outcess)
Region and industry-based key challenges for contact centers
Solutions and strategies to address key challenges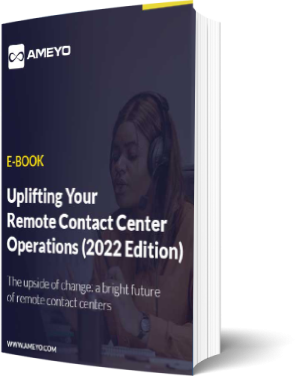 Explore our cloud contact center solution which is PCI DSS compliant with enterprise-grade security.