CTI Integration
Ameyo offers an all-in-one CTI Integration to improve your customer experience allowing you to Save Time, Increase Productivity, Track Results, and Improve Customer Satisfaction.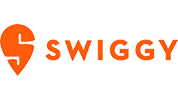 CTI: Meaning & Introduction
Computer Telephony Integration (CTI) technology allows computers and telephones to interact and exchange information. With auto-identification of the callers from CRM, the agents can answer them better by checking the basic customer details. Computer Telephony Integrations solution is prominently used in call centers to manage inbound and outbound calls to increase human agents' productivity.
Why Do Call Centers Need CTI Integration?
Benefits of investing in CTI for Call Centers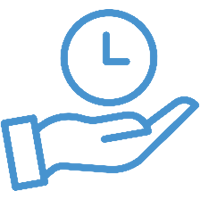 Save Time
All the relevant customer information is available on the agent's screen to have a contextual and meaningful conversation while eliminating the need for the customers to repeat themselves. It ensures faster resolution of their query - thus, improving customer satisfaction.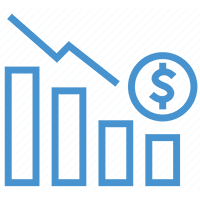 Reduce Costs
Doing away with desk phones to handle all the inbound and outbound calls from computers is more cost-effective. Additionally, using WebRTC and headphones can help you save on procuring and/ or maintaining expensive PBX system infrastructure for your contact center

Boost Productivity
Intelligent call routing and click-to-call functionality combined with seamless CRM integration arms agents with all the important customer information on a single screen to trace customer journey and provide a consistently delightful experience.
CTI for Powerful Customer Engagement
Application of CTI CRM integration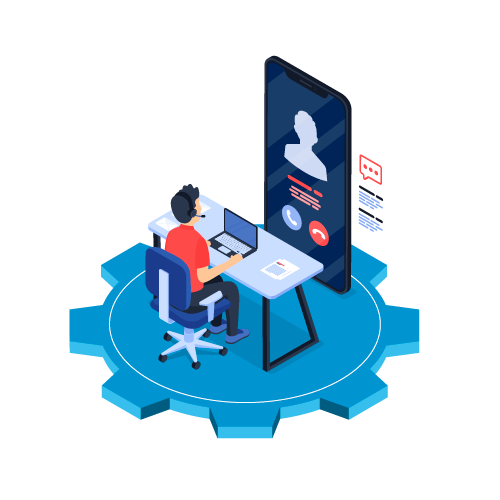 Call Management from Your Computer
With computer telephony integration, IT desk phones are not necessary. The agents can receive and make calls from their computers themselves – with click-to-call functionality. Not only that, the agents can perform all the call functions (answer, hang up, transfer, hold, mute, conference, etc.) without needing a separate device.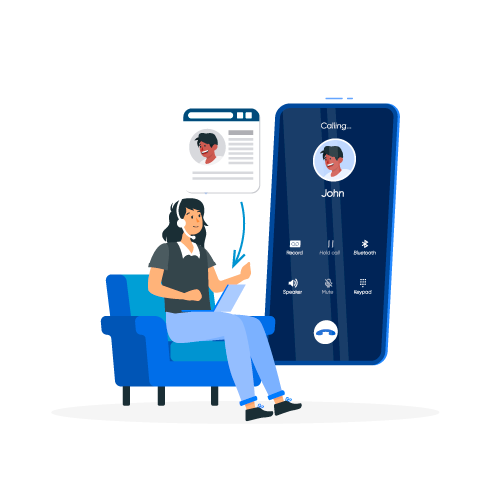 Automatic Identification of Callers
The Computer Telephony Integration system automatically identifies the user by cross-referencing their details from the CRM database. This particularly helps in eliminating the need to repeatedly ask customers for their details which is more annoying than time-consuming.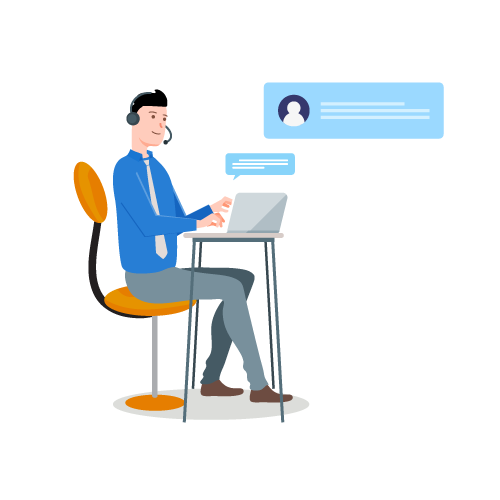 Screen Popups for Contextual Conversations
An automated screen pop on the agent's screen alerts them about the customer or prospects' information such as their name, company, photo, email id, etc. With this information at their disposal, agents can greet them professionally and offer a personalized experience – while improving agent efficiency as they do not need to search multiple databases or toggle between tabs.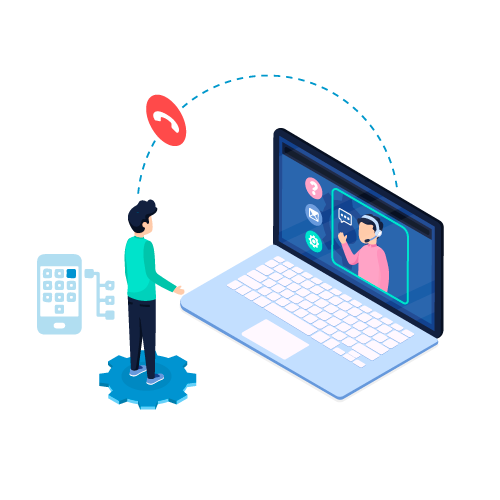 Intelligent Call Routing & Distribution
Automatic call distributor (ACD) and interactive voice response (IVR) integration combined with CTI tools can be used to route inbound calls to the right agent or department. The routing algorithms can be set based on the agent's skill, language, the location of the caller, their IVR input, and other factors. Being transferred to the most-suitable agent helps to improve first contact resolution and customer satisfaction.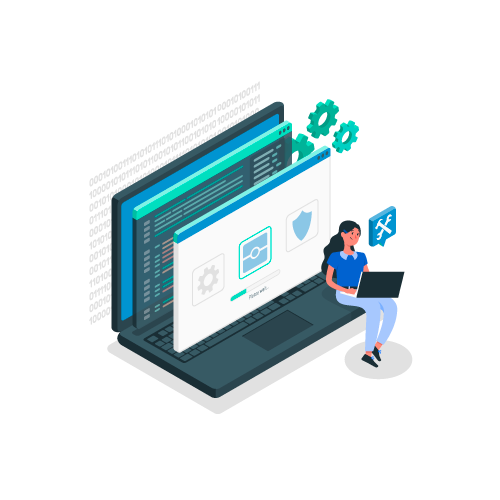 Keep Systems in Sync
Call center integration allows you to integrate a number of systems – the most common ones being CRM, helpdesk, database, and ticketing platform integrations. Having all your call center systems work in sync allows your agents to instantly access all the relevant information to deliver a delightful customer experience.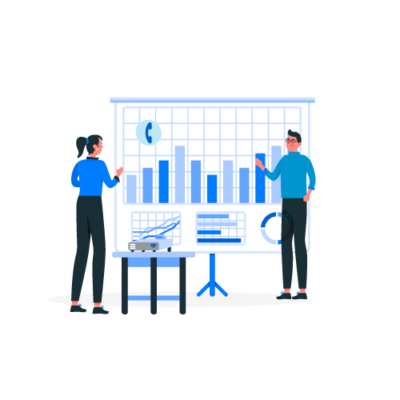 Call Recording and Analytics
CTI allows for call monitoring, call recording, and real-time and historical reporting to provide call center managers with a comprehensive understanding of agent performance that helps them in making data-driven and effective decisions that are aligned to the business goals.
Functions of CTI Integration
Key Features to look forward to

Automated Screen Popping
Automated screen pop-ups deliver agents with the information they need to help resolve customer issues as swiftly as possible. The information displayed includes the dialers name, email address, location, calling history, etc providing the agents with the required information. 

Automated Dialing
The automated dialing feature enables agents to connect to more potential customers in a shorter period of time, enhancing business and revenue. 

Phone Controls
The automated phone control uses collapsible telephony panel that enables phone control features, like – hold, mute, transfer, conference, and others to ensures that the agent doesn't have to go back and forth between the call center software and phone throughout the calls allowing them to successfully defeat distractions and focus on the customers.

Call Routing/Transferring
For companies receiving a large number of calls, knowing where to send the call becomes pivotal. Automated call routing enables you to forward calls to the right places as and when they come in ensuring that the customer needs are met quickly.

Native Platform CRM Integration
Along with CRM, Ameyo offers integration compatibility with leading ERPs, Core, and other operational systems of your industry to enhance customer communication by delivering consistency in customer service, driving a higher customer retention rate.

Floating Widget
Floating widget is a feature of the mobile app and toolbar integration. Ameyo telephony panel turns into a floating widget, enabling the agent to leave the application/CRM window and access other things. As a widget, it  can be resized or moved easily and it leaves you free to do other things on the system.

Call Recording
Call Recordings data enabling the agents to check and listen to those recordings right from the CTI. It helps them be more efficient by understanding their discussion better and deliver better services to the customers in the future. It helps agents save time as they don't have to search information through multiple databases.

Call Analytics
Call analytics is an important function for your call center as it helps understand the level of service the agents offer. Call analytics also helps you enhance employee performance leading to a better customer experience.
Integration Types Offered by Ameyo
CRM Integrations can broadly be classified into two categories, based on the host system. In other words, the agent might be required to work on the CRM, where Ameyo acts as an add-on voice component, or they might be required to work in an omni-channel environment within Ameyo, where the CRM now acts as an add-on data repository.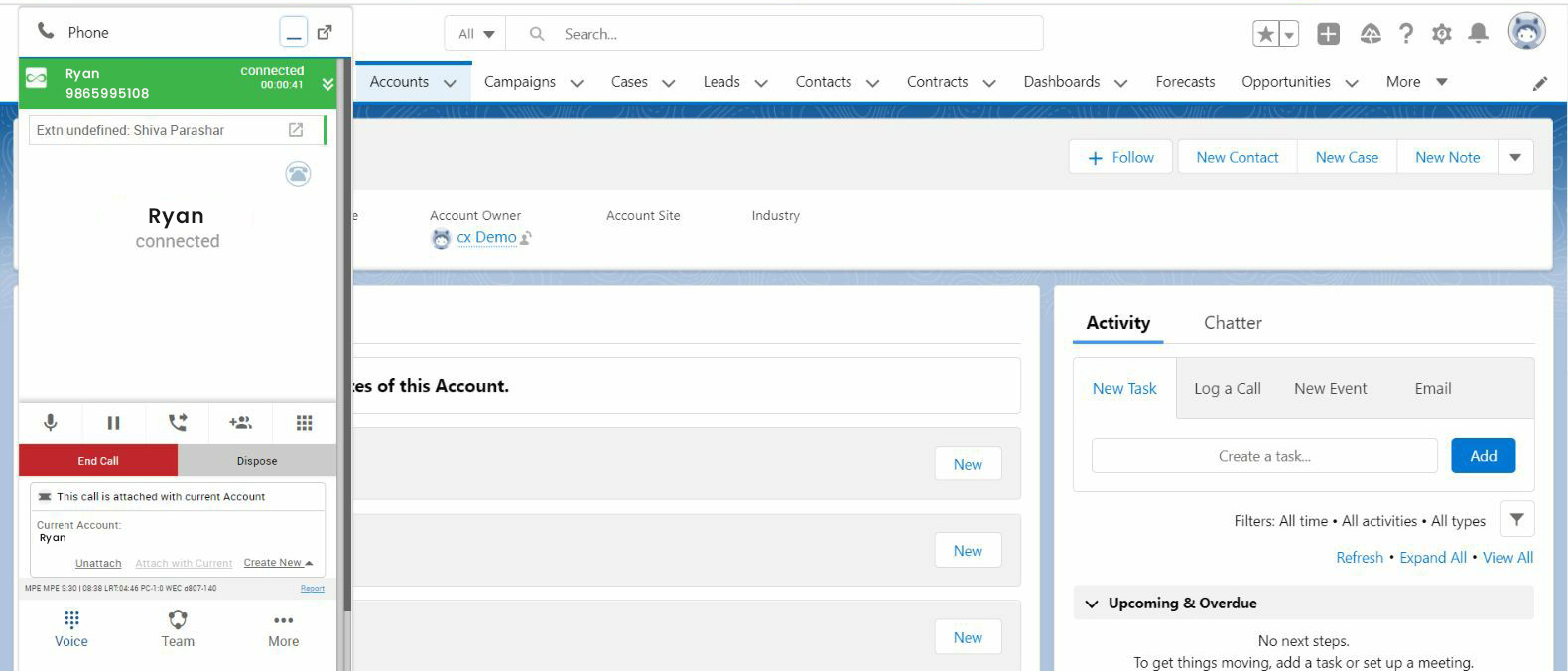 Web-Toolbar Integration (CRM as a Host)
In the WebToolbar approach, the host CRM provides Ameyo within an iFrame, in which the Ameyo Toolbar appears. The toolbar provides the agent with voice capabilities like auto call status selection, call transfer, call conference, hold, disposition selection, as well as an overview of their own performance. This approach provides the CTI only for inbound or outbound voice calls.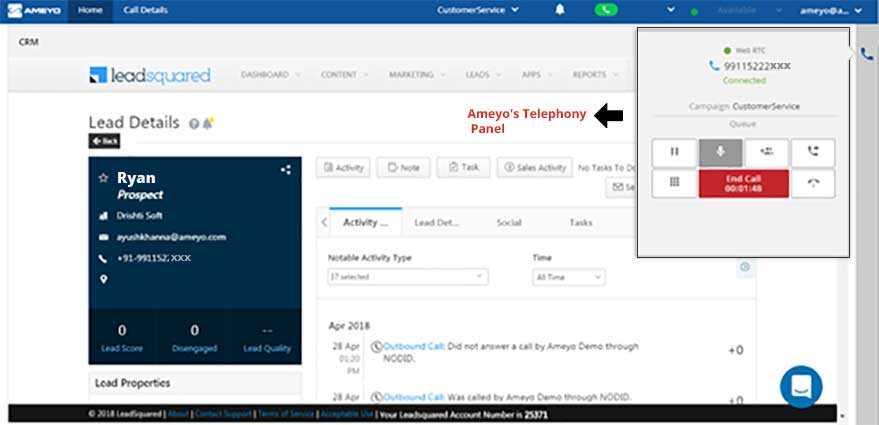 URL based CRM Integration (Ameyo as Host)
In the URL based CRM approach, CTI integration is achieved by displaying the target CRM page, within an iFrame, on the agent interface. Ameyo's agent interface acts as a host which means the agents will log into Ameyo platform and CTI will be available for all the channels. This integration is done with CRMs and systems like LeadSquared.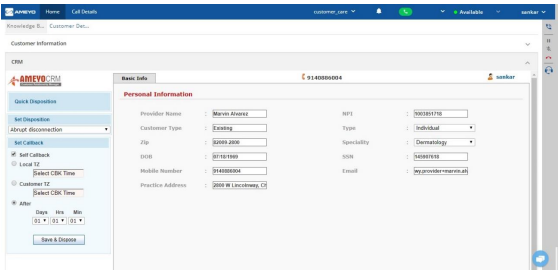 Web Services based CRM Integration (Ameyo as Host)
This approach employs a combination of RESTful/SOAP APIs and Ameyos mini CRM to showcase customer information to the agent on the Ameyo CTI. Ameyo uses APIs, DB connectors or Web Services to fetch the customer's information from the CRM or database, and showcases it on the CTI on a customized Ameyo mini-CRM. This integration can be one-way (read only) or two-way (read and edit).
In search of the right Business Integration Tools for your Business?