CRMs have proven to be an integral part of businesses. Organizations across the globe have realized that CTI (Computer Technology Integration) offers a plethora of functions and capabilities to companies compared to simple onsite CRMs.
With the addition of CTI integration with Salesforce, businesses that encounter a high volume of incoming calls and whose sales teams make a lot of outbound calls witness a dramatic efficiency leading to better sales and revenues.
Although many businesses have hopped on the omnichannel solution bandwagon in recent years, voice or phone calls still remain the most preferred communication channel. 
A study conducted by North Ridge Group found that 56% of the respondents still prefer the phone to reach out to the customer service desks because it's effortless.
This inference from the study suggests two possibilities:
Businesses still need to strengthen their presence across non-traditional touch-points

The phone is the best medium to articulate one's concern or pain-point even when alternative communication channels like text, chat, or social media are becoming popular.
This brings us to our discussion about CTI, a technology that connects rugged phones to a computer system to deliver a smooth experience for all types of voice communication.
Keep reading to learn more about a CTI integration in Salesforce and how to leverage it to get the maximum potential from your support and sales teams.
What Is CTI & Its Application
CTI or Computer Telephony Interaction is a call center technology widely used by customer service teams to improve the interaction with customers. The technology essentially unifies the computer with the telephone system and can be configured at two levels –
Desktop: CTI integration with desktop helps showcase rich data in the form of a screen pop-up. This allows agents to view complete customer information even before the call is connected with the customer.

Call Routing: Helps in identifying the caller and routes it to the correct department or agent. Additionally, agents can also transfer the call to relevant agents/departments, put the call on hold and even dispose of the call.
Why Is CTI Relevant for Call Center Interaction?
Revenue and efficiency are two primary concerns for businesses today. Both these entities are tied down to call center interaction for an excellent reason.
If a customer gets a satisfactory answer or resolution to a query in the first call, it becomes the critical driver of customer satisfaction, ensuring loyalty and trust.
With effective CTI integration in place, when a customer calls in, the agent does not waste time hunting customer information; everything is visible in a single view. Typically, the agent may view the following field of information about a customer:
Personal information about the caller
Account status
Status of the ticket-open, closed, reopened
Previous call logs
Complete chat history
With instant access to the above information, not only does the agent productivity increase, and the first call resolution (FCR) rate of the call center is also high.
It is estimated that a 15% increase in FCR results in a 57% reduction in repeat calls. This is good news since handling a query within the first call may increase customer retention by 96%.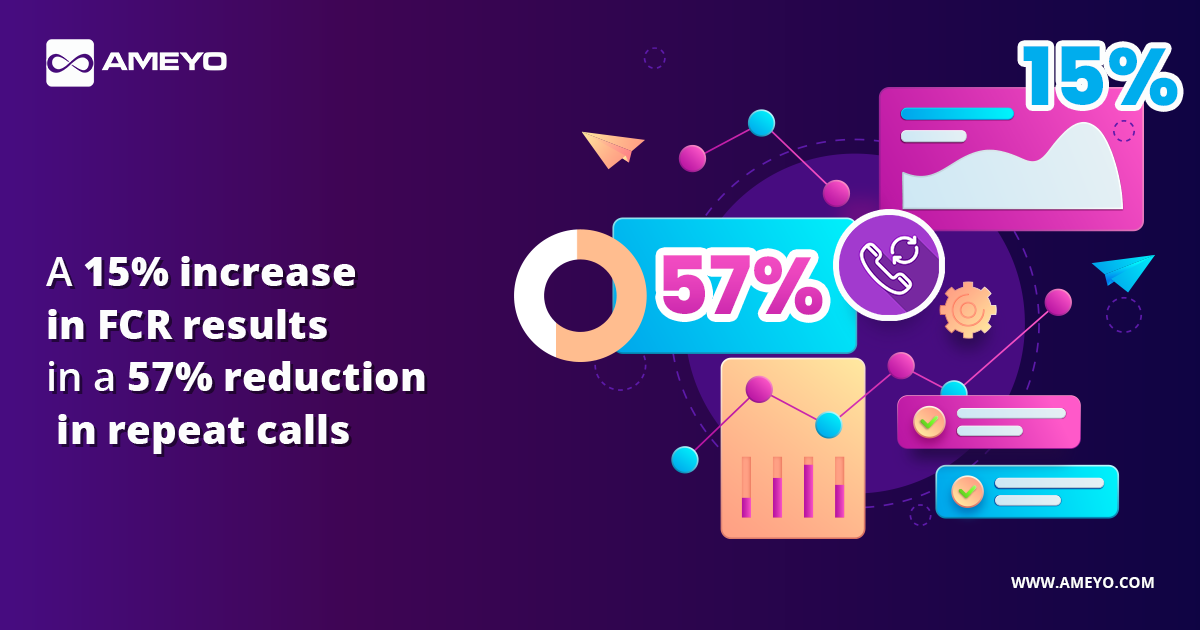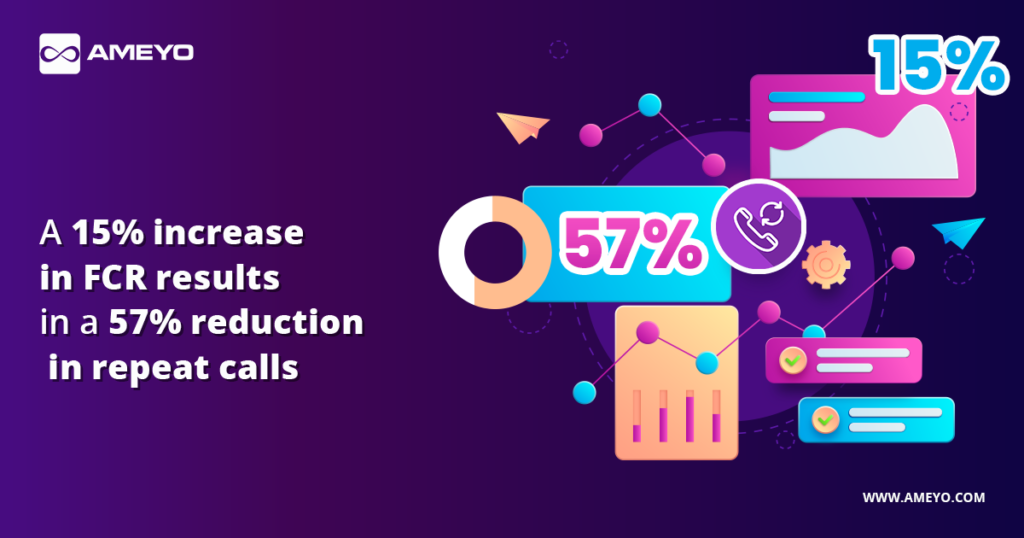 To summarize our discussion, the relevance of CTI in terms of call center productivity can help businesses:
Saves Cost & Resources: CTI also leads to a significant reduction in cost and improvement in resource-saving for organizations in various ways. This may include reducing CSR churn, a drop in the price of customer database errors, reduction of telephone network toll expenses, reduction in liability cost, etc.

Reduce In-Call Handling Time: The CTI display offers all the relevant information even before the call is connected so that the agent can provide a quick resolution. The agent can wrap the call quickly and will be able to take more calls in a short amount of time.

Reduce Aggravated Session: The customer no longer needs to repeat their query to an agent in subsequent calls; therefore, instances of aggravated call sessions are relatively lower.

Facilitate a Positive Agent Experience: Since the agent can accommodate several customer requests in a short duration of time that too with minimal instances of irate, the agent experience is better. They feel empowered and do optimal justice to their jobs.
What Is a CTI Integration for Salesforce? – How Does It Work?
Salesforce, as we know it, is a leading CRM!
A Salesforce Open CTI is a framework developed by Salesforce that enables other third-party solutions like Ameyo, to easily integrate with Salesforce, without putting a strain on the API count.
A salesforce telephony integration provides an essential link between computer systems and modern telephone systems. It is a highly valuable tool and is known to help sales and support teams make and receive calls across devices.
Customer support teams are the front troopers of any organization. To deliver exceptional service on call, they need to be in sync with all the information that is being updated in the CRM.
With Salesforce CTI integration, agents can get a 360-degree view of the customer in real-time. This is necessary for building a rapport with the customer as well as improving a positive customer experience.
The following illustration aptly depicts how Salesforce CTI Integration works –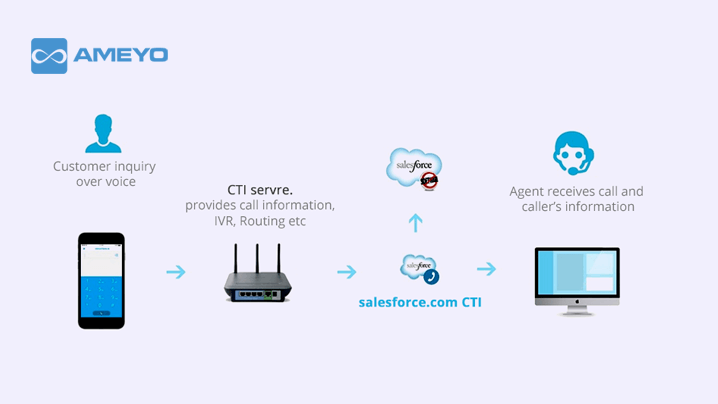 Transforming Salesforce Into an Integrated Sales Engine
Agent Efficiency Gets a Whole New Meaning: Agents no longer have to switch between applications with a single username and password authentication. Everything is visible on a single screen.

Automated two-way synchronization: All the information is synced in real-time; this ensures that the agent has access to updated information. This is no lag, and agents can service the customers better.

Integrated Dashboard Fosters Sales: With Salesforce integration, tracking sales activity is a breeze. Supervisors can also instantly manage agent performance in real-time. They can procure information related to call source, ongoing calls, and call duration.

Eliminates Human Errors: The click to dial feature allows agents to call a customer directly from the CRM. There is no need to punch the number manually, thus eliminating any instances of human error.
Ameyo's CTI integration in Salesforce empowers your business to convert phone conversations into data instantaneously. Here's what you get with Ameyo's CTI integration in Salesforce:
Click To Call
Case Association
Smart Automations
Live and Historical Reporting
Call Recording
Quality Monitoring
CTI Pop-up
Automated Dialers
Inbound Call Management
Call Telephony Options
Call Scheduling
Call Dispositions & Notes
Mobile App Support
Wrapping Up
In a nutshell, enterprises that have high customer traction rely on CRM solutions.  Integrating the platform with call center software will be incremental in improving contact center efficiency.  
Salesforce is one of the most popular cloud CRM platforms that is used worldwide. It is an integral part of customer experience solutions.
Therefore a telephony software that can be integrated with Salesforce can improve customer experience by manifolds.