Built for Modern Enterprises Call Center Software
Ameyo's Contact Center Software delivers Highly Scalable Customer Engagement with Enterprise grade security
Why Choose Ameyo's Call Center Software?

Full Scale Call Center Features
Take Customer-Agent interactions to the next level with Ameyo's feature-rich call center software solution. Be it inbound, outbound or blended campaigns – call center management was never this easy. Effective Call Routing, Bulk outbound dialing ,Real time monitoring and 100+ Call Center KPI reports.

Enterprise-grade Security
Ameyo is committed to protecting your customer data and information. To ensure enterprise-grade security, we follow the standards and best practices defined by International Security Frameworks such as PCI-DSS. This ensures a secure way to process customer information

Easy and Flexible Deployment
Ameyo offers a number of call center deployment options – from a cloud contact center to an on-premise setup or a hybrid solution. Take advantage of Ameyo's flexible and scalable platform to setup a contact center that suits your unique requirements
Key Highlights of Ameyo Call Center Software

IVR
Effectively route calls to the right department based on caller input

Auto Dialer
Make outbound calling easy with an automated dialing system

ACD
Auto distribute your calls to the best-suited agent via routing

CTI
Easy access to all the customer information for better conversion

Call Monitoring
Ensure high call quality by monitoring real-time calls

Reporting and Dashboards
Get better visibility and hold on every metric that matters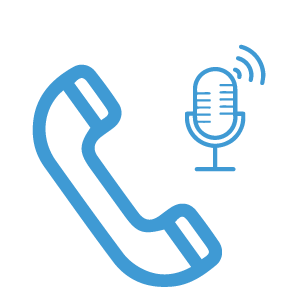 Call Recording
Recording every call and use these recordings to score your agents

Automation Rules
Improve the overall productivity with automated workflows
Call Center Software Solutions That Boost Agent Productivity
Empower your agents to perform faster call resolution with Ameyo Call Center Software. Enriched with advanced capabilities and features that enable your agents to save their time and increase their efficiency with automated operations and managing different tasks on a single interface, this call software can just be the right fit for all your customer support operations.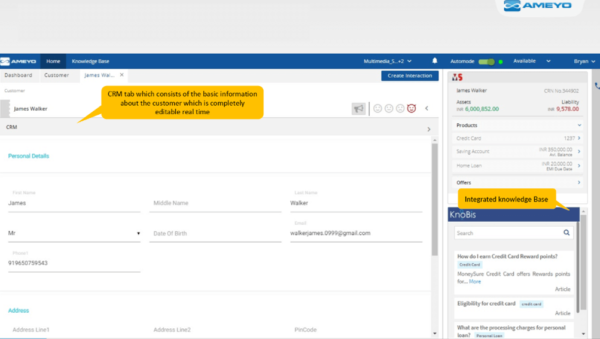 No More Toggling Between Screens
Enable your agents to access all customer queries, customer insights, and their interaction history on a single interface – Unified Agent Desktop. With UAD, your agents do not have to switch between different tabs to manage multi-channel interactions. All of the customer data is available on a single screen which saves the agents' time and increases efficiency.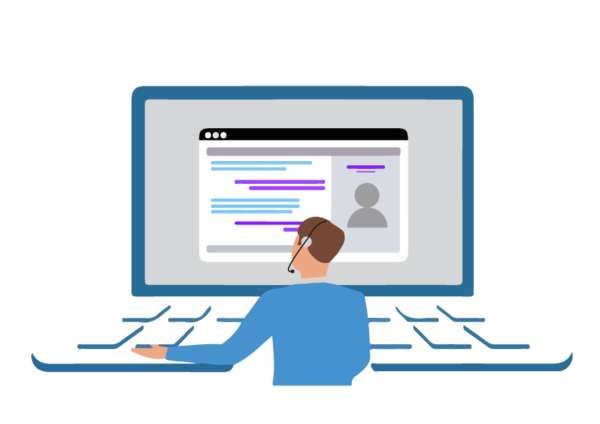 Have Context-driven Conversations
Never lose the context of a conversation with Ameyo's Call Center Software. Identify your prospects and customers' most preferred channel of communication and any interaction using email, chat, call with a single click. Easily filter missed interactions, push and pull customer data from CRM or other third party systems to ensure faster resolution time.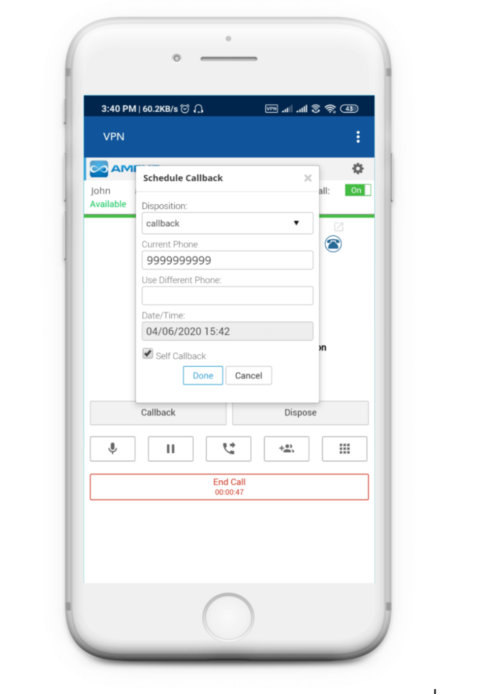 Convert your Smartphone into a Full-fledged Call Center
Ameyo offers business continuity solutions to let your agents work remotely with their mobile phones. Ameyo Mobile Agent Application is a complete mobile contact center solution that empowers your agents with- auto-dialers to automate your outbound calling, WebRTC for enhanced voice quality, and CTI integration to access all the customer information. Also, it offers agent self-tracking for routine tasks such as the number of calls handled and the number of breaks taken.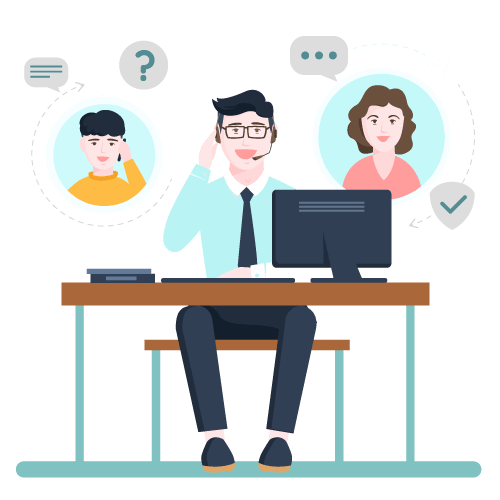 Collaborate to Resolve Customer Query Faster
Encourage a collaborative approach to solve problems faster and effectively. With Ameyo's collaboration features, allow your agents to seek help from the supervisor or colleague via internal chat. At the same time, the supervisor can broadcast announcements for all team members. This combined with the call conferencing allows your agents to have quality conversations and resolve queries faster.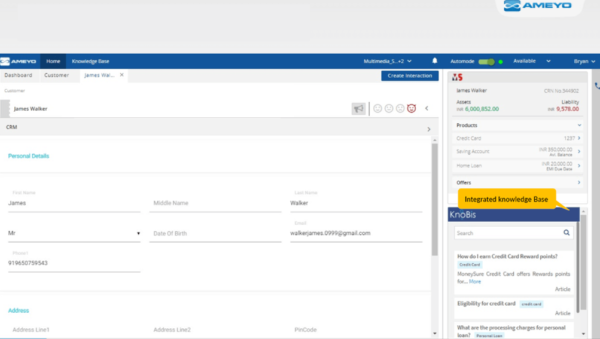 Empower your Agents with an Integrated Knowledge Base
Empower agents to resolve customer queries faster with an integrated knowledge base. Let them get easy access to information that helps them solve a customer query in less time. The knowledge base can be customized based on your business specific content – common questions that your customers ask, some product-related articles, or anything that can help your agents to deliver informed answers.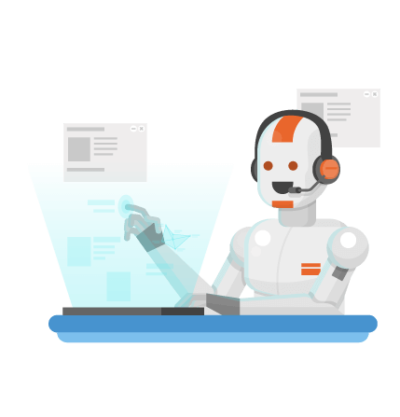 Offer Intelligent Voice Assistance
Have personalized customer engagements with Ameyo's Call Center Software powered by artificially intelligent bots. Perform seamless, two-way business to customer interactions using an interactive voice-based conversational interface. Scale Customer engagement with machine learning and natural language processing by enabling customers to self serve using trained datasets.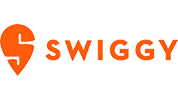 Looking to make your agents' lives easier?
Call Center Management Software That Promises Robust Quality Monitoring
A Call Center Management Software incorporates a variety of monitoring controls that empower call center managers and supervisors to keep a track of overall operations and productivity. Ameyo Call Center Software brings the ability to track and measure every customer service interaction call recordings, and live call monitoring. This quality monitoring leads to informed business decisions and improved strategies.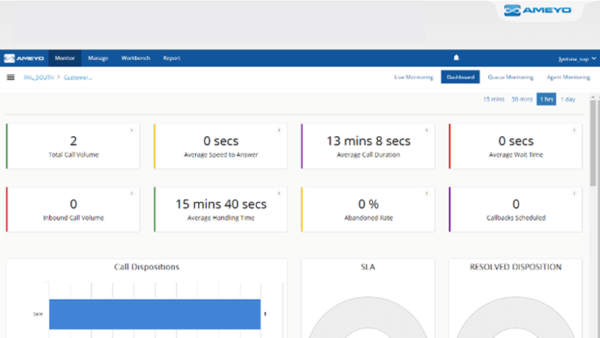 Call Monitoring
Ameyo Contact Software allows you to easily monitor agents' performance to ensure that quality standards are maintained. Ameyo call center management software offers real-time call monitoring with capabilities like snoop, barge, whisper, as well as force log out an agent and taking the control of a live call. This ensures data-driven feedback from managers and leads to enhanced customer experience.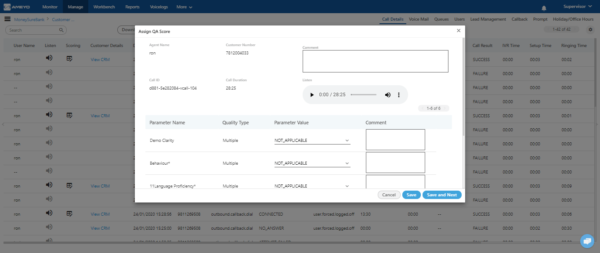 Call Scoring
Evaluate your agent's performance based on important call center metrics and other quality parameters with Call Scoring Capabilities. With Ameyo's customer call center software, the supervisor can listen to the call recordings and score them accordingly. The manager can also filter the call details based on assigned color-codes and identify which calls have not been evaluated. Managers can extract agent scorecards as reports to keep a track of agent performance and provide well-informed feedback to the agents with Contact Software.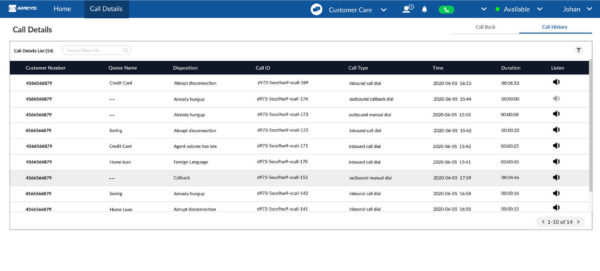 Call Recording
Ameyo Call Recording feature allows you to keep a log of call history records in Voice Logger for a period of 6 months which can also be archived for several years. It lets you quickly search through your voice records while enabling you to listen to call recordings with a single click player.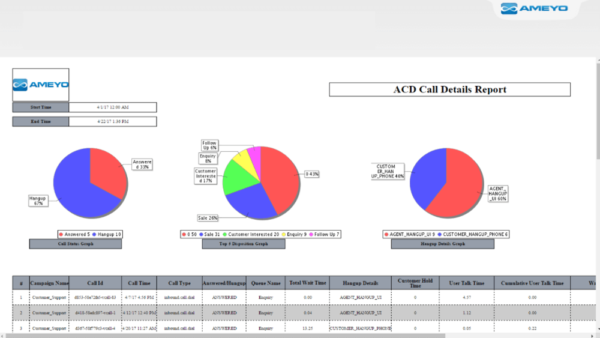 Performance Reporting
Ameyo offers performance reporting with a comprehensive view of business-specific operational metrics, as well as call parameters and service-level agreement statistics. It shows a variety of metrics- lead penetration, the number of inbound calls handled, the number of customers waiting at ACD, average call duration, and other important call center metrics. Graphical presentation of all these metrics are available on dashboards and can also be fetched and scheduled as reports in different formats- HTML, PDF, XLS, and CSV.
Inbound and Outbound Call Center Software: Features and Capabilities
Manage your inbound and outbound call center operations with Ameyo's Call Center Software. Enhance your customer service operations, helps you increase overall productivity, and achieve maximum performance outcomes.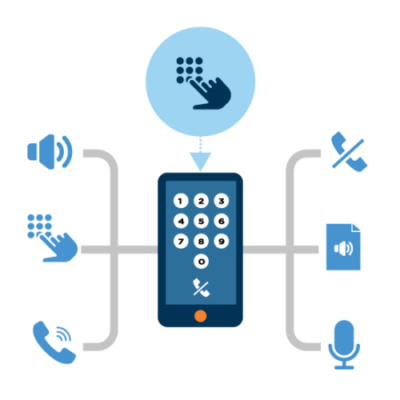 IVR
Transform your customer support with Ameyo's Inbound Call Center Software that lets you customize your Interactive Voice Response (IVR) software. Ameyo IVR Software offers multi-level IVR that enables you to seamlessly route your customers to the right agent via customizable call flow mechanisms.
Automatic Call Distributor(ACD)
Intelligently route your calls to the best-suited department and agent with Ameyo's Inbound Call Centre Software power by advanced ACD System. It lets you incorporate a variety of intelligent routing rules such as Skill-Based Routing, Preferred Agent Routing, and Behavioural Pattern-Based Routing to ensure the calls land to the agent best suitable to resolve the query in less time and with maximum customer satisfaction.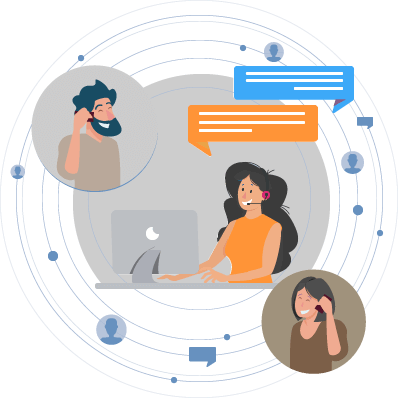 CTI
With the right inbound call center solution in place, your agents can get a complete view of the call history of the customers. The agents can easily see all the customer information on their screen, edit it, and update it in real-time. Thus, CTI or computer telephony integration makes it easy for your agents to quickly grasp the context of the query and have well-informed quality conversations. Ameyo very well integrates with third-party systems and enterprise-grade CRMs- Zendesk, LeadSquared, Freshdesk, Zoho, MS Dynamics.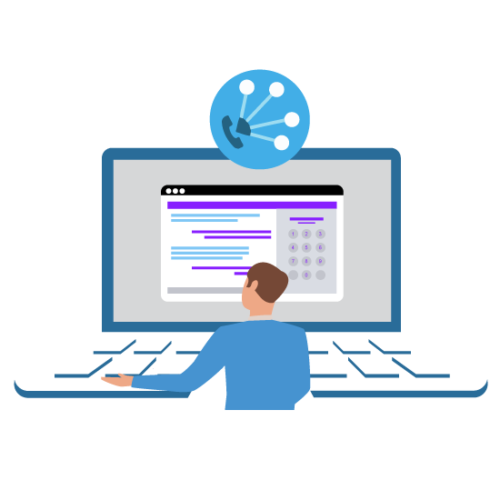 Auto Dialer
Improve your call center productivity with a dramatic increase in call connect rate. Ameyo Auto Dialers enable you to optimize your outbound calling process by reducing the average call handling time of agents and increasing the number of connected calls. Choose from Predictive Dialer, Preview Dialer, and Progressive Dialer to accelerate operational efficiency while reducing call drop rate.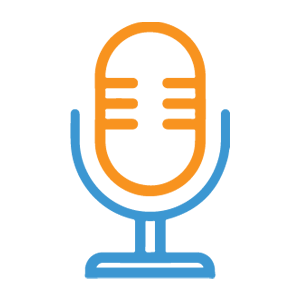 Voice Blaster
Voice Blaster or broadcast dialing is a mass communication technique that allows businesses to send mass messages instantly and simultaneously. It is a highly effective and powerful tool for telemarketing and businesses to promote new product, service, or campaign
Discover how a leading food ordering and delivering company achieved 80% improvement in agent utilization to transform the customer experience.