Interactive Voice Response (IVR) System for Call Centers
Identify and Route Every Customer Call To The Best Suited Agent based on Caller's Input with an Intelligent IVR system
What is IVR?
Interactive Voice Response (IVR) is a technology to automate your inbound calls by allowing businesses to interact with customers through pre-recorded voice messages with DTMF input using a keypad. An IVR system interacts with callers, gathers some essential information, and routes call to the appropriate agents.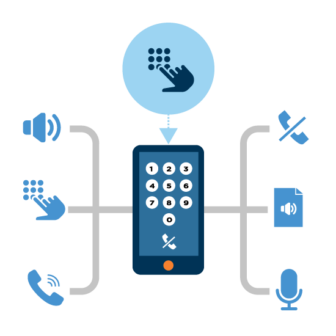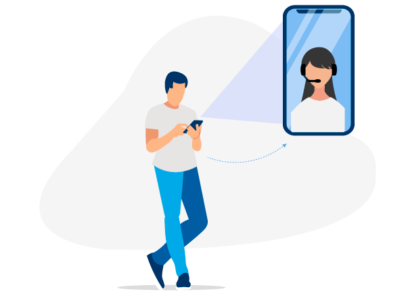 Why Do Businesses Need IVR?
There are a number of benefits of an IVR software solution for different industries. For eg. A banking IVR can be used by customers to know their bank balance while freeing the customer service executive time to manage critical queries. Among others, an IVR solution helps to increase customer service efficiency, handle incoming call spikes ,boost customer satisfaction when complemented with auto call backs. If set up correctly it can uplift your customer experience.
What are different types of IVR System?

IVR for Self-Service
An IVR System or automated voice allows businesses to service high call volumes at a lower cost. It can identify and route callers, and resolve their queries without transferring to a live agent. Calls are transferred to live agents only when the caller requires further assistance.

Hosted IVR
When an IVR solution is installed on a hosted software platform, it allows businesses to access the IVR application on the internet. This enables businesses to deliver 24/7 customer service, even after office hours. It helps you gain loyalty and improve customer satisfaction rates.

Agent-Assisted IVR
An agent-assisted IVR software helps a contact center to optimize its operational costs while delivering consistent customer service. The agent can dynamically direct pre-recorded messages to initiate a conversation with the customer, without the customer knowing about the agent's involvement.
When Do Businesses Use an IVR Number?

Automate Customer Care
Provide the callers with an option to self-serve while automating routine queries

Collect Feedback
An IVR dialer is an effective channel to gather callers' feedback or run a survey

After Hours Customer Support
Play a pre-recorded message mentioning you are closed and your office timings for post office hours calls

Personalized Experience
Customize your IVR flow and messaging based on callers' region, transaction history, or other relevant factors

Reduce Operational Costs
IVR systems replace a receptionist or a customer service agent who answers calls and directs calls to agents

Improve First Call Resolution
Direct callers to the most appropriate department and qualified agent to avoid call transfer and increase customer satisfaction
Trusted by 2000+ Brands across 60+ Countries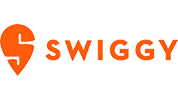 Setting up your IVR for the Call Center was Never this Easy!
Ameyo's Smart IVR Solution for Enterprises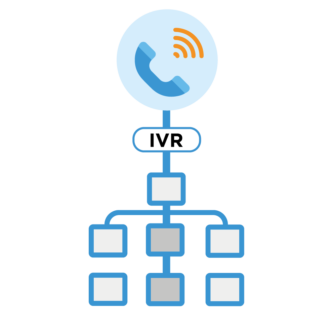 Design Personalized IVR
Design an IVR according to your business needs. You can define your personalized IVR flow with IVR scripts, professional greetings, call waiting music, specific actions on different numbers, and more. Smart IVR optimization ensures that your IVR script aligns with the overall messaging of your business to maintain consistency and hassle-free customer engagement.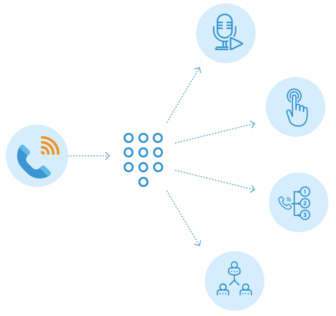 Redefine Flexibility
Experience a high level of flexibility while designing your IVR flow with configurable workflows. Recording and playing custom prompts, intelligent call routing, queue management, or defining about business hours – everything can be done with simple drag and drop options via Ameyo Synthesizer. With Ameyo's smart IVR software, you can turn your customer interactions way more efficiently.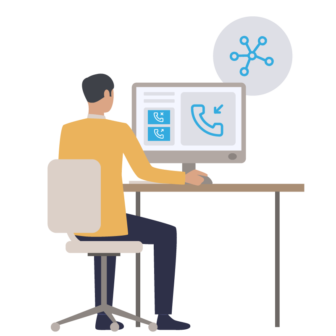 Self Service Automation
Free-up your customers from waiting to talk to an agent or customer support team for common queries. Let your Interactive Voice Response System do it for you. A dynamic IVR system reduces the workload of the agents and lets them pay their attention to more pressing matters and encourage the customers to be self-reliant to solve their issues.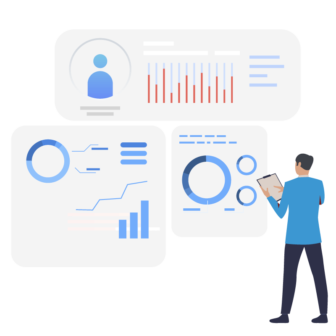 Let the Agents See Conversation Context
Make your agents informed about the IVR data as per the DTMF input of the caller using a configurable iFrame available in the agent's toolbar. Here the agent can view all the relevant data so when the customer calls again to talk to an agent or while their first call is transferred to an agent, she/he should be able to view the IVR inputs entered to better understand the customer's problem.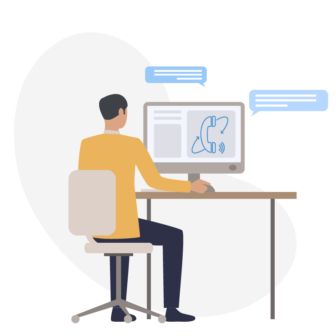 Manage High Call Volume with Customized Call Flows
Ameyo's advanced IVR Solution offers configurable controls such as play advertisement, play a specific message during peak call traffic. Additionally, you can also configure the node flow to map a backup agent for your high-value customers in case of preferred agent routing. So, even if the relationship manager is not available, the mapped agent can attend to the caller and resolve their query.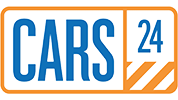 CUSTOMER SUCCESS STORY
See how Cars24 improved their Lead Conversion while significantly reducing the overall TAT
Frequently Asked Questions