A CRM (Customer Relationship Management) system enables small businesses to streamline business processes that involve customers and potential clients and scale their sales operations. CRM is one of the most valuable systems that a small business can implement to establish deeper customer relationships and to convert these relationships into sales opportunities. As your business grows, you can no longer rely on spreadsheets or basic databases to keep a track of the customers and their relevant details. It will not be possible for you to manually research, maintain and interpret the customer records to increase the number of leads and improve conversion rates. A CRM software allows businesses to capture key customer details, track the output of customer outreach programs and enhance customer service capabilities.  
In fact according to a recent study, companies with a fully utilized CRM system can increase sales by 29%.
Here are 6 benefits of CRM system for small businesses:
Effective Customer Interactions
CRM system enables sales reps to have a 360 degree view of the customers, thereby developing longer and more profitable customer relationships.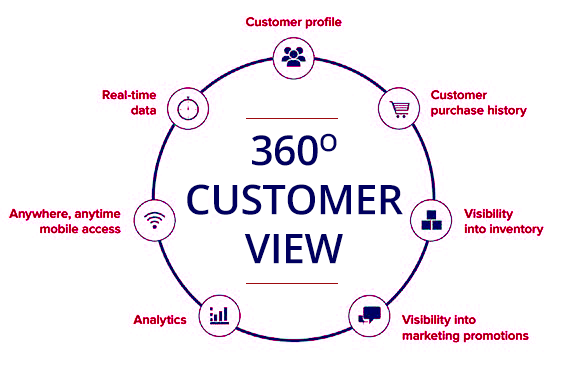 With this, one can have a much richer and more personalized conversation due to easy access to customer's history and previous interactions. It helps in building trust among customers as you remember what is important to them and what their interests are, thus promptly answering their queries.
Effortless Team Collaboration
An effective CRM system keeps the information centralized and aids your team members in centrally tracking sales pipeline and sales probabilities. Users can easily access and edit shared data about every customer touchpoint. You can better manage the supply of products by clearly analyzing the impact of marketing campaigns. This tool ensures that everyone is on the same page as it keeps your entire team in the loop and anyone can add notes, mark actions and act on potential problems- all in one place.
Automate Sales Tasks
CRM tool automates crucial sales tasks such as tracking sales appointments, lead follow-ups and post-sales activities. It has the ability to track all the sales and marketing activities in one place and also provides an alert when you are required to pay attention to a hot prospect. It takes care of majority of the administrative tasks, manage customer records and make follow-up contacts for you, thereby allowing you to have more time for more impactful activities such as meeting clients and running your business.
Easy Integration with Other Software
CRMs can easily integrate with other business management solutions such as accounting, project management and data processing software, desktop applications and web services. It empowers a more complete and holistic view as you can match your customer information with all your other business processes. Easy integration with email and social media activity makes it possible to manage, prioritize and respond to customer email and social media notifications on a real-time basis. Now, you can convert more leads from email by turning your emails into a conversion funnel and better manage your email campaigns.
Analyze Sales Performance
It is critical for small business owners to identify where future business is going to come from. A CRM system analyzes present sales performance and also works as an opportunity management tool. It determines the scope of future revenue and scrutinizes if the current sales processes require additional focus or if your team needs further sales coaching to deliver superior results.
CRM also helps in diagnosing potential service and support issues to make your business more proactive to customer problems.
Maximize Upselling Opportunities
Attracting new customers is more costly and time-consuming. As you have already invested in building customer relationships, why not make the most of it by keeping those customers loyal by upselling. A CRM can definitely help you in this. Upselling is the sales technique where additional products or services are added to the original purchase.
I have already stated above that a CRM software provides the sales representative with a 360 degree view of the customer. So, based on all the past interactions and contacts that a particular customer has had with the organization and analyzing that information intelligently, one can come to a conclusion as to what can be offered to the customer that he is more likely to buy. The purchase history information in your CRM plays an integral role in generating recommendations for additional purchase.