Advertisers love to promise fantastic features to products that make things like detergent seem equal to Superman. Obviously, this cannot be. Detergent of any kind will do what it does: wash clothes and try and remove stains as best as it can. No matter how hard advertisers try, Superman will not use detergent to defeat his enemies. So advertisers should focus on telling us what the product really and truly does without glossing over the facts.

Consumers want the honest truth and they appreciate simplicity in everyday things. Calling a spade, a spade is what they need but something advertisers do not provide. When companies honestly advertise or provide useful information about their products and services, customers will relate to that. Giving customers what they promise will result in loyalty and customer retention as they will be satisfied with what they got at a competitive price.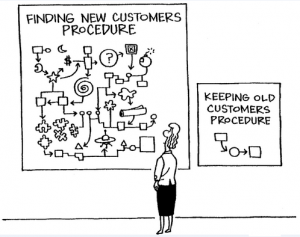 Working towards customer retention and loyalty
Marketers constantly have to work towards gaining more customers, retaining existing ones, and innovating their products and services. Juggling all these with the changing market trends and social media trends is hardly easy. However, once customers are satisfied with your product, half the hurdle is crossed. These customers will also help boost your sales and revenue with word-of-mouth advertising, recommendations, and viral marketing. The last one has turned to be one of the biggest and most effective ways for customers to advertise a brand, enterprise, or product.
Customer loyalty and retention depends on how you perform at the market. Your products and services have to adhere to set standards of quality and fulfill the customers needs. Once that is achieved, enterprises have to work hard to provide support whenever customers ask for it. Enterprises earn brownie points when they are proactive and call customers personally to ask them how the product is performing and if any improvements can be made to make their lives better. Dedicated service and customer support will help you increase customer loyalty. This valued customer base will itself turn into a business generator by focusing on the service quality of your support cell.
Superior customer service is the distinguishing factor for the success of any firm. Moreover, it is more expensive to acquire a new customer or pull one from a competitor than it is to do repeat business with a current customer. The right contact center software ensures high-quality service with minimal installation, maintenance, and expansion costs. The call center solution will help you address customer needs on the basis of priority and provide an enhanced experience. It will make a life for the agents easy with interactive and simple UI, which will, in turn, help them service customers with a smile.
As an enterprise, stick to a simple motto: If your agents are smiling, your customers are happy and that will move the business towards higher profitability. Isn't that what we all want?