Smart thinking has paved the way for smart technology. In the era of rapid digitalization, smart technology is the all-in-one tool for the tech-savvy individual. Banking, shopping, communication, sight-seeing, official work, social media, and even healthcare are incorporated into a smartphone. Anything from any corner of the globe is within reach now. The globe really has shrunk.

In a recent report, the Times of India said that smartphone usage has increased by 89% from last year. This is very significant change with regards to the communications and technology sectors. As the use of smartphones trickles down from the urban areas to the rural areas, smartphone manufacturers and telecom providers have a new and different audience to cater to. Specialized services, apps, features, and upgrades have attracted the urban population towards the smartphone race and the same will hold true for the rural audience. The question will be: what more can a smartphone do?
So what more can smartphones offer?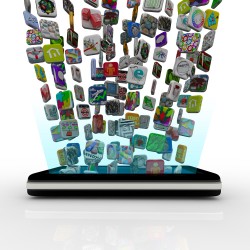 For developers of smartphone software, the focus is on providing a plethora of apps on an easy-to-use interface which makes juggling various applications simultaneously, an easy task. For telecom providers, the focus is on exploiting the mobile VAS (value added services) market to the maximum so that their customers get the maximum air time, high-speed internet, texting and video call facilities, among other services. Their phones will be an extension of themselves and be used to service all needs.
Telecoms in India are experimenting with 3G and 4G services in parts of India which allows for faster access to online applications and services. Almost all banking and financial institutions have also been vigorously developing secure apps which allow easy movement of money through mobile transfer. This will considerably reduce physical queues as more and more people adapt mobile banking for everyday transactions.
Mobile VAS to lead the revolution
Mobile applications will edge out online browsing as India becomes the third fastest growing smartphone market in the world. Budget smartphones are accessible to more people and it is no longer a niche market. Developing countries need VAS in sectors like banking, finance, agriculture, human resources, governance, education, and healthcare most of all because most times, the physical resources are too far away. Many apps in Africa, Asia-Pacific, and South America are leading the trend of providing VAS which aid local entrepreneurs, customers, and citizens in general, to be closer to their banks, governments, doctors, telecom providers, as well their families.
More benefits with more investment
Among the many benefits of mobile VAS, here are a few:
Enterprises and individuals can customize their offerings and services based on needs
Providing a particular capability through mobile VAS increases convenience for the customer
Entrepreneurs and enterprises can be in direct contact to their customers
Customers are at the heart of VAS innovation; servicing them is the primary objective
VConnect, one of the leading local search engines and enterprise VAS providers in Nigeria, offers their customers and clients the opportunity to customize VAS services for the end user. They offer great customer service using Ameyo's contact center software that allows them to be available to their clients when they need solutions and issue resolution. In African countries, especially, it was found that VAS benefited small private businesses and entrepreneurs to a great extent. It proved to be the backbone for the growth of their business.
Enterprise VAS is able to address business challenges of small- and medium enterprises as they cannot invest heavily in expensive technology like large enterprises. These applications ensure a larger demographic than social media, manual calling, and even advertisements, and affords enterprises the luxury of direct customer reach. Mobile VAS is therefore, here to stay, and will greatly help customers get the best services on their mobile phones.