Helping our customers and partners walk one step ahead in the Customer Experience game, Ameyo has come up with innovative ideas in the Sales Meet'18. The Co-founder and CEO, Bishal Lachhiramka, translates 'One Team One Goal' into three pillars of Trust, Ownership and Respect while addressing the teams to achieve the shared vision of the entire organisation.
Sachin Bhatia, Co-founder and Global Sales & Marketing Head, delivers the 'Why and How of Sales Strategies' to capacitate the future of sales drive.
While communicating the best sales practices, he discusses 5 types of salespersons:
The Relationship Builder
The Reactive Problem Solver
The Hard Worker
The Lone Wolf
The Challenger
The challenger being on the top, seeks to change the world with a different view and knows the art of winning because he asks questions and tailor his answers to suitably fit customer's needs. "A successful salesperson is the challenger who challenges the customers and solve their problems", says Sachin Bhatia in conversation with Team Ameyo.
While building on the initiative of One Team One Goal, we have come up with key essentials to craft a new world of customer engagement. Striving to smoothen the on-boarding of partners, we are launching Partner Enablement program that will leverage the partners to be market ready.
Our partners serve as the cornerstone from on-boarding to live operations to ensuring that our business is provided with the right resources for the growth and success. This program is designed for partner focussed delivery and to help them scale higher in shorter time. Quarterly product updates and tech training on know-how of the products is enabled to garner faster traction and business building.
Staging our product stability and delivery efficiency, we have come across many challenges and to accomplish our goals, Ameyo's team is dedicated towards on-time delivery of our products and ensure a smooth experience for our customers.
What are we changing for people? In a live discussion with International Sales Team across regions, Sachin Bhatia introduced the team to business insights. Does customers always know their requirement? How to add insight to customer's business? Understanding customer's business and asking questions to provide customized message and resonate with the customer. Drives customer focused sales.
In a learning graph, the customer would take away home an exciting and meaningful experience if you "Change your words to change your world".
Adding new partners and logos to our business, we have engaged with different teams to drive sales orientation and lead the buying process proactively. "Computing our goals for 2018, we have signed an agreement with WhatsApp which would allow us to roll out WhatsApp for Business APIs on WhatsApp's behalf globally", explained Rahul Zutshi, Director of Marketing & Strategy, Ameyo.
Procuring to our existing customers and initiating new business globally, we are ready to sail the game for WhatsApp Integration for non-promotional updates. Customer Service notifications are initiated by WhatsApp and our sales team is armed to lead the WhatsApp queries widely.
Prince Singh, Associate VP at Ameyo promised product stability to improve UX and surpass the expectations of our customers as his team aligns with the current customer demands.
To effectively move towards the agenda of the year, Ameyo's team works for Change Management wherein we are perpetually aligning our goals with the business needs of our customers and updating our products. From individual's transition to the organisational changes, we intend to meet the outcome of delivering better customer experience.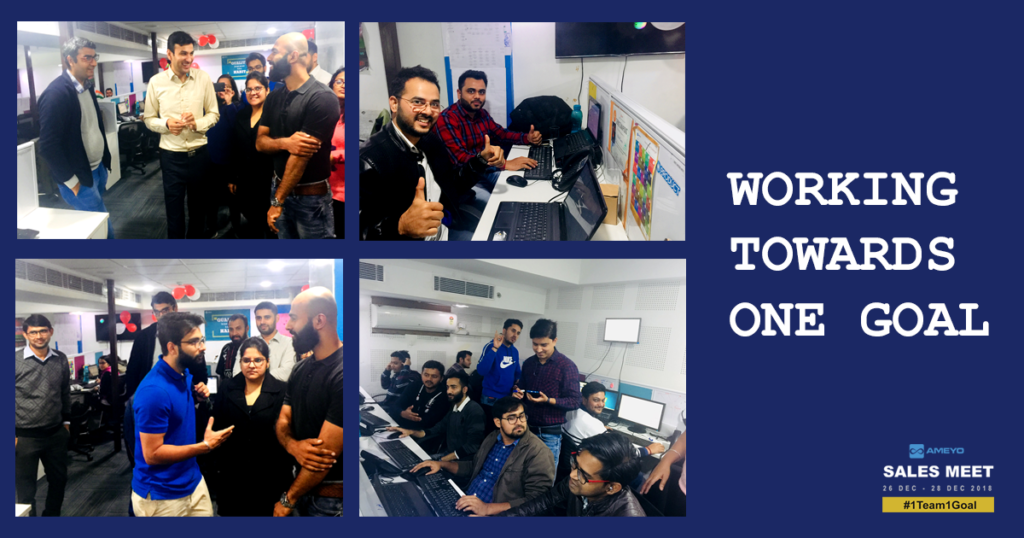 Enclosing the Sales Meet'18, we met the people behind the scenes. Not forgetting the support team that handles all our customer operations at the back end because great things are never done by one person, they are the result of teamwork. Bringing all the teams together and gearing up for 2019, we, at Ameyo, have built the three pillars of Trust, Ownership and Respect across teams.