The way we search online has evolved a lot since the commercial launch of the search engine in the 1990's. During that time, the world was less exposed to the world wide web, and thus, a lesser number of search results came out. Also, until and unless you type in the exact keywords that you were looking for, chances are you might not ever be able to find the right website.
Jump to 2017 – the search engine brigade lead by Google and some startups like Duck-Duck-go (I personally prefer this), has ensured that search becomes less cumbersome to the user. If you don't know exactly what you are looking for, you can type in some relevant keywords and it shows you millions (if not billions) of search results, even before you can bat an eyelid!
Chatbots or Search Engines?
But, all this is set to change with the extreme demand for Artificial Intelligence (AI) and intelligent computing. Developing machines that can think like humans has been the goal of the artificial intelligence since its inception in mid-1950's. The Turing test – designed to examine a machine's ability to exhibit intelligent behaviour indistinguishable from that of a human, popularized this research. Since then AI has seen many ups and downs, its own crest and own trough. Leading the way in this new wave of AI-disruption is the Chatbot.
Why the Hype on Chatbots?
What is a Chatbot?
A Chatbot is a short program that mimics conversations with people using artificial intelligence techniques such as Natural Learning Processing (NLP), image and video processing, and audio analysis. Chatbots are proliferating on consumer messaging platforms such as Facebook and WeChat, as a means for consumers to interact with brands. Although still in its nascent stages, but interacting with these chatbots is fun. Here is an article on why Chatbots will be the next big thing.
Here is a snapshot of my chat with TechCrunch on their FB Messenger app.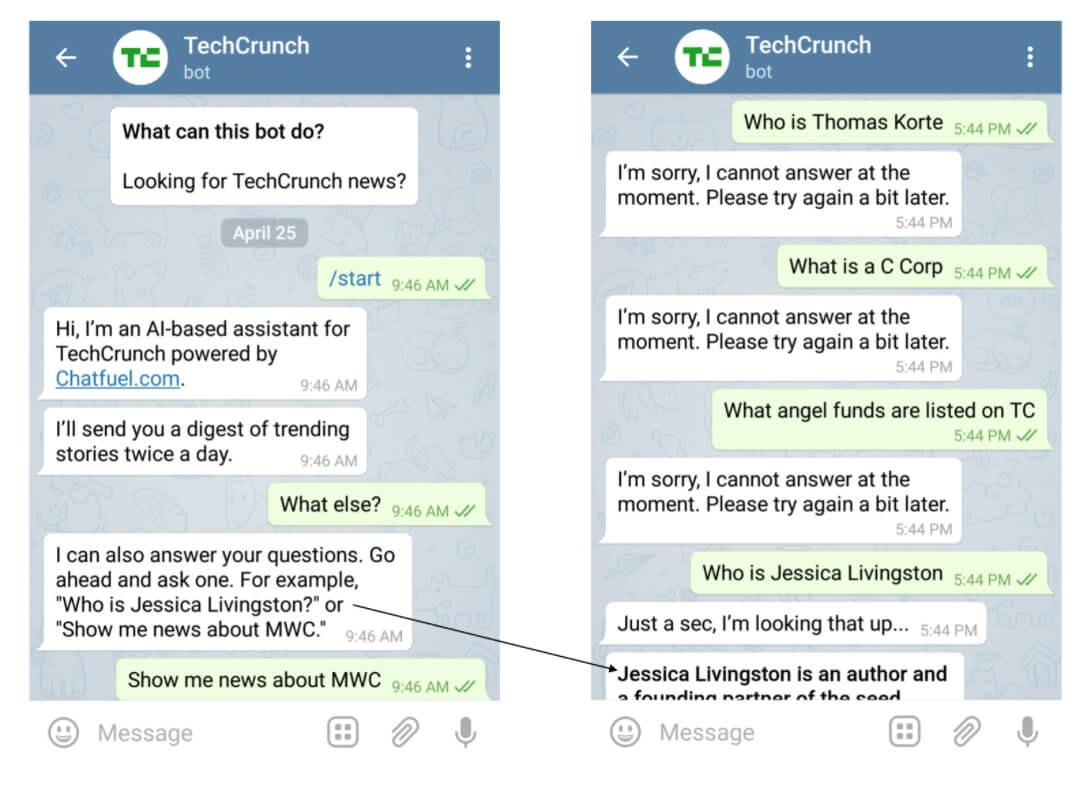 Here is another screenshot of interaction with Twitter automation tool Crowdfire:
Interacting with these chatbots is fun and makes you wonder is this really the future of search?
Consider this for an example – a recent report from Deloitte suggests that starting from July 2015 to Dec 2016, conversational user interface (UI) startups have raised over $200 million in funding. 22% of the world's consumers claim that they have used in-app chat to interact with banks for services such as account activation and balance check.
With so much attention given to consumer chatbots, companies are adopting them for internal enterprise and business-to-business applications, such as using chatbots for customer service. This, in turn, is bringing greater productivity and efficiency to a wide range of enterprise activities.
You simply cannot ignore the fact that interacting with a chatbot will be the new future. It's already causing a digital disruption wave, the ripples of which we are yet to fully analyze. It's only the tip of the iceberg that we have been able to explore, and more is yet to come. It may so happen that it will become the essential part of providing an excellent customer service that your clients are looking for.
The Era of Chatbots
Currently there are two types of chatbots that exist in the market:
Bots that are implemented in their own apps (Crowdfire)
These bots within a particular app and perform only a set of particular functions to automate interactions between users and the application. This approach is suitable for users who have a large set of pre-existing users.
Bots that function within messengers (Techcrunch)
These chatbots function in the messenger apps that support bots. These types of chatbots are usually implemented in Facebook Messenger and WeChat applications.
According to a recent report by Business Insider, by 2015, the number of monthly active users of messengers surpassed the number of users of Social Networks.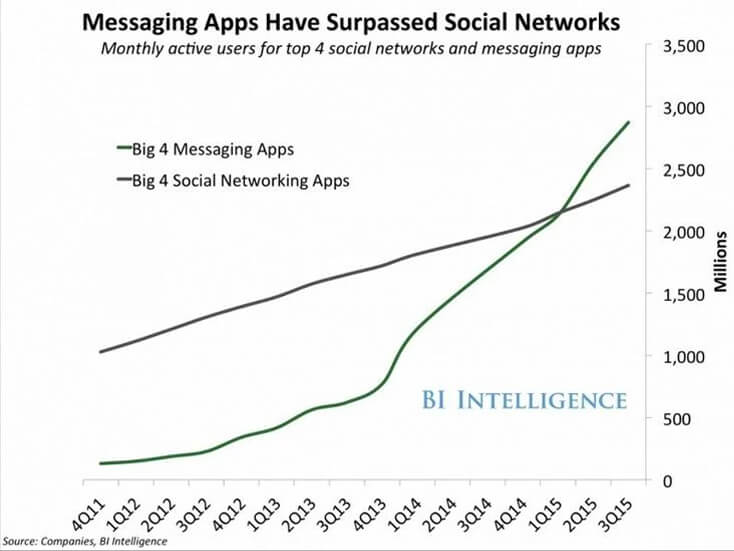 This trend clearly shows that messaging apps are more than just messaging. The first stage of the chat app revolution was focused on growth but the next phase will focus more on building services and monetizing chat apps. Thus companies of the future will focus their energy more towards building chatbots and will use platforms, such as Facebook messenger and WeChat, to provide a richer Customer Experience.
Chatbot Use Cases | Why Enterprise Chatbots Will Cause Mass Technology Disruption
In today's globalized always-on market, customers expect 24/7 service, but they also want personalized service to feel valued, and to get the desired outcome. With new technologies being developed, this scenario is highly possible with reduced operations cost.
Chatbots are increasingly being used in the contact center technology to ensure that consumers get a personalized experience. The gap between customer experience delivered and the experience expected plays a big role in why customer satisfaction ratings continue trending downward, particularly when legacy systems are in use. Some companies focus on the future and look for digital disruption. Consider this for an example – Coca-Cola who saw a 40% year-over-year reduction in calls after launching virtual assistants with escalation to chat capabilities.
Some of the top chatbots that are doing the rounds are:
Instalocate: The Best Travel Bot
It's a Facebook Messenger chatbot that tracks flights by flight numbers and notifies travellers about delays.
Meekan: The Best Productivity Bot

Meekan for slack is a cross vendor calendar scheduling platform that enables you to connect with anyone on any calendar, hassle free.
Foxsy: The Best Social Bot
It's a personal matchmaking chatbot for Facebook Messenger that allows users to find a beautiful and meaningful connection with the right person.
Some other notable mentions are: Chatshoppr, Swelly and BFF Trump. You should also check out ai.bot box – chatbot aggregator (I personally recommend this app, it's still in beta phase, but you should still try it).
The Future of Search Engines and Chatbots
In a World obsessed with search, where do chatbots stand? This debate has kept industry experts divided for a pretty long time. As they say, "In a world where instant gratification and individual sense prevails, consumers are increasingly demanding a more personalized and faster results".
However, chatbots are still in their infancy stages and the industry is yet to evolve to accept it as another solution to search engines. I will still, however, go to Google first and lookup for my search query, rather than open a chat application and select multiple keywords to get to my search query.
So, is a Chatbot the answer to the Digital Disruption that the you're looking for? It's the million dollar question that industry experts are still breaking their heads over. Nevertheless, chatbots do sound cool, and artificial intelligence does sound intriguing. However, at the end of the day, if they are not able to drive business value it makes little sense to go ahead with them.
The potential payoff is definitely there, but only if companies are able to drive a business value and create opportunities out of it. The silicon valley giants (read Google, Apple, Facebook and Microsoft) already know so much about us, why will they not provide us with services and answer in interfaces much simpler than a chat.
Till that time, I still choose to Google it!