Ever since the concept of money was invented, marketers have been using different techniques to try and make a sale. From the first newspaper advertisement in 1704 to Apple spending more than $900,000 to create their 1984 Super Bowl commercial – the idea of marketing has observed a paradigm shift over the years. Now, the objective is not to squeeze a customer out of every penny, rather to engage and try to retain the customer.
According to Customer Engagement Expert Paul Greenberg – customer engagement is "the ongoing interaction between company and customer, offered by the company, chosen by the customer."
This is why we can no longer visualize a customer in terms of money or revenue alone – other factors have to be considered in the digital age. Customer engagement today is all about gaining loyalty and building everlasting customer relationships. Simply put, it is the art of interacting with fellow customers. However, considerable number of companies aren't utilizing their full potential when it comes to caring about customers.
But, why all of a sudden, there is an increased focus on customer engagement?
Customer engagement can mean a lot when talking in terms of business KPIs. Essentially, businesses would want to increase their customer engagement processes for one or more of the following reasons:
Increase Customer Loyalty

Increase Brand Loyalty and Reputation

Increasing Sales and Overall Bottom Line

Improve Customer Satisfaction
Not only these, improving customer engagement can turn customers into word-of-mouth promoters for your business. So, how should a company increase their customer engagement?
Here are 4 successful strategies to increase customer engagement in 2017:
Everything has a Story: Tell a Story and Immerse Them in the Experience
"We see our customers as invited guests to a party, and we are the hosts. It's our job every day to make every important aspect of the customer experience a little bit better" – Jeff Bezos, CEO, Amazon
They say everyone has a story, but what they probably forgot to mention in that quote, is that people love stories rather than blatant advertising. Here's some food for thought – would you rather read a story or read someone advertising a story? Most people would probably choose to read a story.
Just like a story has a setting, theme, style and tone, your company is a story waiting to be told. Each event, product, service or campaign is a way for you to allow your customers to emotionally connect with your brand.
Simon Kahn, Chief Marketing Officer, Google Asia Pacific, remarked on the importance of telling stories to engage audiences at Google's YouTube Creative Summit held in Hong Kong: "Unless you make stories that are compelling, to make people laugh, make people cry, make people think, you are not going to win them. Gimmicks are not going to work."
"So telling a great compelling story actually drives people to interact, engage and share it with their friends," he added.
If you've ever seen an Apple ad, you know what I'm talking about. Their advertisement about the Potrait Mode in the iPhone 7 Plus contains no narration, and just shows two people going on an adventure and capturing their memories on an iPhone 7 Plus.
Similarly, American Fast Food chain Chipotle released A Love Story, an animated short film that portrays a young boy starting a juice stand across the street from a girl, who starts to fall in love with her as their business expands. Another interesting mention is Bose's 'Get Closer' campaign about the QuietComfort 35, where an urban teen is seen enjoying her Bose headphones in an empty city.
The easiest way anyone can start telling their story is through video. The whole process essentially boils down to rearranging different types of media on a timeline. Don't forget to use a lot of images and videos while designing your story to make the viewer stick to it till the very end. If possible, avoid a narration to really convey powerful messages.
Use Futuristic Technologies to Deliver Surreal Experiences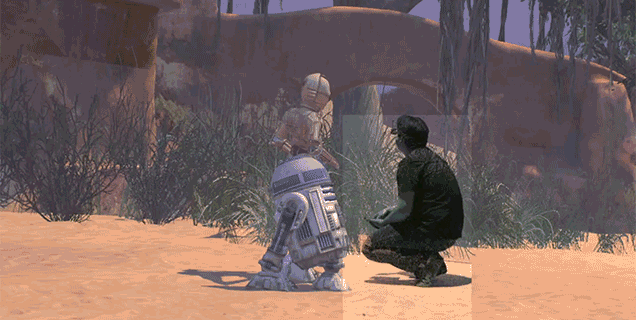 Can I confess something?
I really wasn't all that surprised when I saw a 360 degree immersive virtual reality experience of Star Wars – The Force Awakens on YouTube. I actually expected something like it. Which technology buff wouldn't?
The role of virtual and augmented reality devices to offer immersive customer experiences is on the rise, and is expected to generate a revenue of $150 billion by 2020, according to MarketsandMarkets. Why would someone go out and buy a VR device or Google Cardboard just to view your company's latest virtual reality app, you ask?
It's just so amazing, that's why!
The availability of devices like the inexpensive Google Cardboard has aroused interest in virtual reality amongst the general population. Google and New York Times joined hands in 2015 to deliver more than 1.3 million Cardboard devices to supplement its 'NYT VR' app, which delivers VR journalism stories to further engage audiences.
Ever heard of virtual reality shopping? Alphabet, Inc. and BMW recently released a new smartphone application that displays BMW i3 and i8 cars in augmented reality, turning their dealerships into virtual car showrooms. Customers can take a walk around the car and place it in their own garage, if they wanted to. They can even open the door, step inside the car, and turn on the lights and radio! It is powered by Google's 3D-scanning technology called Tango, which places digital pictures into the physical real world – something like Pokemon Go. It is available at BMW dealerships in 11 countries so far.
The Secret Sauce: Personalize Your Campaigns to Focus on the Customer
We constantly see brands spending big bucks to advertise and reach out to more people, trying to convert them into loyal customers. But how well do you think they are focusing on the customer? The modern age is being dubbed the 'Age of the Customer', with customer engagement relying more on how well a brand can deliver a more customer-centric, personalized experience.
Think about it – how would it affect you as a customer if you were shopping at a mall while searching for online reviews at your favorite shopping portal, when suddenly your phone beeps with a suggestion on what you should purchase based on your interests? You would most certainly feel unique and develop a positive brand image when you arrive for your next purchase.
Best Buy decided to revamp their entire customer engagement strategy following a period of decline in 2013. The company adopted Big Data to analyze their huge database of customer purchases, preferences, and demographics, which would have otherwise gone neglected. After the changes were done and the dust settled, their campaigns were more customer-centric, data-driven, personalized and targeted, resulting in a 2.5% year-on-year increase in their Net Promoter Score (NPS) as a result of their efforts.
We can safely conclude – Personalization Builds Loyalty. Period. It is the key to winning loyal customers in the 21st century.
Use a Rewards Program to Foster Customer Loyalty
Let's imagine you're stuck between two retailers while searching for a cell phone you really want as your next cool gadget, and are really having a hard time deciding which one to go with. Would you give preference to one retailer if they gave you points you could use on your next purchase? Most probably.
Modern businesses are spending a great deal of time and money on developing loyalty apps and programs for many reasons, but primarily because loyal customers are more likely to buy again. Plus, brands don't mind the positive reviews customers leave after using their loyalty rewards. It creates a positive feedback loop.
Reward & loyalty programs can impact revenue and bottom-line, along with boosting loyalty. Hilton HHonors, the reward points program offered by Hilton Hotels & Resorts, results in about 54% of room reservations on any day. Most importantly – their customers love it! Not to mention, their HHonors app is downloaded every 6 seconds!
"When a customer interacts with us directly, it allows us to personalize the experience," says Mark Weinstein, SVP and Global Head of Loyalty, Partnerships, and Customer Engagement at Hilton Hotels & Resorts. "We get to know who the guest is, we get to know what you like and what you don't like about your stay experience, so that we can tailor the offers that we make to you in the product experience."
We've talked about some effective strategies to better engage with customers in 2017. Are you already using or planning to use any of the strategies we mentioned above? Did it inspire any marketing campaigns? Talk about it in the comments section below.