WhatsApp is the most popular global mobile messenger app as of January 2022, making it one of the top preferred channels of communication for users: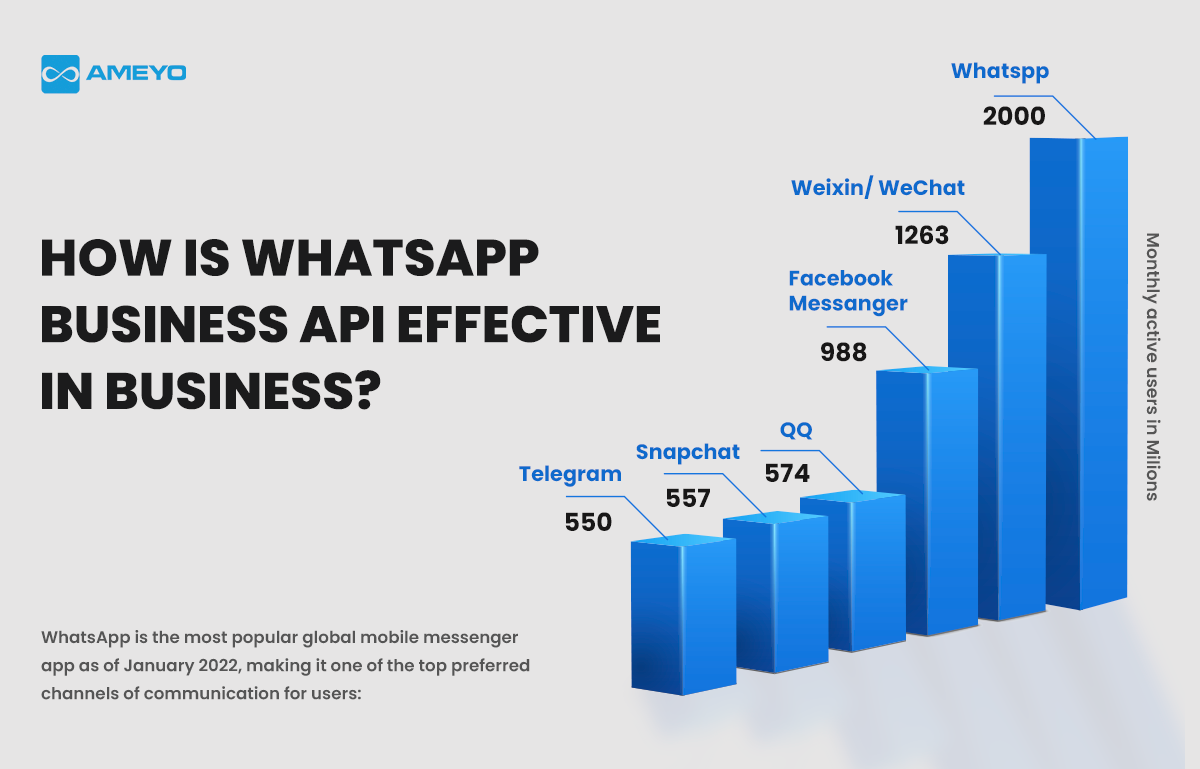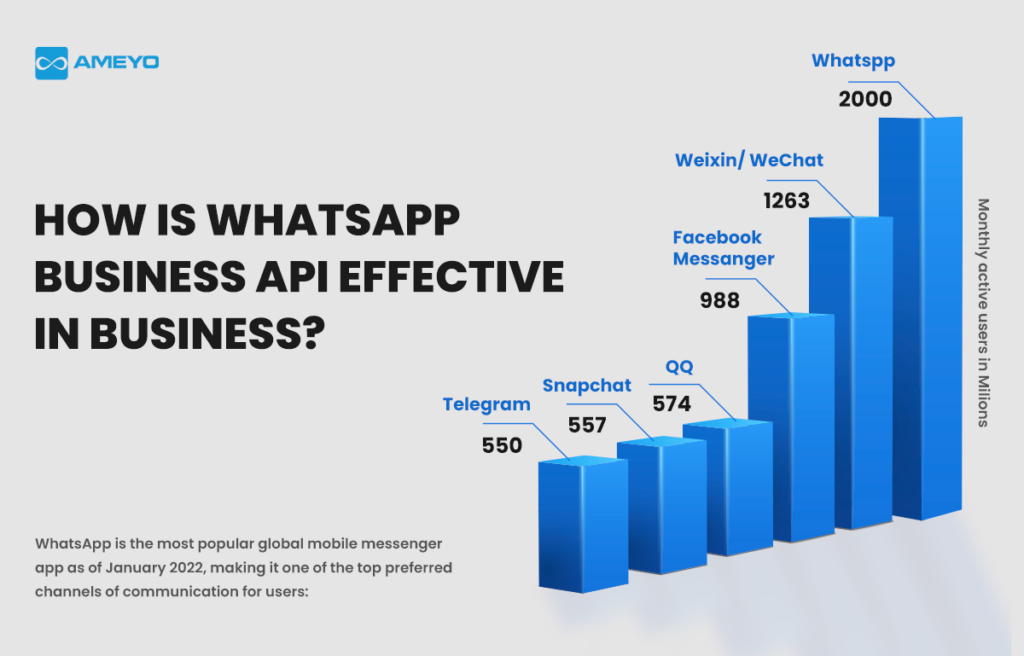 What is WhatsApp Business API?
While WhatsApp is a simple messenger with various features for private conversations, WhatsApp Business is a free app for small businesses with features like verified tags, product catalog, text templates, and opening hours.
WhatsApp Business API (Application Programming Interface) is a paid version that integrates one application, i.e., WhatsApp and other apps like CRM, business websites, etc.
Allowing businesses to connect to customers, execute their operations smoothly, and provide a seamless experience to customers on their preferred communication channel.
How is WhatsApp Business API Effective in Business?
WhatsApp API can become a game-changer by giving a competitive edge to businesses in the following ways:
1. Increasing the Reach Of Business
Using an application like WhatsApp with a userbase of 2 billion people can be extremely helpful in increasing the reach of a business.
By syncing the data of potential customers with the help of WhatsApp Business API, information about a business can be sent to the direct inbox of n number of users. It also helps in catering to the needs of existing customers globally.
2. Connecting With Customers On Their Preferred Communication Channels
A survey by Zendesk revealed that 93% of users were willing to make more expenses with businesses providing their preferred communication channel.
93% is immensely significant in making or breaking a brand's image and increasing its revenue remarkably.
Hence, with the help of WhatsApp Business API, a business can quickly provide an advanced experience to customers on WhatsApp. For reference, here is how WhatsApp Chatbot is providing seamless CX in the healthcare industry.
3. Allowing Real-Time Interactions 24×7
In the era of instant gratification, customers want their queries to be resolved at the earliest.
24×7 real-time interactions can be provided with the help of an AI-enabled chatbot that will always be available for initial interactions with the customers so, if there is a simple query, they can find a solution instantly, without waiting to be connected with an agent.
It increases customer satisfaction and enhances the overall experience.
4. Answering FAQs
Sometimes users have a set of standard questions called FAQs (Frequently Asked Questions). A chatbot helps answer FAQs instead of an agent investing their time and energy on the same questions repeatedly.
The chatbot recognizes a set of predefined keywords and displays the most relevant answer to the customer.
5. Connecting to Agents for Complicated Queries
Many times, complicated customer queries cannot be resolved by chatbots in the initial interaction. In such cases, the customer is connected to an agent to carry the conversation forward.
WhatsApp Business API helps in making it an effortless process for the customer as well as the agent.
6. Personalizing Customer Experience
Personalization is an essential tool in a good customer experience. WhatsApp Messenger is personal for customers as they use it to interact with friends and family.
A conversation regarding their purchase or window shopping based on their data on the brand website helps personalize the whole experience. It also helps in getting genuine feedback.
7. Recommending Products With Smart Buttons
Many brands recommend similar products on their official website, but with WhatsApp Business AI, customers can get product recommendations on WhatsApp based on their purchasing history.
In addition, smart buttons can play a massive role in encouraging the customer to act. So, buttons like 'Add to cart' or 'View more' can redirect the customer to the app/site and trigger a reaction.
8. Notifying About the Product
Notifications regarding order confirmation, estimated delivery, shipping details, out for delivery, and order successfully delivered can be sent on WhatsApp.
It makes product tracking easier for the customers. Post-delivery feedback can also help in getting genuine feedback from the customers.
9. Providing Post-Sales Support
Post-sale service is a very crucial step in enhancing customer experience. With WhatsApp Business AI option to exchange/return a product can be provided to the customer on WhatsApp.
If there are any issues with the delivery and shipping, that can be acknowledged and considered through WhatsApp.
10. Automating Reminders to Reduce Cart Abandonment
Most of the time, customers add items to their cart but then abandon them.
Automating reminders can help send personalized messages to the users, reminding them about the items in their cart so they can complete the buying process.
11. Introducing Loyalty Programs
Loyalty programs are introduced by offering incentives and exciting offers to the existing customers as a reward for their loyalty.
These loyalty programs are a great way of attracting new customers and increasing repeated sales through word-of-mouth promotional methods among customers.
12. Increasing Efficiency
WhatsApp Business API increases customer communication efficiency compared to emails and calls.
It also reduces the average resolution rate by providing an instantaneous response. It also reduces customer waiting time for query resolution.
13. Saving Money
WhatsApp Business API helps save money by reducing heavy expenses on costly call centers and old CRM systems.
It also helps in reducing customer turnover due to poor customer service.
14. Enhancing Marketing
WhatsApp has an astonishing open rate of 98% compared to email campaigns with just 22%. It is evident enough that WhatsApp is the peak source of attracting customers and promoting a brand. The authentic usage of WhatsApp also ensures access to qualified leads.
Wrapping Up:
WhatsApp is meant for private conversations as it does not deal with highly confidential data. Therefore, WhatsApp Business is suitable for small-scale businesses as it provides a few limited features without any advanced elements or security.
In contrast, WhatsApp Business API is GDPR compliant and highly secure for storing sensitive data. It also provides a bundle of advanced features to grow a business. So, more and more companies are opting for it.
This data has been combined and presented by Ameyo. It is an AI-enabled customer experience platform. Contact Us to get more information about our products and services. You can also request a DEMO with an expert today!