One of the most important things for many businesses these days is to be available online. Being approachable to the entire world in a single click is in demand. But is being online enough? Mmm, maybe not! The reason is simple & straightforward: the customers cannot trust your brand.
There are times when you go through a website, go gaga over their products, and add them to the cart, but then, in the end, hesitate to put in your credit card details and finally, abandon the cart. It happens a lot, right?
To resolve the issue of cart abandonment, you can start with having some trust seals in the form of TRUST BADGES. These badges instill security for the customer while making transactions. 
What are trust badges?
As evident from the name, a trust badge is used by organizations to improve customer trust. Companies generally place these badges on their website's checkout page or the loading or home page.
The trust badge is a seal to ensure the legitimacy of an e-commerce website and further confirms to the customer that their credit card information or other data is being transmitted through a secure medium.
Some trust badges are just symbols, while others provide a pop-up window describing badge information when clicked. These badges are given by the trust seal organization when you meet specific predefined standards. The badge size, type, and placement on the website depend upon the site's owner.
Types of trust badges
There are different types of Trust Badges that you can implement on your website. Depending on your need, you can invest in one or more or all the trust badges mentioned below: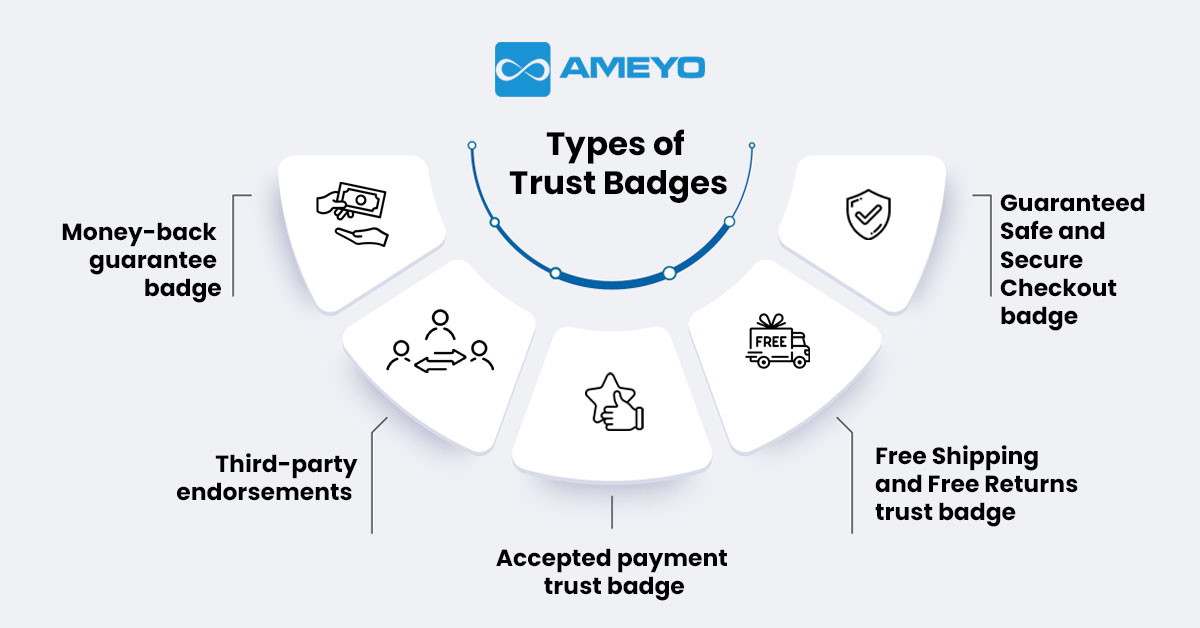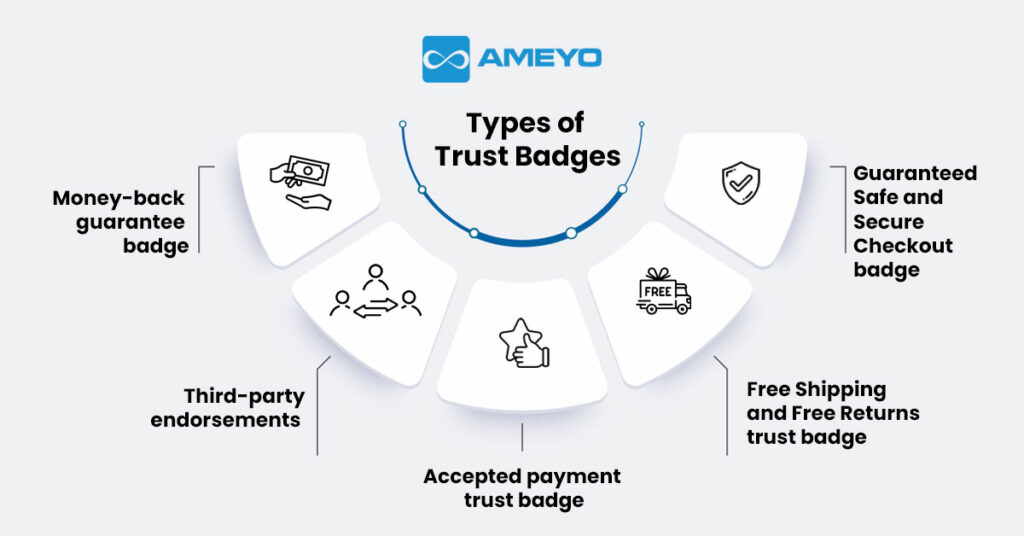 • Guaranteed Safe and Secure Checkout badge
These are essential forms of badges that you need to have when you are an e-commerce site holder. For example, you get this badge when you buy Comodo SSL, RapidSSL, GlobalSign SSL, or any certificate from an SSL provider.
This badge assures the customer that the credit card & personal information they put is entirely safe from being stolen, and all data traverses through a secure connection with an SSL certificate. These badges are placed beside the "Add to cart" or checkout page.
The best-known security badges are from Symantec, PayPal, and Shopify. Of course, the better the company brand, the more trust your customers will have in you.
• Free Shipping and Free Returns trust badge
Having the "free shipping" and "free return" badges ensures customers another form of trust and safety and removes any recognized risk of buying online. In addition, these badges show how well you have maintained the customer service policies and your faith in the quality you deliver.
These badges can be displayed along with the "Add to cart" or checkout page. Even the frequently asked questions section can have this badge.
• Accepted payment trust badge
Seeing a recognized brand's logo makes the experience trustworthy for any customer. It is here that the Accepted Payment badges come into force. Payment brands like Visa, MasterCard, PayPal, etc., are some well-known brands whose badges enhance a customer's trust. 
You can place these badges at the footer of the website to make them catch a customer's attention. In addition, the payment gateway pages can also have these badges so that one doesn't hesitate while making a payment.
• Third-party endorsements
Third-party badges are a source of showcasing your credibility. It shows that you are verified by a renowned body and ensures that your website's use is safe and secure. You can place these badges on the website footer.
These badges require you to fill in an application form, get reviewed, and then get verified. You might find getting these badges a bit tiresome, but all the hard work is worth it. Plus, you can earn the Better Business Bureau Accredited Business and Google Customer review badges. These are much known badges and enhance customer trust.
• Money-back guarantee badge
If you guarantee to return the customer's money, what can be more pleasing and trustworthy to them. This small but essential customer service has a tremendous and immediate advantage over the conversion rate. These badges are free of cost and can be even designed per the website's graphics. Place these badges along with the Secure checkout badge to enhance its importance.

Where to put the trust badge on a site?
Trust badges can be placed anywhere on a website. But, put them on the checkout page, registration page, or any such page where users do trust you.
• Homepage: The homepage with a trust badge gives an excellent impression to customers. But the trust badge design often doesn't go with the website, so you can keep the badge subtle.
• Footer: This sounds like a good catch but placing everything here overcrowds the footer. Note: Anything placed here will be displayed on every website page.
• Checkout page: This page is the best place to put your badges as it's here where the customer's trust fumbles.
Do trust badges increase conversions?
Yes, they do. There has been an ample number of surveys that justifies the answer. For example, one survey showed that almost 49% of customers said they didn't purchase because they feared security breaches. In addition, about 17% of customers confirmed they abandoned the cart due to a lack of trust in the website. You can overcome shopping cart abandonment by using trust badges at appropriate places within the website.
Use of Chatbot:
Besides the trust badge, Chatbot is also a valuable source to turn your visitors into customers. AI-based Chatbot answers visitors' basic questions. If they feel satisfied with the Chatbot, visitors tend to have a positive impression and would like to purchase the product or service from such a provider. A recent survey revealed that 69% of customers prefer chatbots for their queries.
Final verdict
With the abundance of fraudsters roaming around the internet and identity theft snowballing, it's natural for any potential customer to be cautious about online shopping. However, you can instill trust by letting them know you are legit and secure. 
These trust badges might take a lot of time from your busy schedule, but it's all worth it. Investing in trust badges has increased conversion rates for e-commerce businesses and will surely be a good investment for you, provided you know which badges you need and where to place them.