In our everyday lives, we usually tend to be reactive rather than proactive. At present times, not being proactive has the ability to wreck havoc, especially if you are a part of the contact center industry.
It is absolutely imperative for you to keep a good tab on what exactly is happening in your contact center in terms of customer interaction with your reps, compliance monitoring and meeting pre-defined targets. This will ensure long-term success for your contact center.
However, you wouldn't want to take reactive steps to meet the aforementioned objectives. You should always be able to act before something can go wrong, as Murphy's Law states – "Anything that can go wrong, will go wrong." This is precisely what Real-Time Supervision from Ameyo Emerge helps you achieve.
With Real-Time Supervision, you will be able to scrutinize a host of activities that take place at your contact center. It is one tool which will allows you to be at the top of your game, with features like Rule Based Monitoring, Message Broadcast, Queue Statistics, Advanced Call Features, etc.
Let us take a deep dive to understand exactly how Real-Time Supervision can be immensely beneficial to your contact center.
1. Rule Based Monitoring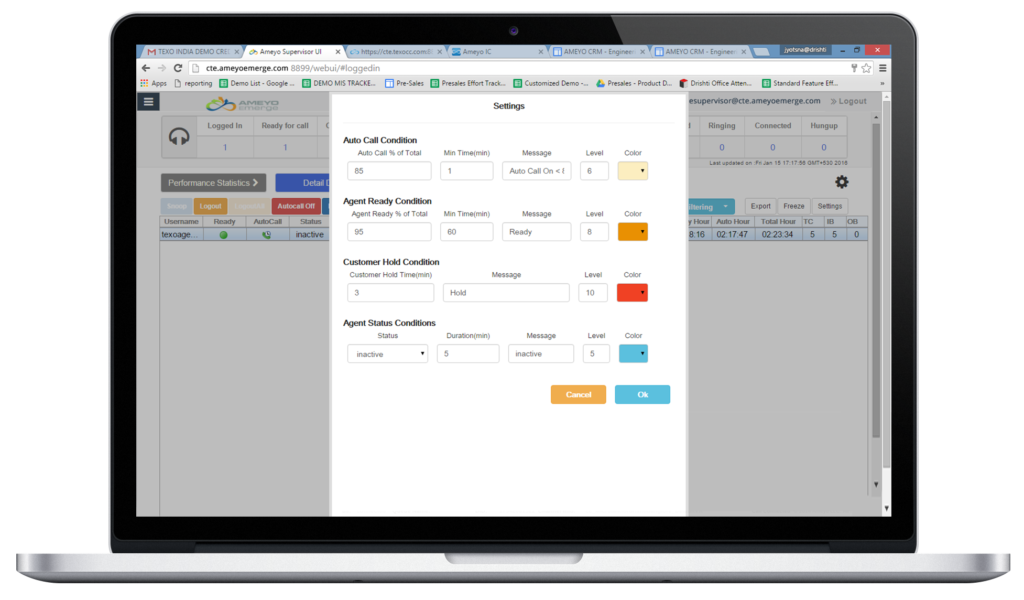 This feature forms the core of our Real-Time Supervision. With Rule Based Monitoring, you will be able to monitor agent and call activity based on multiple parameters. You will also be able to track multiple campaigns of your contact center. Plus, this feature allows you to freeze the data and share it with others. What more? With the help of Rule Based Monitoring, you can now assign levels (1-10) and color-coding, based on conditions and criticality in terms of auto call, agent ready, customer hold, and agent status conditions. This makes supervision much more dynamic, in order for you to better manage your contact center.
2. Message Broadcast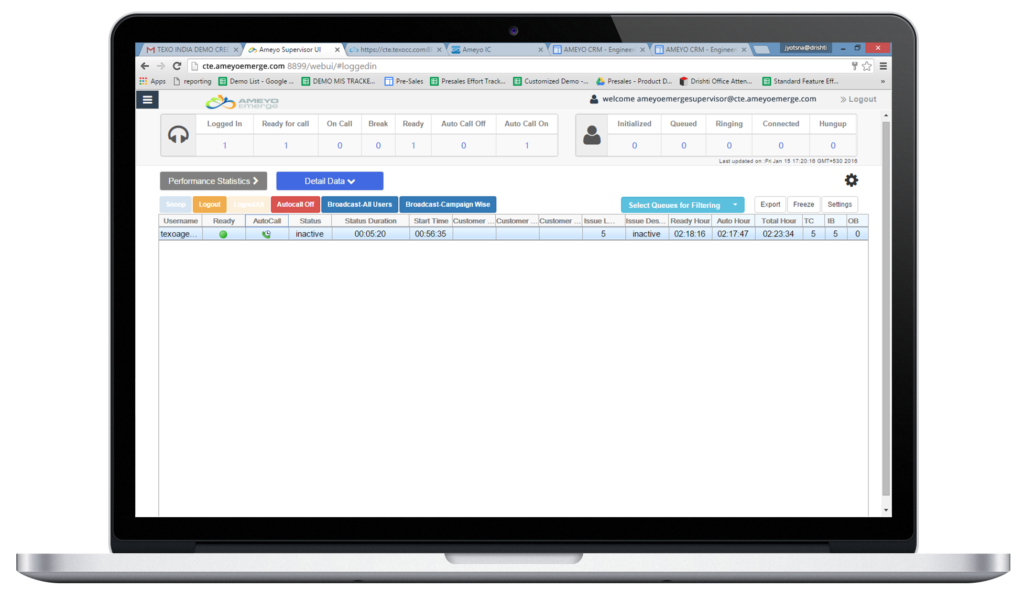 You might have not heard about this feature at all! That's because it was inexistent till now. With Message Broadcast, you will be able to send an instant message to your team, peers and seniors – anyone concerned with your contact center. Your message might be simple as 'meeting in 5 minutes' or something critical as 'add this point to your call script'. Just choose what message you want to convey and hit on 'Broadcast-All Users' or 'Broadcast-Campaign Wise'. There you go, one click and your message is conveyed. No need to shout out orders anymore.
3. Queue Data Monitoring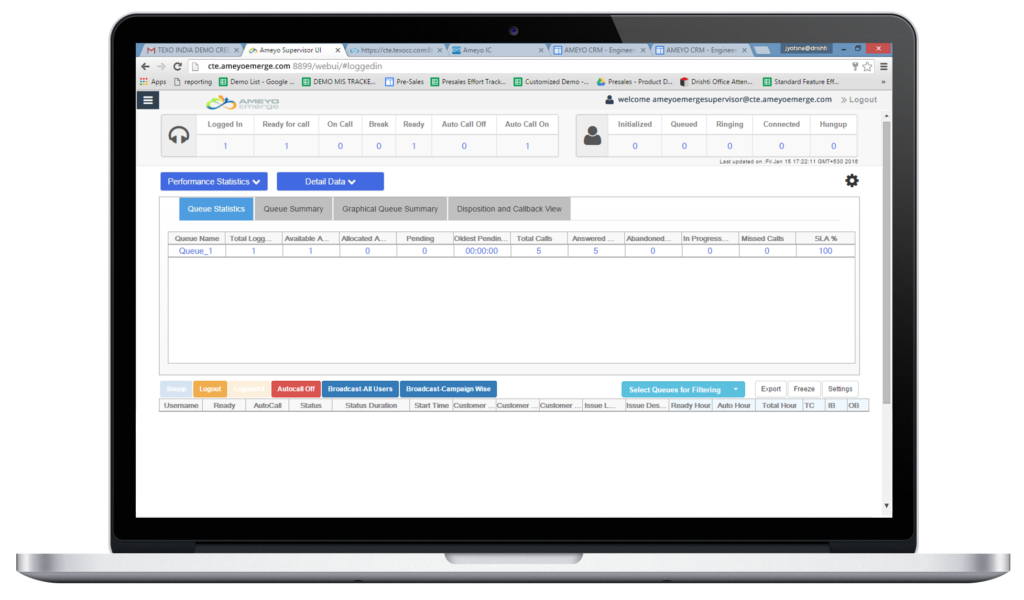 Inside the Real-Time Supervision tool, this feature provides a granular view of Queue Statistics, Queue Summary, and Disposition & Callback View. With Queue Statistics, you can pretty easily fetch various details on pending, abandoned, in progress, and missed calls. Moreover, it helps you to calculate SLA compliance, based on these parameters. On the other hand, you can generate a graphical view of Queue Data with the help of Queue Data. Lastly, Disposition & Callback View allows you to gain a good understanding on user and system based disposition codes such as unanswered, busy, sale, network outage, or any other customized codes. Based on this information, you can also view the number of call back assigned.
4. Advanced Call Features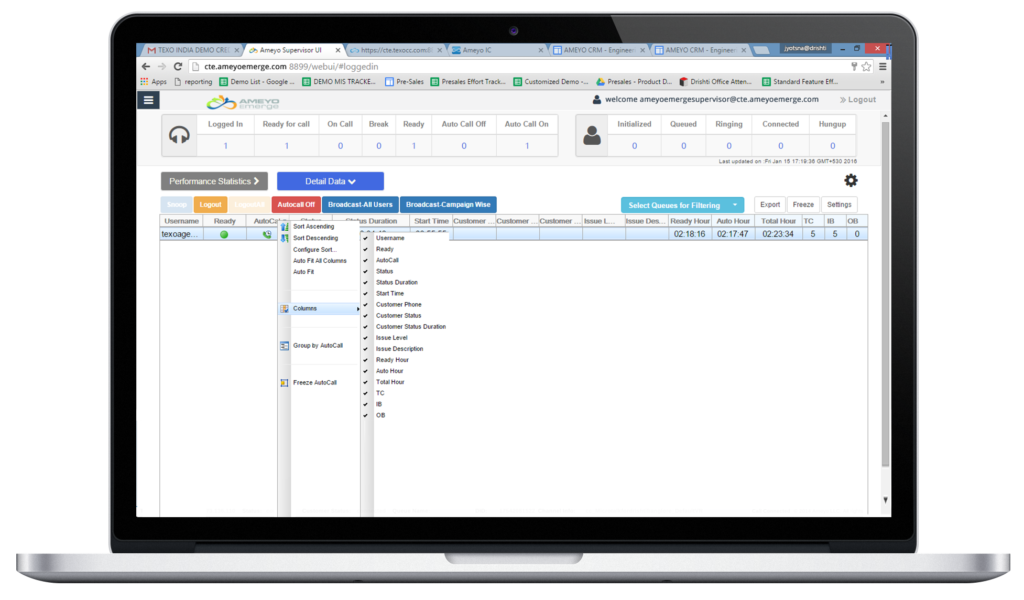 Apart from the features explained earlier, our Real Time Supervision system can be deployed to empower you with advanced call features like Snoop/Barge, Force Logout, and Autocall Off/On. These intricate features will surely enhancing your real time supervision experience. You can also choose to sort and group these features and view them the way you want.
Ameyo Emerge Real-Time Supervision is a complete web and cloud based tool, with internal chat integration. If you want to know more about this tool, leave us a comment below.