When you think of artificial intelligence, stop thinking disastrous scenarios like Skynet (Terminator) and start thinking about better customer service. Artificial intelligence is ushering in a new era of customer experience management platforms that unite the online and offline experience.
"Success in creating Artificial Intelligence would be the biggest event in human history" – Stephen Hawking
Almost anyone you ask has an opinion, when it comes to artificial intelligence. Some people openly embrace the advancements in AI technology while others shun it or are wary of its implications. However, artificial Intelligence as it is portrayed in the media is vastly different from its reality. Artificial intelligence is a utilitarian tool that has many valuable applications, especially in a business setting. When considering its use for customer support; its uses become very attractive as an investment.
Today, the problem for businesses in having quality conversations and relationships with their customers is the plethora of channels through which customers choose to communicate. These include 'live' (telephone), 'real-time' (web chat) and 'offline' (social media, emails, etc.) communications. With so many formats and channels, it is no debate that businesses are struggling to understand what their customers are saying to them
With changing customer needs and business scenarios, customer engagement solutions need to focus on providing value-adding services and enhanced omnichannel customer experience.
Artificial Intelligence comes into play to provide human-like, conversational, consistent, relevant, and helpful information to customers, and is designed to surpass their expectations for what a virtual assistant can do.
Consider an example from the travel industry. When the customer calls the reservation center, the IVR solution anticipates the most common requests, like "Please tell us in a few words why you're calling today. You can say, book a new reservation, change my reservation, or something else." Using natural language understanding (NLU) and algorithms behind speech-to-text technology, the solution maps the call.
It intuitively predicts the expected path. If it is correct, it moves to the next logical step along the call path. If the response was, "No," the Artificial Intelligence solution can offer different options.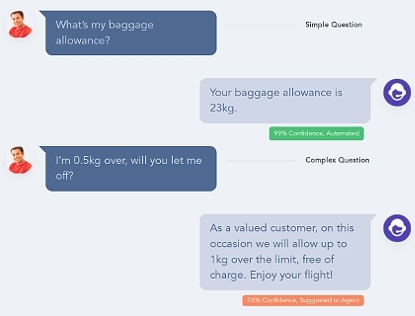 Source: Digital Genius
Years ago, businesses used to have one service agent who had a phone and was efficient. Then they had a computer which could be ten times more efficient. Now a person in customer service could have Artificial Intelligence service that would make them even more efficient.
Just as a real person in a contact center can handle many types of problems and test several methods of solving a problem fast, a smart customer care solution needs to be able to do the same. The real benefit with using a smart customer care solution is that it scales much better than a customer care agent. It offers smart answers, smart help and diagnosis, a multithreading approach, automapping of a problem to many nodes, and natural language interaction.
By rapidly creating such tangible results as upselling, increased loyalty, and cost savings, AI-driven customer care solutions can positively affect the bottom-line, make customers happy, and free up the organization to higher-level objectives.