Over the past couple of years, due to the pandemic, most healthcare organizations are opting for intuitive and state-of-the-art AI-powered chatbots to facilitate the best possible experience for patients and customers.
The amalgamation of AI-powered chatbots with medical infrastructures has helped healthcare professionals deliver the best care to their patients in the previous years.
We all, at one point in time, have had to deal with healthcare setups. What are the common problems that you have encountered? Are frequent delays, lack of personalized attention, in-efficient patient service, or a disconnect between online and offline services one of those many problems?
Do you know that all of the above-mentioned and other blockades can be mended with the help of effective healthcare chatbots?
The Role Of WhatsApp Chatbot In Healthcare
Whatsapp chatbots, for a majority of industries, have become crucial in order to thrive. Having said that, the healthcare sector hasn't been too swift in incorporating this technology into its operation so far. But now, the times have changed.
Healthcare setups across the globe are quickly realizing that there isn't a better time to expand their healthcare services. These institutions are delivering an outstanding experience to their patients by combining the benefits of healthcare chatbots with the reach of the world's most popular messaging app, WhatsApp.
Stats To Ponder On:
WhatsApp has 2 billion active users worldwide.
WhatsApp is ranked as the most used mobile messenger app in the world.
More than 100 billion messages are sent each day on WhatsApp.
India has the most WhatsApp monthly active users (390.1 million).
According to WhatsApp head Will Cathcart, approximately 175 million people send messages to business accounts on WhatsApp every day.
In the era of technology, where everyone has already adopted and adapted to the digital world, healthcare organizations are starting to realize the need for bots in their work systems.
WhatsApp chatbots are now facilitating great opportunities for healthcare institutions to enhance customer support in real-time, helping hospitals scale up their processes.
WhatsApp chatbots are highly capable and have the potential to handle more than 80% of repetitive queries allowing human agents to take care of more complex escalations that truly require their time and attention.
WhatsApp Use-cases – Healthcare Industry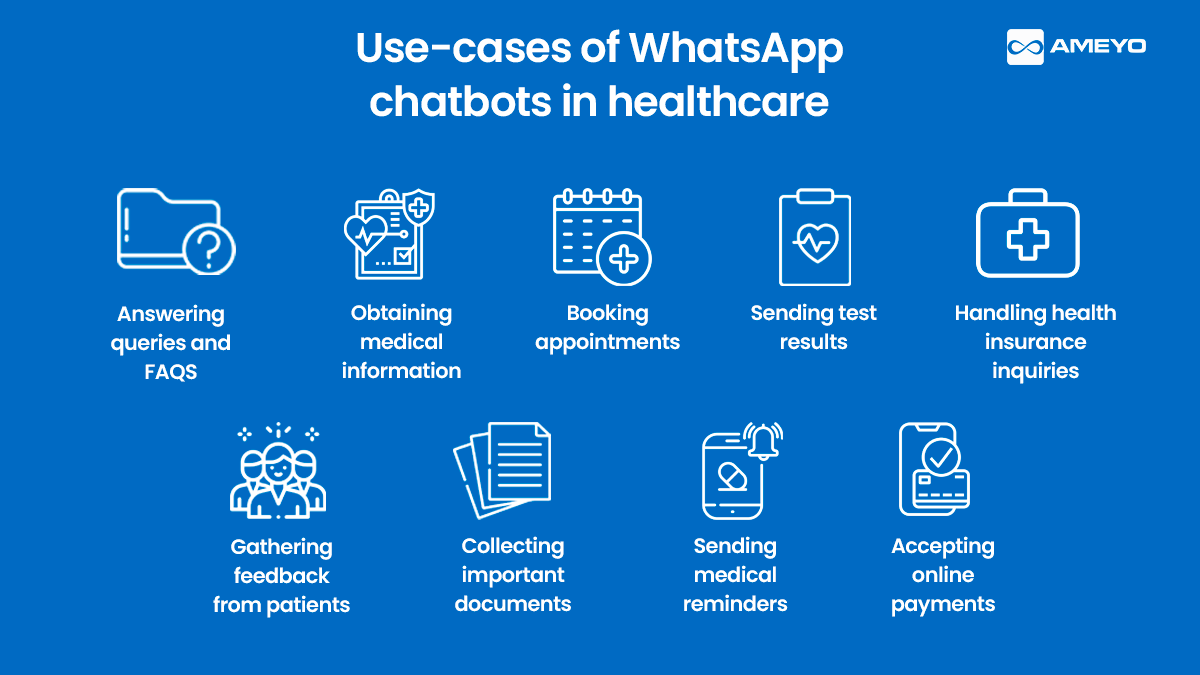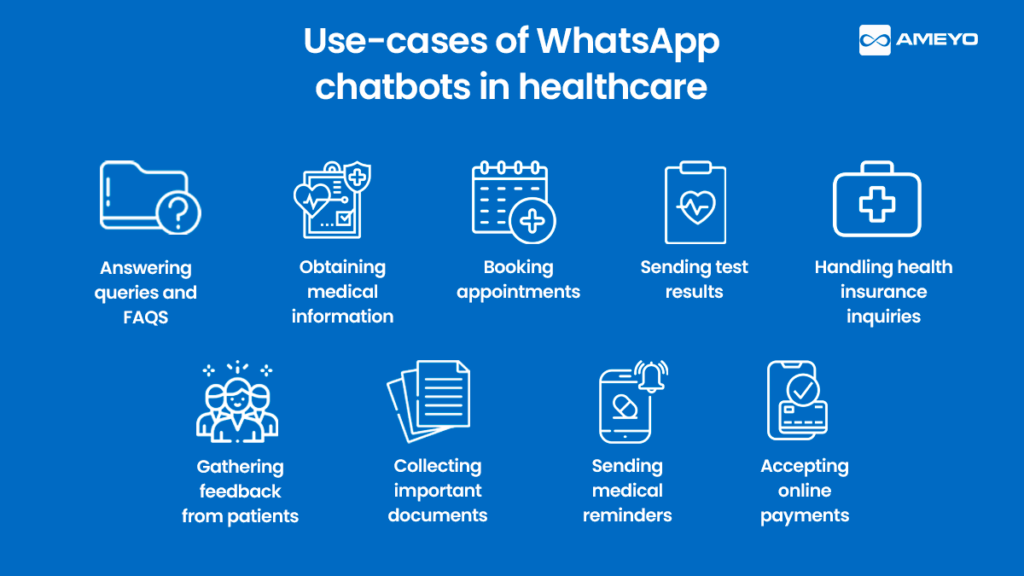 WhatsApp is the most used messaging application globally and it has successfully surpassed Facebook Messenger, iMessage, and other popular messaging apps. WhatsApp being the most dominant messaging app has led small and large businesses to make the most of this to enhance their customer experience and support.
WhatsApp has become so integral in people's everyday lives that all healthcare institutions will sooner or later have to adopt this to offer digitally superior medical assistance to patients.
WhatsApp chatbot API enables healthcare businesses to streamline their communication with customers making it easy for existing and potential customers to connect with them around the clock.
Do you want to check out some delightful use cases of WhatsApp in the healthcare industry? Let's go!
Quick FAQ and Query Resolution
The majority of the customer queries that come in a healthcare institution are urgent in nature and demand immediate attention. WhatsApp chatbots powered by NLP are trained and have the capacity to comprehend user queries and give out accurate responses in real-time.
WhatsApp chatbots can further be integrated with internal databases allowing them to learn, train and eventually enhance the answer accuracy.
Accessing Medical Information
While we were all amidst the global pandemic, we were following the covid protocols and restricting ourselves from having any direct contact with anyone, not even the doctors. This is where online consultation became a thing.
While patients could consult their doctors online from the ease of home, the WhatsApp chatbot enabled them to share their symptoms and medical history seamlessly.
This also gave medical practitioners access to all the important information (frequency and severity) they needed before connecting with the patients.
Appointment Booking
WhatsApp chatbots in the healthcare sector can assist patients in booking and confirming appointments based on the doctor's availability. The bot is so intelligent that it can also autonomously track follow-ups using third-party APIs.
Moreover, these chatbots can also be integrated with various medical systems operating from the backend to pull out information such as top practitioners, available slots, consultancy charges, pharmacy hours, etc.
WhatsApp chatbots can help patients reschedule or cancel appointments and locate the nearest hospital/testing center.
Testing and Results
WhatsApp chatbots can send and receive test results to and from doctors to patients and vice-versa, ensuring that no one has to collect them in person.
WhatsApp chatbot can also assist patients in giving out information about various tests and the cost associated with them, along with keeping a record of their pending medical reports.
Document Collection
WhatsApp chatbots make documentation easy for customers as they no longer have to carry a bundle of medical documents everywhere they go. Instead, patients can send copies of these documents to the chatbot itself.
These documents will then be stored in an encrypted folder to keep them safe and secure and will only be accessible with the patient's permission.
Medical Reminders – Notifications
Most people are caught up in their everyday lives and forget to take medicines on time. This is also true for children busy with their daily school activities.
WhatsApp chatbots are very useful in such cases. They send out reminders every time they need to take medicine or even if they need to refill their medical stock, ensuring they take them on time.
Inquiries – Healthcare and Insurance
Medical insurance mainly entails a long list of documents without which most insurance companies stall the release of payments, no matter the premiums you pay. WhatsApp chatbots allow patients to get answers to most of their insurance-related queries.
Patients can also submit their documents by scanning or clicking them directly on the interface. Having said that, here's something interesting: Did you know that you can automate claim processing and healthcare billing by integrating your WhatsApp chatbot with automation systems?
Patient Feedbacks
Feedback is essential to scale. I'm sure all of us agree with that. Therefore, healthcare institutions must listen to their customers and act on their feedback to enhance customer experience.
WhatsApp chatbot enables customers to give feedback on their overall experience and specific feedback for the doctors. This will allow businesses to introspect on what they need to improve and focus on. A small text on WhatsApp can go a long way for companies to improve the patient experience.
Online Payments
Waiting in lines to pay at a hospital is difficult and time-consuming. Previously, patients had to come early in the day, wait out to pay for consultations, and for their turn. This isn't the case anymore with the WhatsApp bot in the picture.
WhatsApp bots in the healthcare sector allow patients to book appointments and make payments from the comfort of their houses through WhatsApp itself, significantly simplifying the entire process of a doctor's appointment and leading to an improved customer experience.
Wrapping Up
The healthcare industry is one of the fastest-growing industries. Several processes can be automated to make healthcare processes more efficient and satisfactory for customers.
WhatsApp chatbots play a vital role in reducing miscommunication and redundancies from various processes as it requires no involvement of humans.
They are also making healthcare institutions accessible for customers around the clock with quick responses to queries on an individual level.
To deploy a WhatsApp chatbot to your healthcare institution, it is necessary to have a WhatsApp API, and the best way to go about this is to partner with a top API provider like Ameyo.
Contact us today to speak to our experts and learn more about how WhatsApp chatbots can help your healthcare institution reach more customers and improve your customer experience!