This blog is based on the early results of research undertaken by Peter Lavers on customer centricity.
Participants are asked to tell us what, if anything, they are pulling their hair out over when it comes to customer centricity.
There are 10 statements to agree or disagree with that could relate to the issues faced. Respondents are asked how well each statement describes their business, and the top five most agreed with are: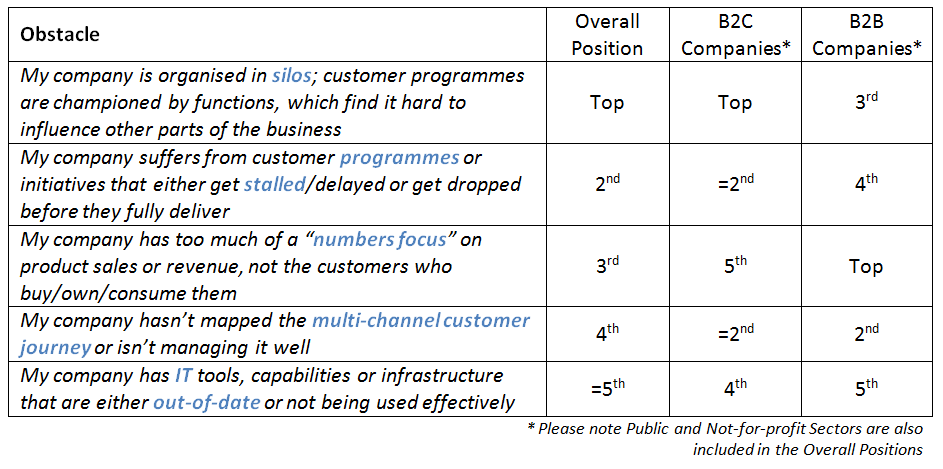 Firstly, it's important to note the disparity between B2C and B2B companies – the same Top 5 but differing levels of pain! B2B in particular hasn't broken away from its "numbers focus".
So, what's my advice if you face these issues in your business? Well, here are some starters:
If you're silo'd and hear talk of "empires" within your businessthen there's a problem and those in leadership need to take up their responsibilities to drive customer centricity from the top.I believe it is insular behaviour that does the damage i.e. it's about people. We DON'T necessarily need another reorganisation; we need a systemic approach that everyone can align to that adds up to success for the customer as well as the different functions within the organisation.
Customer Programmes can sometimes take on a life of their own and people who are passionate about customer experience (CX) mustensure against this. Many projects are trying to address issues in a strategic vacuum, and we've got to get more agileand systemic in the way they're commissioned so that initiatives don't get inextricably coupled with individual sponsors.Too often the most beneficial elements of customer programmes are allowed to slip. Work on the assumption that "Phase 2 never happens!"- in other words, the customer experience is worth fighting for.
Product-centric companies with a "numbersfocus" often get mired inshort termism and aggressive customer acquisition, with a database of customers who have only bought once!The CRM/CX community needs to step up and generate Customer Value Management (CVM) metrics that are as robust as traditional measures. In my experience business leaders and finance teams WILL be open to new lenses through which to view the financial performance if they are credible. Yes – the old metrics still have to be produced, but no longer are they the sole drivers for decisions.
For me, the main point regarding the multi-channel customer journey is that the CX happens anyway! We "do" advertising, DM and CRM; the customer "does" their experience, and the world has gone multi-channel, multi-media & social. It is therefore the duty of every company to decide whether it's going to seek to 'manage' the cross-channel experience or leave it to chance!If you are then you MUST get more joined-up and I would assert that companies need to 'engineer' their customer experience.
It may seem unbelievable in 2016 that companies still aren't where the want or need to be when it comes to IT enablement to manageCX. Many have at least started their journey, but it is still a substantial issue (and success isn't guaranteed) despite the real-terms cost reductions of deploying CRM functionality. Many companies don't actually have a customer strategy, so it is no surprise that the IT strategy doesn't enable it!Somebody on the senior team needs to be losing sleep about CX,and beware of sponsor "pass the parcel" too!
I hope that these insights inspire you to do your part in the drive to become more customer centric. It's not too late to take part in the research – if you would like to include your views (and want to see what the other 5 are!) then please complete our short survey. It is easy to complete: https://www.surveymonkey.co.uk/r/NCWB6HS
About the Author:
Peter Lavers (Twitter@peterlavers) is based in London and is MD of WCL Customer Management Ltd (www.ThinkCX.co.uk) and a Director of Customer Attuned Ltd (B2B-focused – www.customerattuned.com). He is an expert in CRM and customer experience management, and is one of the world's top influencers in the subject receiving recognition from organisations such as IBM, Satmetrix, SAP, Huffington Post, Vcare, MindTouch and Business Coach.