Think back to the last Saas company that you interacted with and the experience that the company provided for you? When you initially signed-up for their services, what kind of emails did you receive from the company, if any at all?

If you did manage to receive an email from them, did you interact with those emails and follow their customer service path, or did you simply dismiss them, finding them unengaging and boring?
The truth of the matter is that many SaaS companies try so hard to get customers on-board with their products and services but then fail to engage these customers after the initial sign-up, but this doesn't have to be the case for you and your business.
Today, we're going to several of the most engaging forms of email that you can send to your customers, enabling you to create the optimal customer experience.
The Acquisition Email
This is, of course, the first email that your customers should receive from your business. Also known as a 'Welcome Email', this is the email that will automatically be delivered to your customer after they sign up for your product, services or mailing list.
In most cases, if your customers aren't opening your welcome email, you've already lost them, so you need to make sure that your email marketing campaign is starting strong.
Provide your customer will all the information they need, including links to important pages on your website, social media pages and a customer service contact link if they want to get in touch.
For example, check out this welcome email from Virgin America.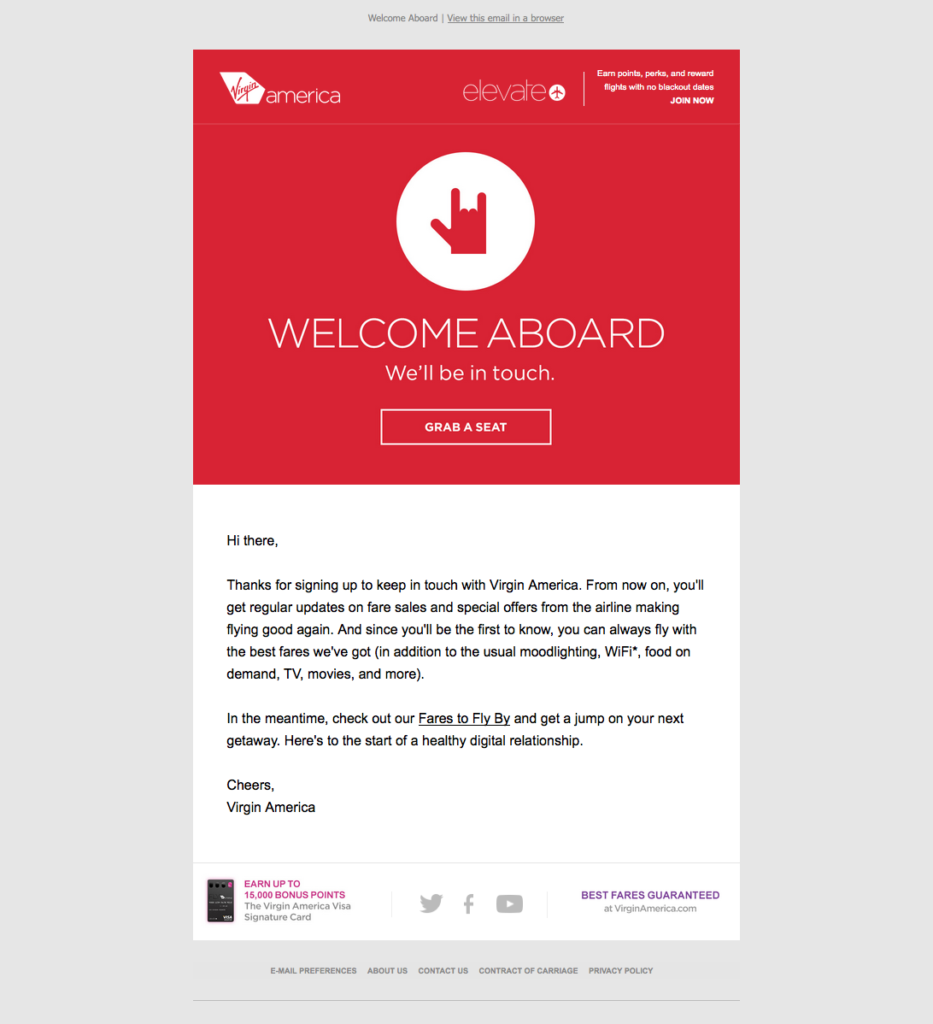 As you can see, the email is very simplistic in terms of design but still contains all the relevant information a customer would need to get started. The call to action for the next step is very clear in the middle of the email and there are all the links in the footer for current offers that are running and social media links.
This email happens to take things one step further since it also recommends content that the reader might be interested in, making it far more likely that they are going to take action on the website now.
This initial email needs to be perfect when it comes to errors and spelling mistakes. Otherwise, you're going to damage the credibility of your company. To make things easy, you can check your grammar using online tools like Grammarix, or proofreading services like Ukwritings.
The Trial Activation Email
If you offer a free trial period with your software, you'll need to make sure that your customer knows about it by sending an email. This way, they'll know all the information they need to know about the restrictions that your trial period has, as well as anything they need to know when it comes to upgrading to your full software package.
Don't forget to make sure you're communicating the right message and not sounding too pushy when telling people to upgrade. You can edit your emails professionally using tools like Boomessays.
The Value Email
While some customers may happily be using your software, there are going to be others that initially liked the idea of your software but haven't purchased or downloaded it and will, therefore, need a bit more information to help them out.
Within this email, you'll need to list out the benefits that your software provides and how it can benefit them with their work or their everyday lives. You could include links to product pages as well as pasting in customer reviews to help edge them towards a purchase.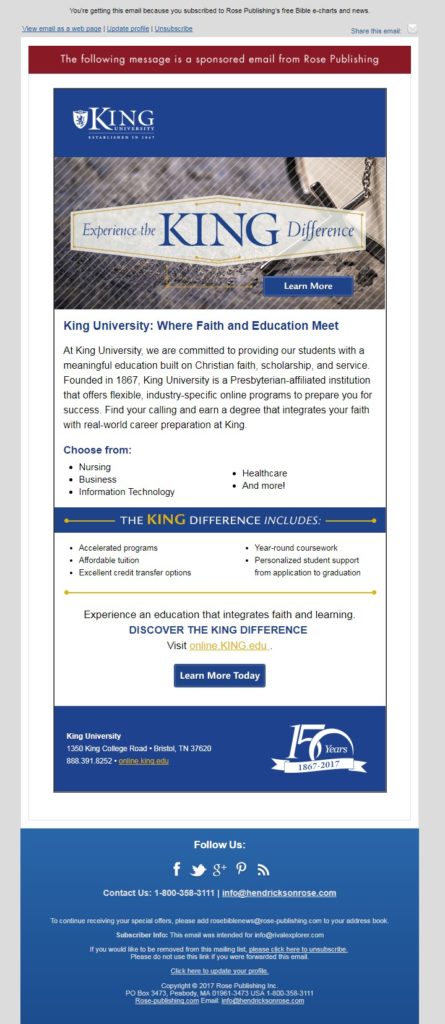 Take a look at this email from King's University. While this isn't directed related to software developers, this is a very good example of how a value email works. As you can see, there's a strong introduction to the email which provides a bit of history about the university, which you could write about your company.
The email then goes onto list out some of the courses that the university offers, reasons why somebody would like to enroll and, of course, clear and defined calls to action and social media links. In this benefit section, this is where you'd list out your software's features and how they can benefit your everyday user.
The Helping Hand Email
As this title suggests, some customers are going to need a little bit of extra help when it comes to using your software, especially if it's something that they have never used before. This is where you step in to make sure that your customer has everything they need to have the best experience with your product.
Here, you can talk about how there are many pages on your website, such as a Getting Started page, that can guide them in the right direction, as well as contact information so they can talk to one of your team directly.
The Anniversary Email
Everybody has a birthday every year, and your software and company are no exception. Sending out an anniversary email is an instant feel-good feeling for both you and your customer, and it's a sure-fire way to make your customers feel like they are valued and a part of your community.
This Crocs anniversary email is a very good example of how this kind of email works.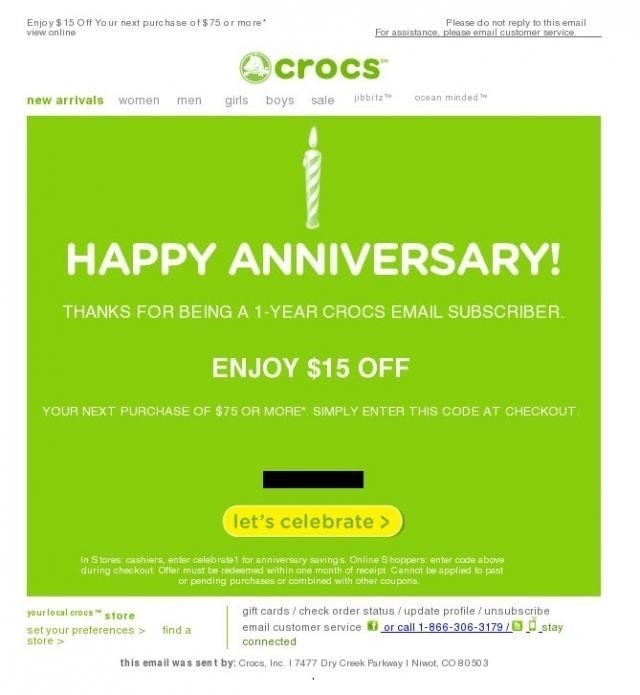 As you can see, this email isn't about the company's anniversary, but rather celebrating the time that the customer has spent with the company. Crocs then offers a discount as a 'gift' and features a clear call to action to get the customer started.
This email doesn't have to be too long. In fact, you can keep it short and sweet using free online tools like Easy Word Count or Cite It In.
The 'Keep Going' Email
Humans thrive on positive feedback; they live for it, so why not bring this psychology into your emails? For example, if you're selling a productivity app that is focusing on screen time and workflows, sending weekly (perhaps even daily) reports on how your customer is doing is a great way to keep them motivated and on task.
Of course, this can be applied to any piece of software; you just have to be creative. Don't forget to allow your users to customize their own email preferences so they can receive the number of emails they want.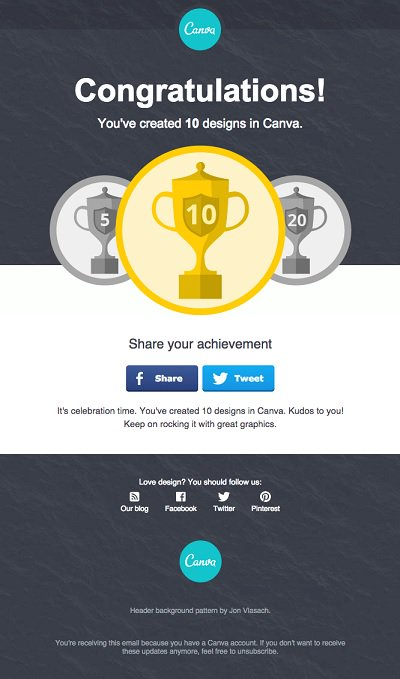 Fellow SaaS company Canva illustrates how well these 'milestone' emails can be implemented into your email marketing campaign. This kind of email is purely psychological as the user feels as though they are making their way through an adventure, ticking items off their to-do list as they go.
This could be quite regular emails that you're sending, especially if you're implementing milestones. This means you'll want your subject lines to be perfect, something you can create using tools like State of Writing and Essayroo.
The Upgrade Incentive Email
As a Saas company, the chances are that you offer a trial period and the chances are that people will use this trial period and then not return to using your software for whatever reason (pricing, experience etc.)
However, sometimes a customer just needs a little extra push in order to make a sale. This is where an upgrade incentive comes into play. A little bit before or after the trial period expires, send your customer an offer, perhaps a 10% voucher off upgrading today. This could be all you need in order to secure a sale.
The Trail Reactivation Email
While you try your hardest to produce the best customer experience with your software, statistically there are going to be customers out there that just didn't get on with your trial period. Perhaps even an uncontrollable factor, such as unforeseen circumstances, has meant that the customer has run out of time and didn't get a chance to use it properly.
"By sending a well-timed trail reactivation email, you can allow some of your users to reactivate their trial period, allowing them access to see what your software is all about, giving them another opportunity to make a final purchase" – explains Emma Craig, an Email Marketing Manager at Assignment help.
Conclusion
As you can see, as a SaaS company, there are many creative ways you can use email marketing to
boost and enhance the success of your business. Put yourself in the eyes of your customer, and
you'll soon be able to see exactly where you can make improvements to provide the best
experience.
Author's Bio: Freddie Tubbs is an email newsletter manager at Academized. He is writing a Revieweal online review blog and is a columnist at the Vault and Australian help blog.