Competition in the contact center space is intensifying over time. Being a trailblazer in the CC landscape calls for persistent innovations. It also demands prolonged efforts in maintaining stable and consistent relationships with customers. Adhering to our belief in customer-first strategy, our team at Ameyo consistently works on improving the CSAT score to stay a step ahead in the competitive landscape.
Our quarterly product updates and upcoming innovations enable our customers to stay ahead in the CX Battle. We have added notable features into our Ameyo 4.6 Release to ensure that our customers can run their business processes with ease. This time we bring together flexible Outbound Dialing, Augmented Monitoring Capabilities, Enhanced User Interfaces, and Advanced Third-party Integrations in our enriched feature set.
Here's a quick snapshot of what we have for you, today:
1. Cross Process Customer Visibility
Why :
Agents need a 360-degree contextual view of customer data to have an effective conversation with the customer on a day-to-day basis. This is generally needed in organizations running more than one process like Telesales and Customer Support, and there is an overlap of customer information profiles.
Usecase :
Let's say an agent Ron calling customer Caroline for selling car insurance needs to view her past and pending tickets and related customer data. To ensure a smooth customer journey and to have a better conversation context, the agent would need information like the insurance schemes that Caroline has already signed up for, the requests she raised for her medical insurance/term insurance, the solutions provided to her.This information would help him sell better and know the pain points and requirements of Caroline better.
How :
To aid agents and to create a comprehensive 360 customer data solution, Ameyo now offers Cross Process Customer Visibility. Agents get access to centralized data from any source in the form of a unified customer profile and could have an additional context to customer conversations.
2. Customer Data Access Privileges
Why :
Businesses often want to guard sensitive customer data against different user segments. They might want to hide data like a phone number/account number from a certain set of agents even when they are working on those contacts/tickets. There is a need for controlled data view privileges to be assigned for the different set of users to prevent a data breach and to maintain customer data privacy.
Usecase:
Tickets that are first received by the L1 team and then are passed on to the next level i.e. L2, L3, and so on. At each level, exposing all of the customer information is not advisable by operation heads.



How:
As the name suggests, this configuration prevents customer data from being misused and helps achieve data abstraction at a hierarchical level or on a random user to user group basis. Ameyo admin would be able to control and hide the customized customer data fields at different queue levels by assigning/un-assigning access to data on a user-group/queue basis and would be able to maintain data abstraction.
3. Customizable Supervisor Dashboards
Why:
With great dollops of data, Operational/IT heads in contact centers look for tailor-made dashboards as the metrics significant for one manager might not be that relevant for the other.
Usecase:
Ronda heads Customer Service Department and Jane takes care of Operations. Now Ronda might be more concerned about SLAs and Agent Wait Time etc and Count of calls handled or agents on a break period might be of more interest for Jane. A count of dialable numbers left in a lead list will help Jane to be prepared in advance in case the dialable number are few in number.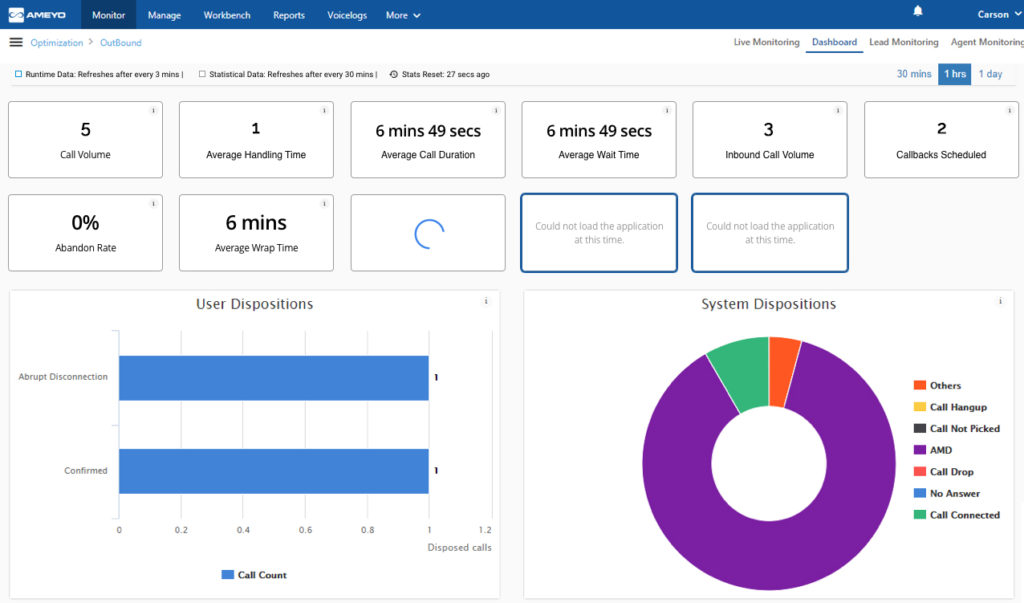 How:
This new feature makes the supervisor dashboards more personalized and customizable. The customizable app slots in supervisor dashboard achieved via Apps Framework offers flexibility in terms of dashboard reporting and augment business-oriented data point monitoring. The app slots can be customized for different business / operational metrics as per the business requests.
4. Third-Party Ticketing Updates Sync
Why
Agents have gazillion tasks in hand and it becomes quite overwhelming for them to resolve tickets and to do everything to make sure the customer details and ticket data are in sync and get updated in a single shot.
Usecase:
ABC organization using Ameyo has its order management system residing in the iframe for CRM. For instance, the agent updated the order details in the OMS, to maintain data integrity, the same should get reflected in the related customer ticket that is still pending for resolution. This would also reduce the amount of time spent on each stage of ticket resolution and would streamline the customer support processes.
How:
To improve an agent's ticket handling time and visibility, the changes made on the customer information in a third-party system residing in Ameyo's iframes can be updated in the related customer tickets at the same time. This would reduce the clicks as the changes in the ticket would be pushed in one go in both the places i.e. ticket details and CRM. The functionality is developed to be modular and is therefore achieved via App SDKs.
5. Flexible Outbound Dialing Campaigns
Why:
Managing and running multiple call campaigns often result in a cluttered window for operation heads as they have to work upon multiple tabs. This has multiple downsides and creates chaos as there are numerous campaigns to be managed at the same time.
Usecase:
An Offbeat BPO center has a list to be dialed out for telesales for medical insurance. Now the supervisor wants to dial out leads without insurance followed by the ones already having the insurance for upselling and cross-selling. Supervisor also wants to monitor both of these prospects separately. This would result in creating two separate campaigns and enabling the lead lists and managing them separately.
How:
As the name suggests, with this enhancement this would get a whole lot simpler as the supervisor would be able to segregate and prioritize the contacts to be called at the lead level. They would be able to create separate lead lists under a single campaign and activate calling at the lead level thus would easily manage them with the segregated dialing prospects.
This was just a glimpse into the features that were built to supercharge the operational efficiency of contact centers. There are plenty of other features in our recent release, that can make customer engagement and support a breeze for you. In the interest of creating a customer-centric world, our team continues to make Ameyo's platform more flexible and feature-rich. As we say, Customer Service is not a department, its a responsibility of everyone in the organization, we are striving to turn our customer requests into reality and make the customer experience better.