With the evolution of technology, the customers' expectations of service and support have increased tremendously. Now, offering support over a phone call or email does not suffice. Businesses need something more. But, what could that be? Well, the answer is, a Live Chat Software. Some might feel that live chat is not very effective and setting it up might be complex process. But they cannot be more wrong.
With that effect, let us talk about how you can ace your Customer Service game by having a live chat support software.
#1. 24X7 Customer Support
Have your ever encountered angry customers who are complaining about the non-availability of your customer support team? If yes, then don't be disheartened. You are not the only one. With easy access to, and abundance of technology, customers now look for immediate gratification. Whether its day or night, they want solution to their problem when THEY need it. To be a brand that the customers live by, you need to cater to such demands and expectations. An effective way to do that is by offering the customers the option to chat with you. Live chat reduces the response time and allows you to service the customers even after the business hours.
#2. No Hold Time
Customers don't like to waste their time waiting on a call to talk to a customer support executive. By offering a live chat option, you are enabling the customers to multitask. That means, they can just drop a message and get notified when a response comes up. That way, the customer can go about doing their daily activities, without the need to wait around for the agent to respond.
#3. Transparency
Phone calls are a conventional medium of conversing with the customers. But they do not offer a recording feature as proof of contact for the customer. Whereas, that is not the case with live chat. Here, the customer has access to the transcript of the conversation as a way to improve transparency. Also, having a transcript helps the agents to understand the context and get information of any previous conversation especially in case of frequent customers. This capability is rather helpful in a contact center because a different agent might be addressing the customer at different times. And, with the transcripts, the new agent will always be up-to date on the issue to serve the customers to their satisfaction.
#4. Reduce Costs and Increase Sales
Unless you have a toll free number, it costs your customers to call you and be kept on waiting. But, with a live chat, the customer does not have to incur any costs. Not just that, from the business's standpoint also, setting up live chat is quick and easy as compared to other channels such as a telephone.
Moreover, improve your website bounce rate by swooping in at the right time during the customer buying cycle. For example, a customer has been on your website page for a considerable amount of time but has not made the purchase. Use the live chat to ask them where are they stuck and help them. This instant gratification will leave a positive impression on the customer and will make them your loyal ambassadors.
#5. Faster Customer Service
Unlike other channels, live chat is quick. The customer only needs to click on the chat window to start the conversation. Once the live chat agent sees the message, they will respond. Not just that, during a live chat, the agent also gets the opportunity to understand the problem in detail. It is a good medium to ask for some explanation and have a thorough discussion with the customer. But, this does not mean delaying the service, on the contrary while asking for specific details, a competent agent will be simultaneously looking for the best possible solution. Thus, by the time the customer is done with the details, the agent is ready will a suitable solution.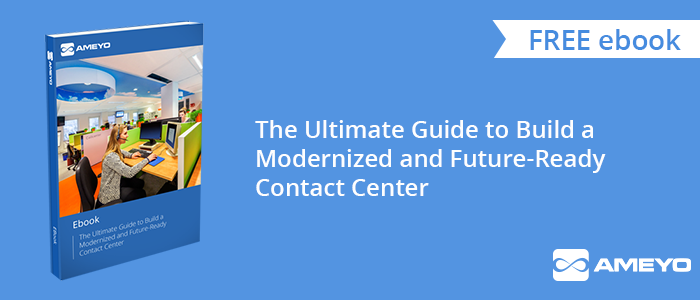 Conclusion
If your goal is to deliver a great omnichannel customer experience, then, having a robust an effective live chat software needs to be an important element of your strategy. But, the key to making online customer support a true success is by understanding the nitty-gritty of your business and getting a solution which is perfect for your needs.
Ready to get chatty with your customers? Check out AMEYO Live Chat Software to proactively deal with real-time customer interactions!