In today's fast-paced and highly competitive digital environment, a customer holds the most power in any business situation. We live in an ever-changing world fuelled by the internet, where access to real-time information is only a click away.
In fact, people use Google Search more than 3.5 billion times per day! In such times, customers expect exceptional customer experience from any business – whether it's an ecommerce startup or a multinational corporation with a detailed portfolio of services. Customers can make or break any business, and providing a high level of customer satisfaction ensures that a business retains its customers in the long run. A large number of unsatisfied customers may lead to a loss in sales, decreased profits, refunds, and loss of future customers. Or worse, an unhappy customer may switch brands and choose a competitor instead. Happy customers, on the other hand, act as brand advocates and may refer future customers also.
Customer Experience to the Rescue
The introduction of modern technologies and high influx of data has seen a significant shift in the attention given to customer experience in recent times. Customer Experience (CX), simply, is how customers perceive their interactions with a company. Not only does it apply when a customer buys a product, but customer experience is also the result of all interactions with a brand across all channels, whether clicking through a PPC advertisement or watching a video on YouTube. Recent research suggests that 60% of customers would willingly pay significantly more for a better customer experience.
Many businesses looking to increase customer engagement and conversion rates are now focusing their efforts on Customer Experience Optimization (CXO). According to the Customer Experience Optimization report by Econsultancy and Ensighten, a significant majority (96%) of companies that took part in the research acknowledged customer experience optimization to be 'somewhat important, with 41% calling it 'critical – a high priority for the organization'.
Such CX statistics suggest if you're a company in the digital age looking for an edge over your competition, it is vital to develop a customer experience strategy and optimize it.
Below, we provide 3 insider secrets about Customer Experience Optimization that will, ultimately, lead to increased customer loyalty & retention rates, and help increase revenue as well:
1. The Key to Unification Lies in Single Customer Profiles
To create a truly personalized customer experience, Single Customer Profiles, or Single Customer View (SCV), aggregates all customer data into a single location without the need to merge it manually from different sources. It contains profile, behavioral, & predictive customer data in a single view. Why use SCV – you might ask? Well, it's for companies to understand their customers beyond their previous purchasing habits – to gain an in-depth overview of their transactional, occupational, behavioral, demographic, and social habits.

Companies could take their customer data and integrate it with their CRM to gain a 360-degree view of their customers. Apart from this, it will present companies with an all-in-one dashboard, to view all their customer information without having to access different channels. Aggregating data from various third-party sources and combining internal CRM data with shopping behaviour and social signals can greatly help in customer segmentation and identity association as well.
Although, it is sometimes called the Holy Grail of Marketing, SCV still has not been widely accepted by majority of companies. Research shows that less than 18% of companies use SCV to power their marketing campaigns, with 45% not using it at all.
2. A Personalized Customer Experience is the Future of Marketing
For companies looking to offer deliver a relevant customer experience, it must be highly personalized and tailored to fit the intended customer. True personalization is the key to increasing brand loyalty and retention, as modern customers demand connected digital experiences across all channels. Modern businesses looking to set themselves apart should focus more on being customer centric, and offer tailored messages and interactions to meet the rising demand of consumers.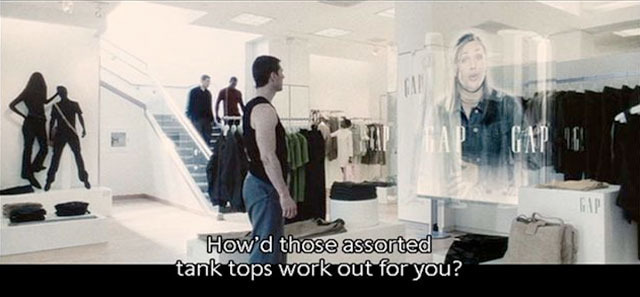 Ever wondered – what is the future of customer experience? Everyone remembers the scene from Minority Report, where Tom Cruise walks into a mall and has his eyes scanned by special cameras. Eventually, advertisements are totally personalized – the computer knew his identity and history to offer a truly personalized shopping experience. Futurists believe that such a personalized shopping experience is not too far away. Based on their previous interactions and engagements, companies can create complex customer profiles that can facilitate future content, interactions, offers, engagements and recommendations to create a personalized journey for every customer. The goal is to create a human touch – one that connects with the customer on a deeper level.
3. Utilize Multiple Channels for Collecting Customer Data

Many modern businesses have a hard time processing large volumes of data, and end up putting the blame on data quality, accuracy and consistency. According to the research, 85% of businesses admitted to not being able to extract the full value from their data sources, with only 27% claiming to turn all their data in actionable information.
To provide the most sophisticated customer experience, it has become vital to harness the power of multiple channels for collecting and analysing data in the digital age. By excluding a channel, a business may be missing out on exciting opportunities to create personalized experiences for their customers. They could also use the data to enrich their customer profiles.

Although many businesses acknowledge the importance of customer experience optimization and its impact on business processes & outcomes, it is still yet to be widely implemented on a wider scale across the organization. However, as technology gets more advanced and competition increases in coming times, we're sure to see companies investing in customer experience management to set themselves apart from their competition.
Not convinced? Here's our take on the top 5 customer experience trends that will rule 2017.