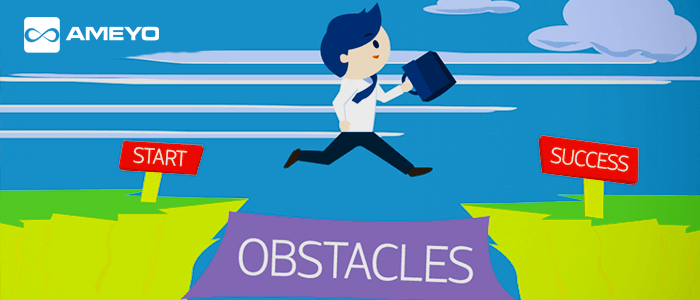 Building and running a startup successfully is not easy. Founders of tech startups, who are young and generally have negligible experience of running a company, need to make a wide range of decisions when establishing their startups. Market, recruitment, management, product, finance and legal issues- taking intelligent decisions on all these fronts is a major challenge for entrepreneurs.
While making progress towards the above mentioned critical decision areas, startup founders are bound to make mistakes. And these mistakes can sometimes cost them heavy and can even lead to closure of their startups.
In fact, according to Small Business Administration research, only half of new businesses survive for the first five years and only one-third of new businesses are able to survive for 10 years.
It is extremely critical for entrepreneurs to be very careful and head forward with caution and intellect to keep away from any mistake.
Below is a list of 6 mistakes that startup founders must avoid:
Onboarding Investors too Early
Entrepreneurs should not approach investors before their startup is investor-ready. Investors have very high expectations as far as the venture's performance is concerned and getting them too early might cause some inflexibility and may create a bottleneck. In the very early stages, entrepreneurs are still struggling to figure out how their product or service will create customer value. You should not approach the investors for financing prior to determining the customer value as investors need a proof that your customer value concept is working and the business is ready to scale. Investors also look for a strong team of founders and some proprietary advantages. There is a greater risk of rejection when approaching investors in a rush.
Also, if a startup is funded too early, it may lead to conflicts and disagreements between the investor and the founder in future, which may lead to the investors not funding the firm again.
Not Realizing the Importance of Social Media
Social Media not just enables new businesses to introduce their brand to the potential customers but, if carefully packaged, it helps in getting their audience excited about their company and products. It is an effective and powerful tool to share your products and services with the whole world and create a unique experience.
By monitoring the social media platforms, you can gauge what your customers need and then offer the right solution. Developing valuable content and sharing it on social media wisely aids in finding new customers. One can also get insights of their competitors' activity and observe what's working for them.
Also Read, 7 Mistakes Startups Make with Social Media
Hiring the Wrong People
Onboarding the right team is crucial for a startup's success. Employees must have the capability to share your vision and shouldn't necessarily be eyeing on large pay packet. Founders must weigh their talent and attitude and not just skill set.
However, hiring too inexperienced people in managerial roles is usually not considered good as it will not work. You can't make someone a VP who has never been in an ownership role.
Trying to Build your Product for Everyone
You can't fit in your product for too many audiences. This will make your product being less appealing to your potential customers. Limit your product for a specific set of audience that can actually consume it and do a stellar job for them. Understand your target customer, build your product accordingly and stay focussed.
Launching Too Soon
If you decide to launch quickly, there are chances that your product is unfinished and raw at that point of time. Launching too early can damage your reputation easily. The early adopters of your product or service will never come back if there is a fault. Think about the overall goal of the business and plan your launch accordingly. Delay your launch until your product is fully ready because if the product falls short of claims, it will definitely get bashed.
Not Talking to Customers
It is significantly important for founders to converse with their customers. The customer's feedback will enable you to improvise your product and do better. If your customers are leaving, collecting feedback is the best way to learn what is causing dissatisfaction with your product. Know enough about the customers by talking to them regularly and be more effective.