No matter what type of contact center you are planning to set up, it is important to remember that setting up a contact center requires a considerable investment of time, money and effort. Although you would be able to outsource most of the work, managing the contact center set up process can get out of hand if not managed properly.
What is a Contact Center?
No customer-facing company can survive without a contact center. A contact center is an office used by a company for communicating with its customers through agents. Communications can happen through voice and other mediums such as web, email, chat, voice, and social media.
Customers usually get in touch with customer service in a contact center to enquire about products / services, for service-related issues, purchase-related issues, and to perform certain actions in their customer journey.
A contact center is very similar to a call center. The key difference between a call center and contact center is the number of features in each solution. A call center is deployed only for voice-based processes, wheras a contact center allows communication through multiple channels such as voice, web, chat, email and social media.
Why You Need a Contact Center
So, you've decided you need a contact center but haven't quite figured out what to do and how to do it. For some companies, having a contact center is merely an added extension to their business. However, with those companies who regularly deal with customer queries, having a contact center is an important extension of the business.
There are, however, a number of things you should know before setting up a contact center. Most important of all, you have to know why you need a contact center. Maybe you already have a thriving customer-facing business and are getting tons of customer queries. Or maybe you want to venture into the market as an entrepreneur looking to set up a BPO.
No matter what your motivations are for starting a contact center, providing a high quality of customer support and service will ensure long term customer loyalty and satisfaction for your customers.
To Cloud or Not, That is The Problem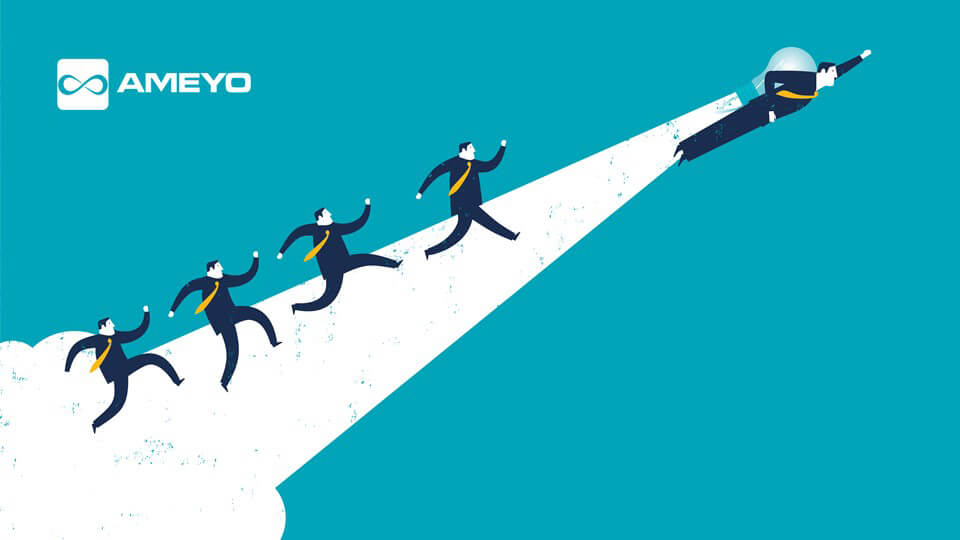 At this point, you know that you need a contact center and why you need one. Now, it is time to find out what type of contact center you need. There are, basically, 3 types of contact centers:
On-Premise Contact Center 

Hosted Contact Center

Cloud Contact Center
Although cloud computing offers tremendous business benefits to contact centers, it limits the amount of control a company has over operations and infrastructure. If you're just starting out, we recommend choosing a cloud-based contact center to get things up and running – and scaling up in the future as per business needs.
Step by Step Guide to Setting Up a Contact Center
We promised to give you a simple guide you can use to get up and going with ease. Here is the step by step guide you can use to start a contact center:
Create a Contact Center Business Plan

It can 2-3 years to have a fully-functional running contact center. Having a business plan for your contact center can do wonders for estimating and planning it all out.

Be specific in how you approach this. Ask the right questions to guide your path. What is your business mission statement? Where will your office be located? How many employees do you need? Will you be the sole owner, or do you have partners? Do you have sufficient funds to handle employee salaries while adhering to local laws & regulations? What about employee daily commutes – is your office easily accessible? Most importantly, where do you see yourself and your contact center in the next 5 years?

To get your contact center workforce estimates, use an erlang calculator that tells you the number of agents needed to service a given number of calls. In this procedure, remember to keep a genuine, achievable service level target.

Choose the Right Contact Center Infrastructure (CCI)

By now, you should have a fairly good idea whether you want to start an in-house, hosted or cloud-based contact center. For this, you need to have the right contact center technology for your chosen type of contact center. CCI includes the hardware, call center software, and other networking components needed to effectively run the contact center.

Here's what you should be thinking about:

Is your contact center a BPO?
What types of customers are you dealing with?
What industries will you be focusing on?
What channels will you incorporate? Will it be Single Channel, Multichannel, or Omnichannel?
What customer service skills will your agents be required to have?
Do you have the budget to start an in-house contact center?

 

Choosing the Most Suitable Contact Center Features

Now that you have figured out the technology to run your daily contact center operations, it is time to choose what features you'll be incorporating into your CCI infrastructure. Some typical contact center features include:

Predictive Dialer
Voice Logging
Customer Relationship Management (CRM)
Agent Desktop

Addon features that will improve contact center performance, productivity, and customer experience include:

Business & Predictive Intelligence derived from artificial intelligence and big data analytics
Chatbots for customer service automation
Ticketing / Case Management
Intelligent Call Routing
Knowledge Base
Speech Analytics
Emotional Sentiment Analysis

Setting Things into Motion


You have the knowledge needed to start making your first investment in your contact center. Plan for everything, from the office location to agent equipment (headsets/workstations). Get all legal issues sorted and hire a lawyer if you have no prior experience in starting up a company. Once the infrastructure is taken care of, hire leaders/managers who will lead for you and advise you on critical matters. And, since you're going to be dealing with people, hire the right people in the HR department. Not to mention – the right contact center training to keep them updated with the latest contact center service techniques.
Select the Right Contact Center KPIs to Measure and Improve

Once things are up and running, focus on maintaining consistency in contact center operations. Choose the right contact center KPIs to measure and improve over time. These can include average handling time, first response time, etc.


Use 

to LayOut Customer Journeys on PaperGet an idea of where you stand. Assess your current customer experience maturity. The best way to start with the CX assessment process is by mapping customer journeys. 

Customer journey mapping, or the process of creating a customer journey map, a crucial step in creating a customer experience strategy. It provides a bird's eye view of all the types of customer interactions you're going to have to deal with on a day-to-day basis. If customer experience even mildly interests you, you need to know about customer experience strategy and why you need one today.

Improve Contact Center Quality

Once you've set up your contact center. If you're still dealing with multiple channels – use an omnichannel customer experience solution to help eliminate interaction silos that exist between various departments.
Build a Company Culture that Sets You Apart

Once everything is taken care, focus on building a company culture you can be proud of. Have clear, concise business goals and focus on building customer advocacy to build a loyal following. Manage and improve processes to increase efficiency. Reward employees who deliver great customer experiences and encourage others to do the same. If you're really feeling generous, set up a leisure room in the office to help your employees relax while they're not working. Good culture always attracts the best industry talent.
Refine, Improve, and Reinvent

Once you feel you've done everything possible to improve your contact center, realize it is not enough! Contact center success depends on continuous refinements and improvements over time in terms of people, processes, and technology.
Starting a Contact Center: The Way Forward
If you're looking to move on from your legacy contact center to an intelligent, customer-focused contact center platform that improves customer experience, you won't have to wait much longer. Ameyo FusionCX has all the right ingredients to power up your agent interactions and improve customer experience.