Contact centers have gone through an irreversible evolution over the last decade. Businesses have embraced the concept of omnichannel contact center so that they can connect with customers on their terms. And digital channel – in the form of email, web chat, social media, and self-service channels continues its burgeoning growth as a popular customer engagement model.
According to the results of the 2015 Global Contact Centre Benchmarking Report, digital will overtake voice-based contact within two years. This means more and more contact center customers no longer wish to communicate with organisations over the telephone. With the new generation of tech-savvy customers in the market (Generation Y) the proliferation of digital channels have impacted on every aspect of communication. They would resort to phone as a medium only when all others have failed to resolve their query.
This demands contact centers to incorporate digital channels into their customer engagement model, or face extinction. This transformation or revolution, as some would like to call it, has surged a growing need for an integrated experience in an omnichannel environment.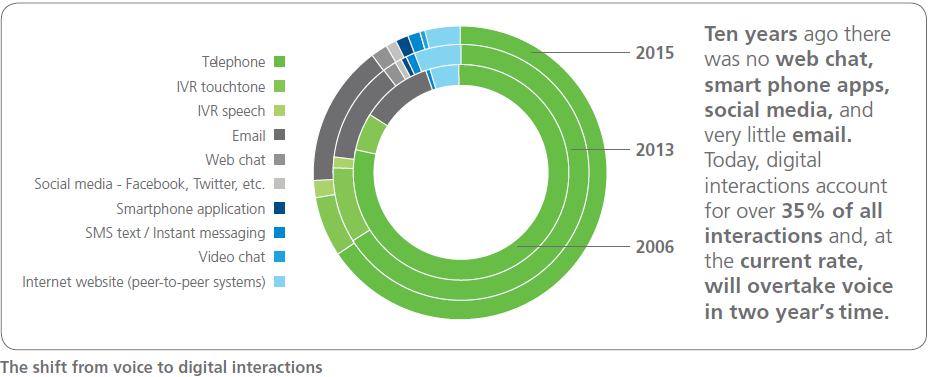 With the pragmatic shift from mass service to mass personalisation, the traditional telephone-centric contact centers is no longer valid. Organisations have started realising this and have started investing in technologies that offers True Omnichannel presence in the market that offers the most opportunity.
Customer engagements are going digital. Can your organisation keep up? Overall, 41.8% contact centers forecast a reduction in voice contacts, and 87% expect an increase in non-voice contacts. And with digital convenience, handing out mobile digital devices to consumers, contact centers expect a drive in additional digital interactions by 73.8% within two years.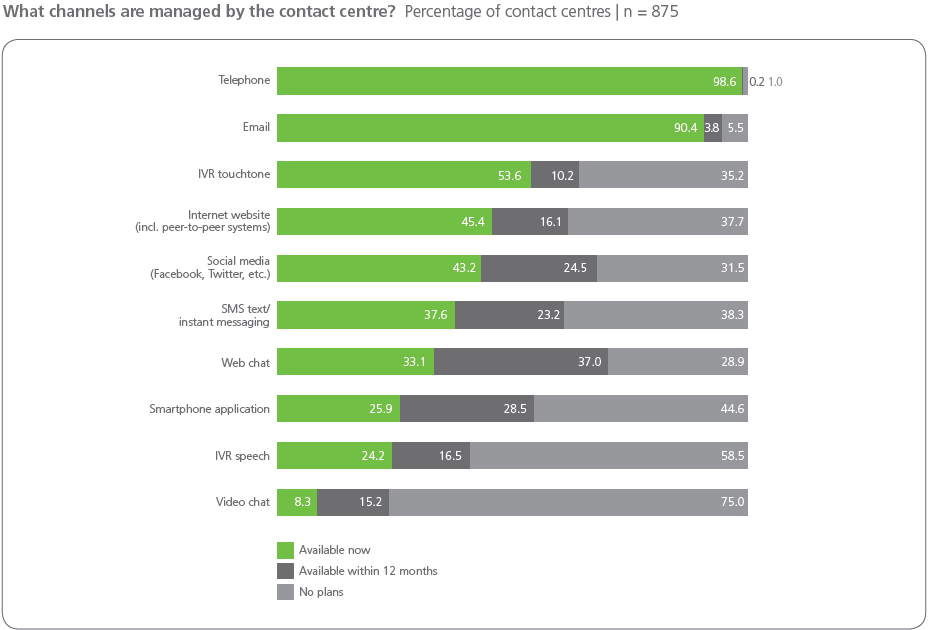 Over 50% of contact centers will soon adopt multichannel engagement featuring eight channels of communication. Seven of these being digital. A major challenge will be integrate all the channels to provide a consistent level of service across channel offerings.
To stay ahead of the pack, contact centers should eliminate isolated channel provision for service, and provide omnichannel experience, i.e, to use different media to complete a single customer inquiry. And moreover, these interactions should be frictionless.
So what can contact centers do to avoid facing extinction? They should change to:
"Digital First Proposition" where contact centers eliminate forced channel switching causing frictional interactions.

A definitive span of KPIs encompassing the entire customer journey rather than focusing on the voice element.

Upskill agents to handle more than voice interactions