Customers today have a really short attention span. To hold their attention, brands need to leave a lasting impression. And how can they do that? By giving the customers a memorable experience of course! After all, customer experience (CX) is something that the brands need to continually work upon as it has a direct implication on the brand image.
Keeping that in mind, today, we will understand what do we mean by customer experience and how is it different from customer service. Then, we will look at some of the ways to improve customer service experience to create CX memories.
Customer Experience is the customer's perception of your brand. It is determined by your store layout, the level of service they receive, and interaction with your employees.
Every company provides customer experience. That experience may be good, bad or indifferent. If you interact with a customer and provide him with products or service, means that he has an experience with your brand.
Customer Experience vs Customer Service
Mostly, a customer's first point of contact with a company is an employee by visiting a store or speaking on phone. This gives your business an opportunity to deliver excellent customer service.
For example, if you book a tour package through a travel & tourism company, the person you are talking with, is polite and friendly, it leaves a good impression. During the trip, your ticket arrives early, and the hotel rooms are on par with your expectations. Then, that's a good customer experience.
Customer service is a consequence of the actions that we take. Whereas customer experience is determined by how customers feel about a company – it factors in the emotional and psychological connections as well.
Most of the companies say customer service is reactive and often is only used when a customer is not satisfied. If a customer has an issue with a product or service, then he might contact the customer support team. On the other hand, customer experience aims to reach every client or customer. While customer service may only be a one-time interaction, customer experience impacts all the touch points.
Improving Customer Service Experience
For a consistent business growth, it is important to balance customer expectations with your service levels. Here are a few ways to provide a good customer service experience.
Nowadays customers have become web savvy, and thus, prefer self-service. For instance, a customer wants to buy sports shoes, he would rather get product related information like reviews and FAQ on your website instead of calling the customer support. It is important to provide alternative options like chat service, IVR etc. Self-service options work best when a customer has a question that is not too complex and require an agent to intervene.
#2. Say "Thank You"
Starting and ending every customer interaction with a thank you is one of the best ways to improve customer service experience. Starting every interaction with thank you shows the customer that you appreciate him for choosing your business. Say thank you at the end of an interaction even if doesn't result in a sale. By doing this, the customer will leave with a positive impression of your brand and might revisit in the future and actually be converted into a customer.
#3. Clear Communication Skills
Try to resolve the customer query quickly. More importantly, try to avoid jargon and use a simple language which your customers are more comfortable with.
For Example, The last time I went to get my car serviced, an employee told me if I wanted to get the oil changed, it would be "included" in my final bill. I thought that meant I would not have to pay any additional charges. But, at the time of payment, I found that was not the case. I was asked to pay an additional amount. The employee apologized and I believed it to be an accident. But in the future, I will not come back to that shop because of this miscommunication.
#4. Set up a Contact Center
It is very important to set up a contact center to deliver a good customer service experience. Contact centers are used for inbound and outbound communication. In an omnichannel contact center, the agents can interact with a customer via web chat, phone, email or other communication channels. Your contact center is the heart of your business and has a direct effect on customer satisfaction. If a person contact customer service and he experiences a long wait time, he will be unhappy with your company and start to look for other solutions. That's why it's important to set up a contact center for improvement of customer services experience.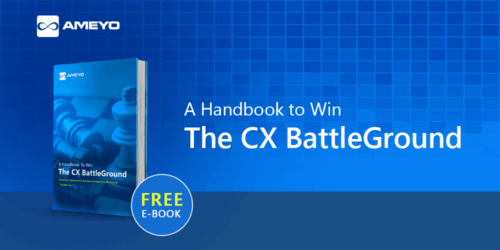 Conclusion
In this digital era, it has become imperative to not just manage but exceed customer service expectations. This might seem like a daunting task but is the need of the hour. But, if you keep in mind the above-mentioned points and incorporate them into your customer experience strategy, half the job is done. Rest is to maintain and tweak the strategy in due course of time.