We have been on a world tour with our Global Event Series – "Conversation'19 – The Ultimate Customer Engagement Event." After our earlier success in Kenya and Ghana during the first leg of the event in the African continent, we were back at Zambia and Zimbabwe to extend this 'conversation' further while opening up new geographies to the modern contact center and customer experience technologies.
Our Day at Zimbabwe CCAZ
The Contact Center Association of Zimbabwe (CCAZ) organized the event to provide a platform for contact center and business leaders to discuss the BPO industry in Zimbabwe and the future of the country as probably becoming the go-to destination for the BPO sector.
In attendance we stalwarts like Mr. Kazembe Kazembe, Minister of Information Communication Technology and Courier Services who addressed the while highlighting the great potential of BPOs to contribute to the economic growth and employment creation to many Zimbabwean youths. In continuation, Mr. Rinos Mautsa, Director of Tech24 Pvt Ltd and our Zimbabwe partner said reiterated this by saying he expects the government to play a critical role in attracting global investors.
Keeping with the theme of the event, Rahul Zutshi, Director of Marketing & Strategy at Ameyo shared his insights into the contact center industry saying "I have observed 3 things that are common to countries that are leading the BPO revolution – right talent, which is abundant in Zimbabwe, seamless telecom process and infrastructure and ease of doing business through reduced number of legal hurdles."
Our Date with Zambia
Conversations'19 in Zambia was all about discussing how Zambia can leverage the advanced contact center technologies to grow their economy and have an overall positive impact. Our panelists discussed at lengths about the various challenges that they see in terms of building a modern contact center and also shared the initiatives that they took in their organizations to ensure great customer service experience.
The Challenges
Davies Kabange of BancABC, Zambia started the panel discussion by talking about the need to maintain a balance between your revenue goals and/or KPIs while ensuring high levels of customer satisfaction.
As Valerie Mpuku, Senior Specialist at Zambia National Commercial Bank (Zanaco) PLC mentioned, customer experience in Zambia is an ongoing process and the contact center business is not very old in the region, it will require the support of both the government as well as the established brands who make the customer experience their priority.
The Initiatives
While discussing what all initiatives the businesses can take to build a modern contact center, Valerie shared how Zanaco as a service provider made ease and accessibility its priority by deploying Ameyo IVR. This helps with resolving the customer query in the first contact as FCR is very important for the business.
Rahul Zutshi, Director – Marketing & Strategy at Ameyo also highlighted the importance of having a unified agent desktop which allows the agents to interact with the customers, like/comment on a facebook post or tweet/retweet from a single screen itself.
"Deploy many self-service options for customers to serve themselves without having to speak to an agent. This will lead to having minimum staff in the call center and higher customer satisfaction" added Mr. Kabange.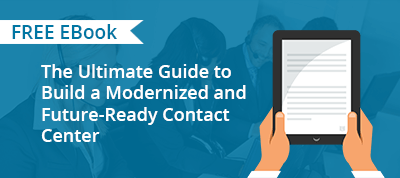 Key Take-Aways
"Building a modern contact center requires you to look ar your acceptable or desired call abandonment rate, the SLAs as well as the average call waiting time. It is important for a business to try to reduce staff cost" reiterated Mr. Kabange
Adding to that, Akhilesh Vybhav, MD at Zaktech Solutions Limited highlighted the importance of honing the soft skills of the agents and going for a call center solution that has a simple UI and is easy to learn for the agents.
Lastly, talking about what more steps the organizations can take for the betterment of their contact center, both Valerie Mpuku and Davies Kabange focused on an important piece – call center agents and the need to motivate them. Ms. Mpuku noted, " The environment of a contact center is quite unique as compared to other office settings. So, it should cater to agents' relaxation. Providing them an area to relax, spend some break time or having a cheer room might be a good start.
In addition to that, "We can set up modern call centers with smart systems and applications that are now available to make the lives of our agents easier and motivating them to want to come to work." said Mr. Kabange