Which brand in today's world doesn't want superior customer experience, without all hassles of the complexities of interactions?
Ok, that was a rhetorical question, as the answer is bound to be unanimously – 'No brand'. This is why Ameyo Engage has taken a step ahead to eliminate the intricacies involved of customer communications.
Yes, Ameyo Engage has joined hands with Zoho CRM through Zoho PhoneBridge. This integration will ensure excellent customer service with minimal complexity. Thereby, Zoho customers can eliminate the gaps involved in customer service management.
ZohoPhoneBridge Platform is a free to use integration platform where cloud PBX vendors and call management solutions can build extensions and promote them directly to Zoho users. Zoho claims that the platform was designed to let users build telephony integrations faster, and more easily, when compared to other conventional telephony integration platforms.
So, how exactly is Ameyo Engage's integration with Zoho PhoneBridge useful?
This amalgamation will offer organizations with compelling customer call management features like single-click dialling, incoming call pop-ups, automated call logging, and in-depth call analytics – to name a few.
The service agents can now directly manage inbound and outbound calls from unified screen through a single click and can view the customer information in real time. This will help them to personalize customer interactions and proactively take informed decisions.
The enormous relevance of customer experience has been substantiated by Forrester Research. A study by the firm states that customer experience has already assumed the numero uno status in the priority list for business and technology leaders in 2015. Moreover, it stands tall as a critical success factor for all enterprises in 2016.
The integration will empower users to provide great and seamless customer experience for determining the best course of action through personalized context-based interactions via Zoho CRM.
Integrating Ameyo Engage with your Zoho CRMwill allow businesses to benefit from the following:
Seamless Unified Screen for Ameyo Engage and Zoho CRM
Incoming Call notification with basic Customer profile view on Zoho CRM.
Make outbound calls having a Click-to-Call on the customer phone number from Zoho CRM.
Easily create new Contacts/Leads against the calls from fresh numbers.
Add Tasks or Follow up activities with Call Description on the Zoho CRM.
View previous call conversation details including voice-logs as activities against the Zoho contact/Lead records.
How will the integration work?
1. To configure the PhoneBridge connector for Ameyo Engage, you have to log in to your Zoho CRM account as an Administrator account.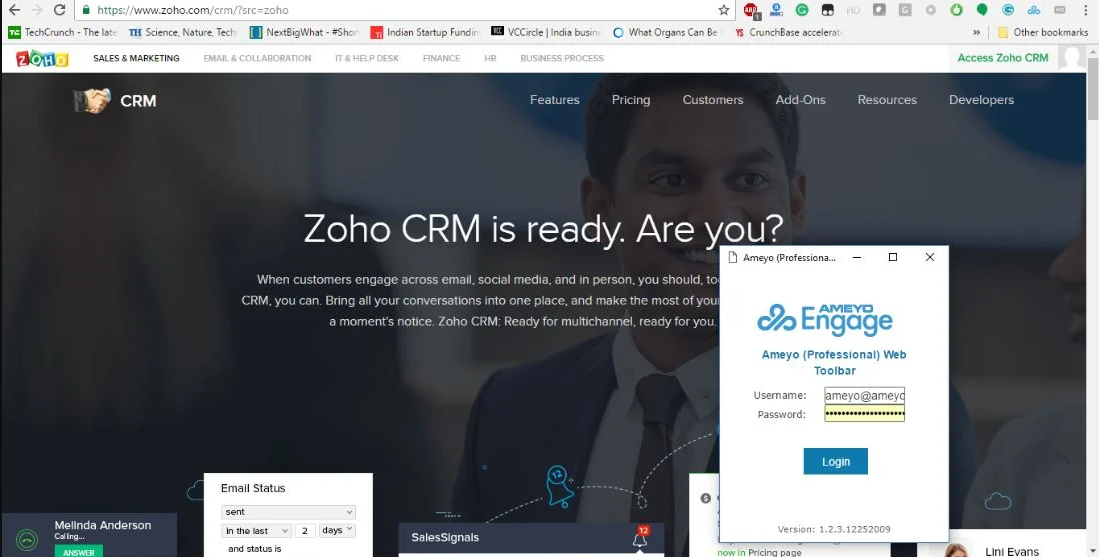 2. Thereafter, login to Ameyo Engage Supervisor Portal with Ameyo Supervisor Credentials
3. Next – navigate from the top navigation bar, to INTEGRATION section under the MANAGE module.
4. Click on Enable Button under Zoho.
5. A browser POP-up is opened of Zoho CRM.( Please ensure that Pop-ups are allowed for Ameyo Engage on the browser)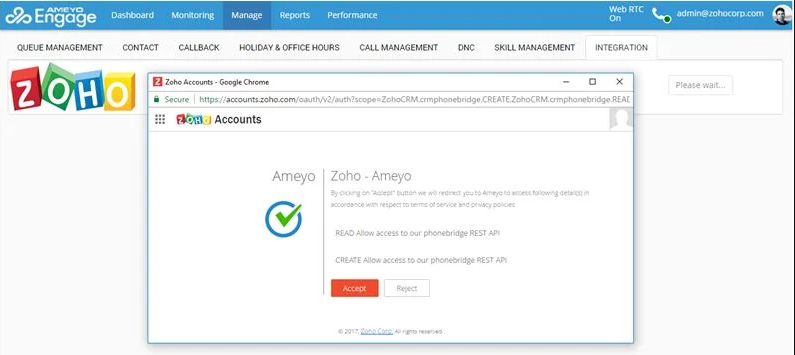 6. Once this is done, the ZohoCRM pop-up is closed with Status on the Ameyo Engage Supervisor portal is updated with options of Configure.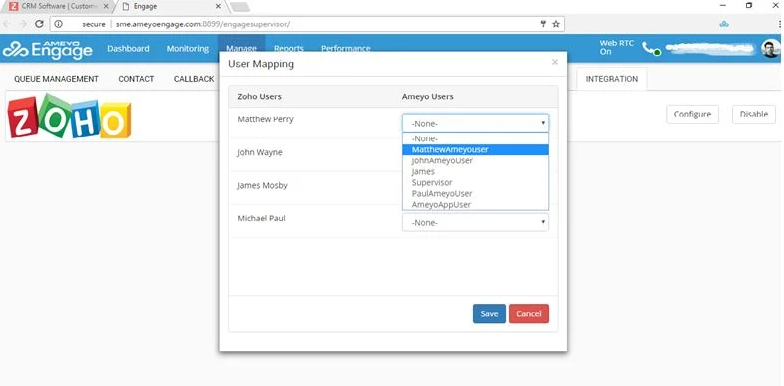 7. For Mapping the Users of your ZohoCRM against Ameyo Engage users,
a. Click on configure and select respective users that would need Ameyo Engage functionality on the CRM.
b. Click Save once mapping is complete.
What we Aim to Achieve with this integration?
Apart from bidding goodbye to the multiple complexities associated with customer interactions, Service agents can easily create new contacts/leads against the calls from fresh numbers and add Tasks or Follow up activities with Call Description.
Moreover, Ameyo Engage integration with Zoho PhoneBridge will enable Zoho customers to garner extensive reporting and Omnichannel capabilities, providing them with the much needed tools to provide great customer experience and thus, create CX memories.