In the Customer Engagement segment, delivering a high-value customer experience is crucial for businesses. Customers are more aware and hell-bent on self-service options. If a business wants to thrive then it has to meet the ever-growing demands of tech-savvy customers of today. This change management is iterative and results in a step ahead towards establishing seamless customer service journeys.
To remain ahead of the curve in this competitive market, organizations have been continuously working in a direction to transform voice-driven call centers into omnichannel contact centers with multiple channel support of voice and digital channels. However, voice still being the predominant channel with maximum customer touchpoints, businesses are also working towards enhancing this channel with easy IVR self-service options and developing advanced ACD logics that are flexible where immediate changes can go live faster. As businesses grow in size, the complexity of interaction flows grows with them. A contact center that provides options to alter interaction flows is an ideal choice.
Contact Center Challenges
On this note, let's take a real-life example to understand this better, suppose you reach out to an educational institute to inquire about some language course that you want to pursue. What if it's a leisurely Friday evening, you hear a recorded message welcoming you to the institute in which you are given an introduction to the courses they offer. And now you want to explore further about the admission details and fee structure. For this, the system asks you to wait for a minute and meanwhile, checks for the availability of the agent and the call gets disconnected abruptly, as it was non-office hours for the institute. This would definitely spoil your mood and you would no longer be interested in their services further. This shows how important a seamless customer interaction flow is for an organization.
The Right Approach
Now imagine what if the institute wants to make a strategic change to their interaction flow and wants to optimize the customer journey in a way as below: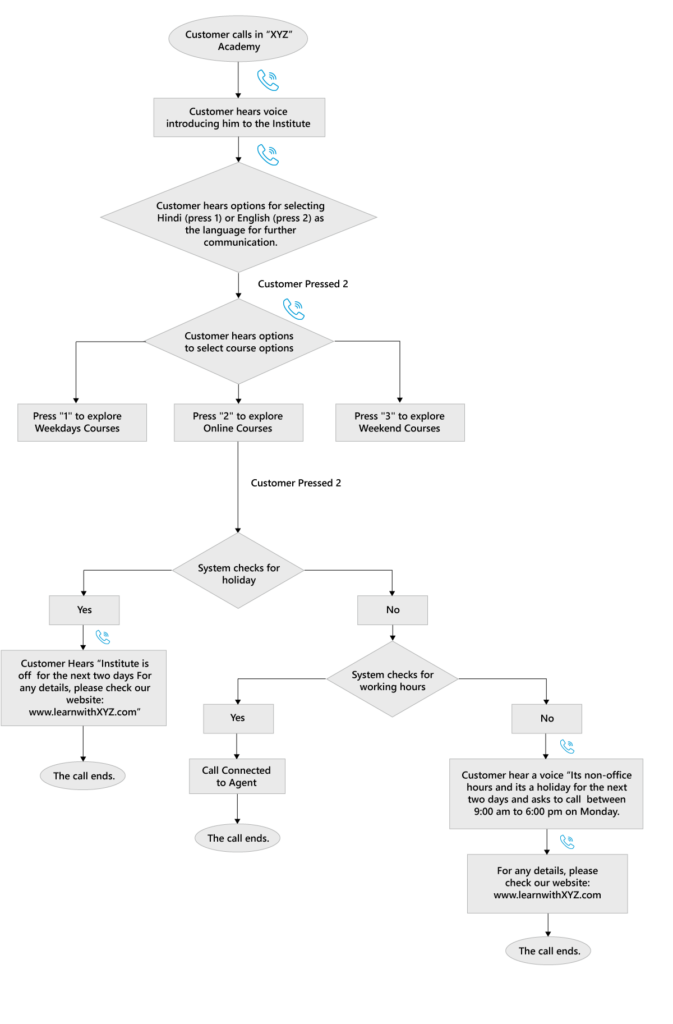 Taking the scenario of the above institute, for changing their customer interaction flow they need to have certain contact center technology that is easy to use, implement and can automate their interaction flow design.

How Technology Can Help
A prevalent demand that is observed in the CC market is for a technology that helps to create and implement routing flows simply without relying on the technical support team for every iteration. A CC technology with faster time to market and that alleviates manual efforts helps in staying ahead from the competition. Interaction flow designer is one such contact center technology, which allows simple drag-and-drop building blocks to create interaction flows. The interaction flow designers work beyond simple IVR flow designing and can help in simplifying complex interaction customizations.  The idea is to empower even the most non-technical users with the ability to design, build, validate and deliver the most intricate customer journeys. Capability to create business-oriented complex interaction flows without programming or scripting automates the repetitive tasks and saves valuable agent time in the long run. On the other hand, customers get a smooth transition from one interaction point to another.
Ameyo's Web-Based Synthesizer: Interactions Simplified
To cater to the needs of industries with highly fluid business process, Ameyo Web Synthesizer allows the organizations to design their customer interaction flow encompassing all the communication channels.
To help our customers and partners always stay ahead in the CX game, our motto at Ameyo is to improve and update our solution constantly. Taking a step ahead in this, Ameyo has worked towards bringing new capabilities in its interaction flow designer to enable customers design interaction flow logic on their own without coming back to the support team for every change.
Ameyo Synthesizer provides all that is needed to build better customer and agent experiences in a simple-drag and-drop editor. The workspace of synthesizer features an intuitive palette of components required to design the logic and a large canvas for designing the interaction flows. Users just have to drag components onto the canvas, configure the attributes via simple drop-down selectors, and connect the components with transitions.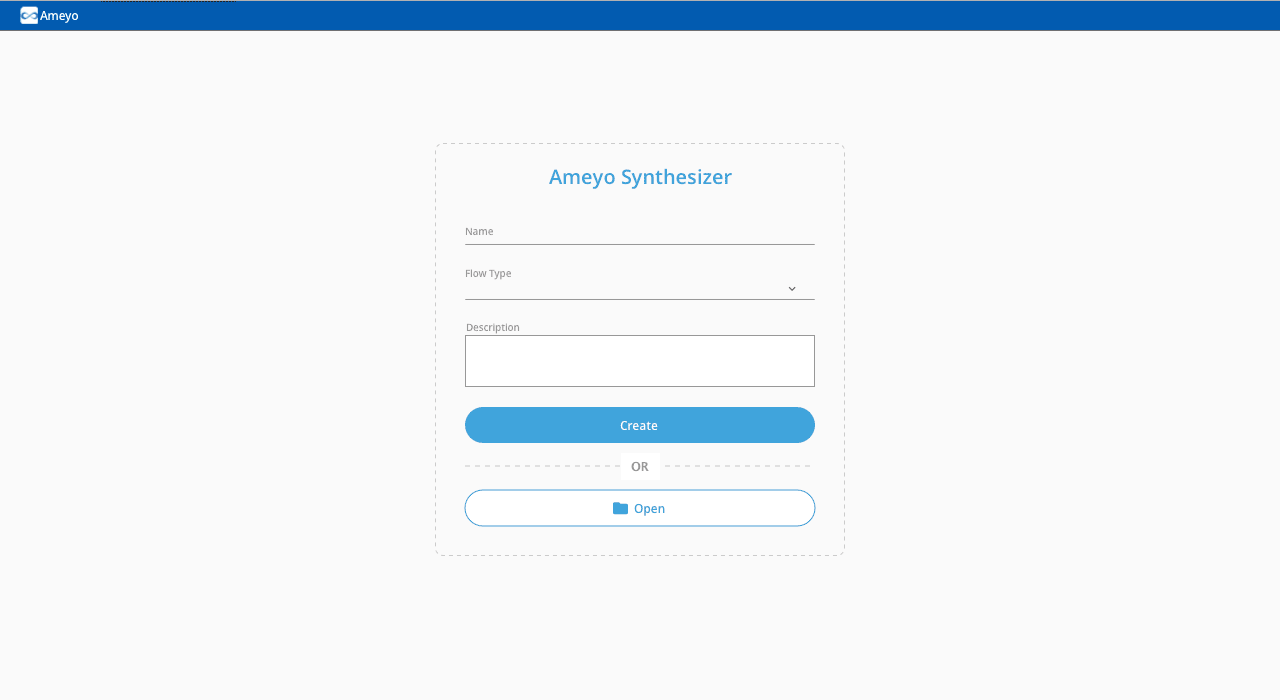 Ameyo Web synthesizer lets users create a custom flow which can be hooked at various execution points such as manual dial, conference, autodial, inbound dial and thus proves beneficial in multiple facets.
Ameyo's simplified and web-based interaction flow designer enables its users to perform:
Undo/Redo operations to make an error-free design with easy single click drag and drop design palette options.
Apply validations to make conditional workflows as per the business needs.
Screen the interaction flow designs with easy-to-use zoom-in & zoom-out options.
Copy/import node flows to inherit functionalities for saving the time needed to code from the scratch.
Design and implement workflow in a single instance.
To put it simply, Ameyo's web-based Synthesizer is here to take off those extra manual efforts of designing interaction flows every single time and make your contact center operations easier with a complete solution to take on all the challenges of handling customer interaction flow changes.