There is nothing new to the foundations of achieving success as a business, but there are surely new elements to the process towards it. Identifying and implementing the right strategies that keep you ahead of the competition or at least abreast with market leaders are necessary to build an identifiable brand.
Truecaller for Business is one such digital tool that helps businesses on multiple fronts, like enhancing customer experience and business communication. A series of features on the platform enables businesses to effectively reach out to their customers and provide great value and service.
Truecaller Business, Customer Experience, and Trust Building
Using technologies that enhance your customer experience and help your brand communications will go a long way for your growth process. A report by Morning Consult shows that 82 percent of customers will choose a trusted brand over others. The report was created on a survey of 330,000 global customers from 15 different markets and it also found that 90 percent of them would recommend a brand they trusted to their friend.
This echoes the fact that trust results from consistently fulfilling customer expectations over a long period. Trust, in turn, generates word of mouth, which again is an outcome of an excellent customer experience. Truecaller for business lands perfectly in this landscape and gives its registered businesses to enhance communication services with customers and track it with insightful metrics and work upon existing shortcomings.
What is Truecaller Verified Business?
If you are a smartphone user, there is a very slim chance you don't know about the 'Truecaller' caller ID app. It is one of the widely used callers ID applications, and Truecaller for Business is the enterprise solution platform of the same brand. The focus of this business solution is to serve organizations in their calling campaigns and reach out to their customers for an enhanced service experience.
The various features on the platform enable the registered brands to exploit an added level of transparency and success with existing and potential customers. This is achieved with several visual differentiators and backend features that give insights into campaigns and customer response. As of today, many global and upcoming brands have benefitted from Truecaller for Business.
Read More: How To Handle Call Volume Efficiently with Call Center Solutions?
How does Truecaller For Business Work?
Truecaller for Business provides companies with a unique identity badge that proves their legitimacy and stands out from the sea of spam callers. This identity is a caller ID that appears on the user's screen whenever a verified registered company tries to reach them. The ID provides the call receiver with the brand name of the caller, its industry tag, a verified badge, and the company's logo. This verified badge cannot be spoofed and saves the customers from phishing calls.
Boost your CX With Truecaller Business
Creating a healthy customer experience score is heavily based upon the smooth communication between a business and its customers. If this communication is not smooth or streamlined, even the most cutting-edge growth strategies might fail to generate desirable commercial returns. Communication gaps from a business perspective can arise from even the simplest of call bounce rates.
A study has found that unknown or automated calls from businesses experience a bounce rate of 87 percent. Based on this number, it can easily be pictured how poor calling campaigns and anonymity can hurt the customer experience score.
As a business, how do you expect to solve your customer's queries, take feedback, and share the latest information if they mark you as spam? Getting on a call with your customer is the most intimate and detailed way of gauging their experience with your Business. Truecaller for Business maintains the success of the calling practice and limits the impact of instances like spam marking to a great extent.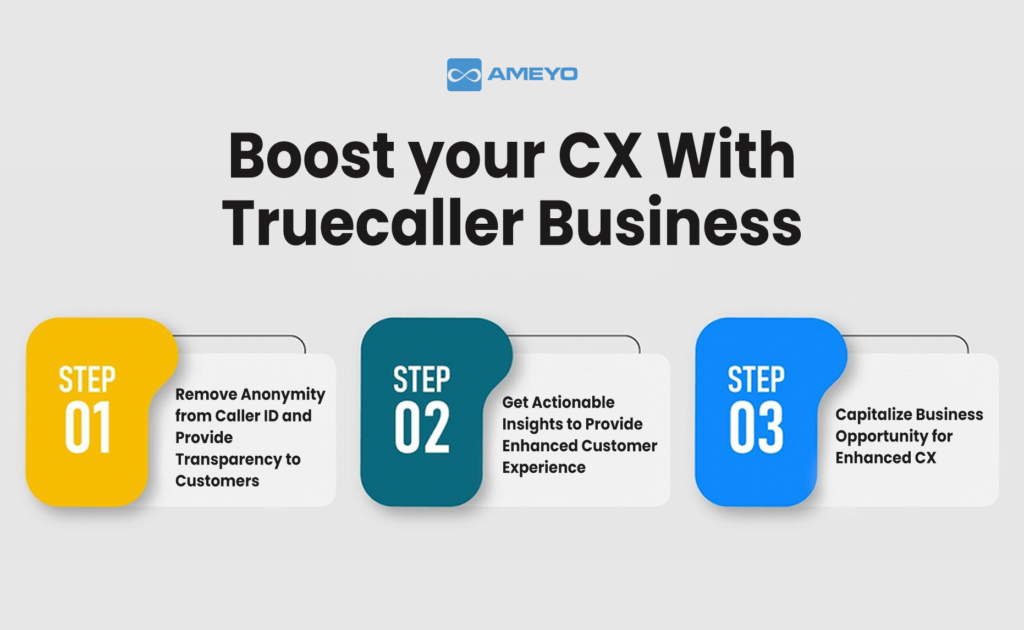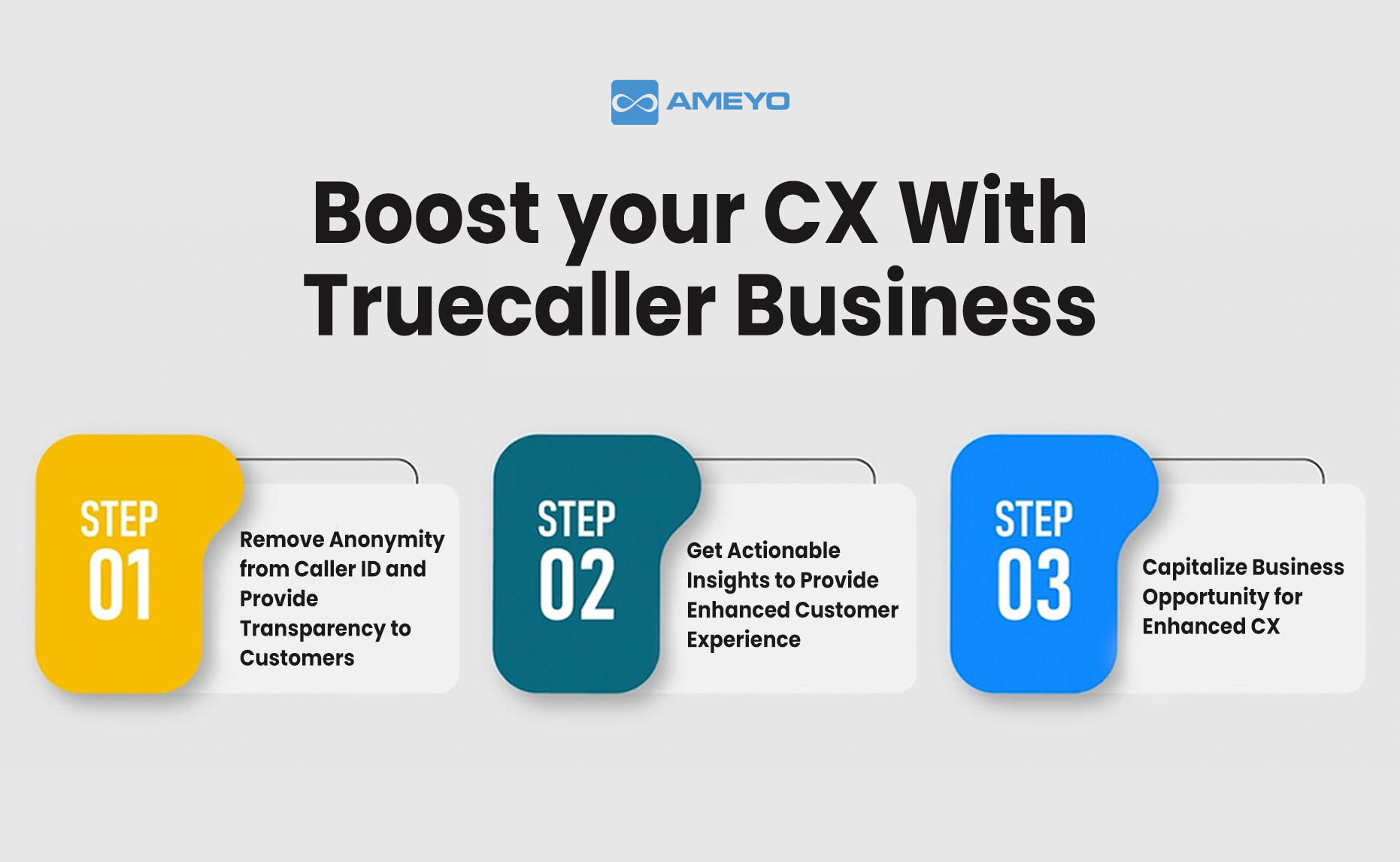 With Truecaller Business Solution:
An organization can remove all anonymity from its caller ID and reach its customers with complete transparency. With a solid identity and clear agenda, the caller imparts confidence in the receiver's mind and improves the chances of call pick-up by manifolds. Hence, boosting communication and creating opportunities for enhancing CX.

The struggle for businesses doesn't end once the call is picked. It then becomes another process for them to capitalize on the opportunity, provide their best, and come across as a genuine entity so that they don't get marked as spam.

The amount of work on the calls has to be balanced on the backend by taking relevant actions on the obtained insights. Without working on campaign data, the growth in customer experience will plateau after a point. With Truecaller for Business, companies can easily obtain actionable insights through the platform's dashboard.
Read More: 5 (Proven) Ways to Increase Call Connect & Pickup Rate
Improving Business Communication with Truecaller for Business
Even though businesses can reach their customers through multiple channels in today's time, voice calling remains one of the most effective ways to gauge customer satisfaction and register honest feedback. Calling also enhances the results of the marketing and increases the chances of making more sales due to the transparent nature of voice calls.
But in recent times, people have stopped responding to unknown numbers and this causes more than 80 percent of business-to-consumer calls to go unanswered. This shift in user behavior has made it very difficult for businesses to execute their communication processes for decent returns.
Truecaller for Business can fix this issue by improving the ongoing call pickup rates of any campaign by at least 50 percent. The features that are going to help a business in improving their customer experience will also allow them to reach more customers. Mentioned below are the unique features of the Truecaller business platform that not only solidifies a company's brand trust but also improve its communication.
Features of Truecaller for Business
Details of how Truecaller's business solution and its key features help brands make an impact are mentioned below. Many businesses have stood out with their verified identity, and it is accomplished by: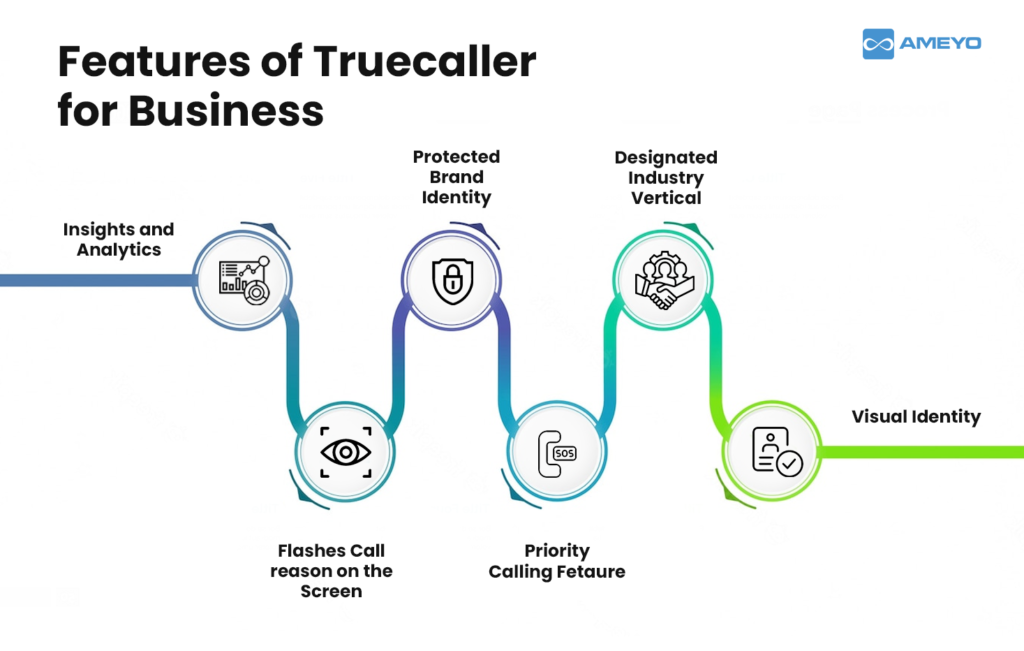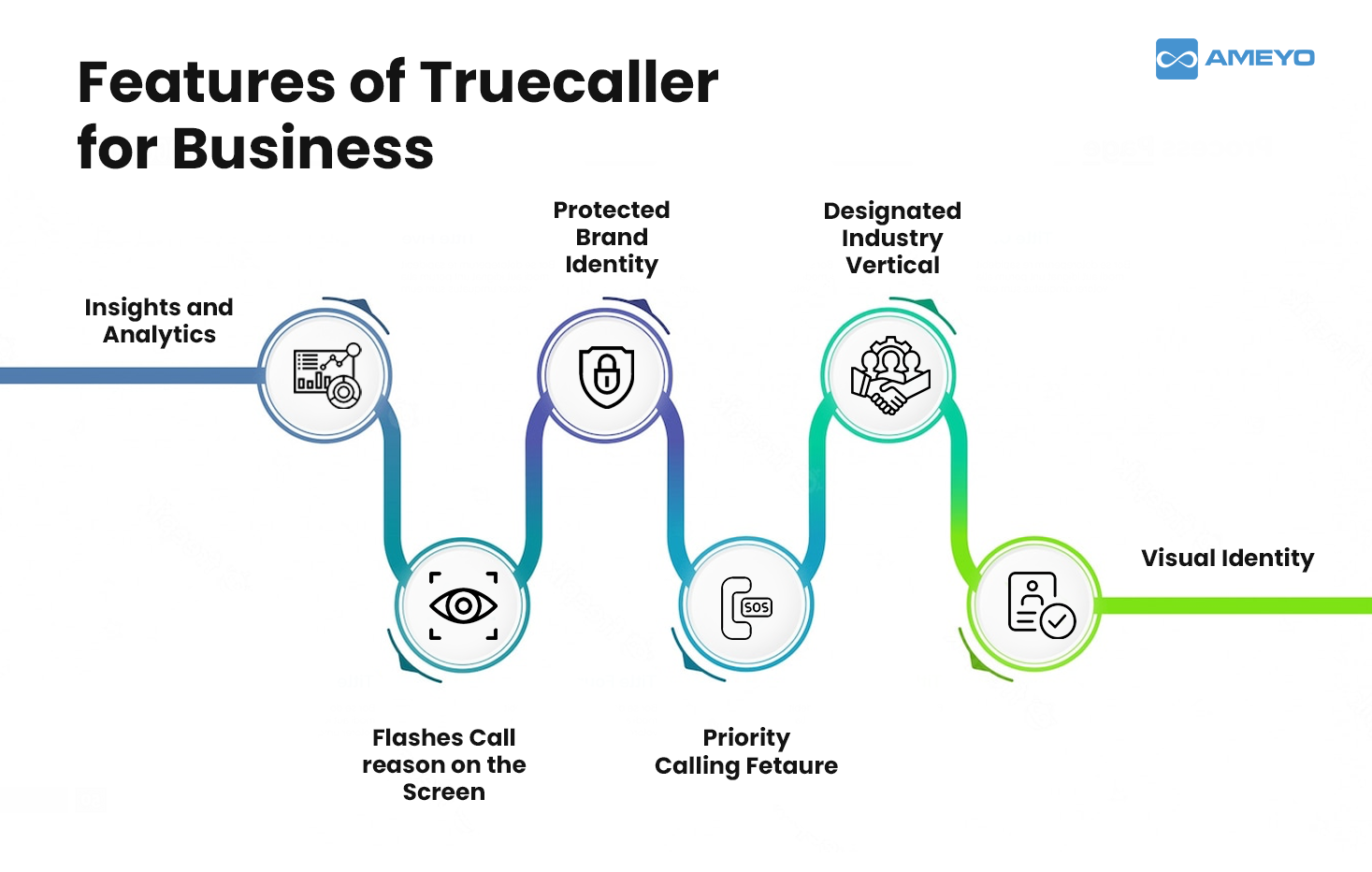 1. Visual Identity
Anonymity and negative feedback on caller ID applications are why existing and potential customers do not attend most business calls. Truecaller for Business allows brands to prominently tag their brand name and logo in the caller ID that appears on the user's screen while the call rings, eliminating anonymity.
2. Designated Industry Vertical
Adding the tag that highlights the brand's industry vertical makes it even easier for the user to identify with the Business. Businesses in delivery service, real estate, banking, finance, or any other have their industry segment marked in the caller ID.
3. Priority Calling Feature
Time-sensitive calls are also put across the customer through one of the features. In such cases, the receiver also knows if the call is important for them and can make a better decision about picking up the call.
Read More: Build your Brand Trust with Truecaller Business
4. Protected Brand Identity
The verified badge by Truecaller for Business is an inimitable badge. Imposters cannot spoof this badge, which gives an added level of trust between the brand and the customer.
5. Flashes Call Reason on the Screen
While every feature on the platform has significance, the 'Call Reason' feature takes business communication to another level. With this feature, the receiver knows the exact reason behind the call even before picking it up. When brands take such measures to be transparent with their calling intentions, the customers also get comfortable picking up the call.
6. Insights and Analytics
Truecaller for Business is more than a register for its verified businesses. It is a complete digital solution that helps businesses on multiple fronts. The insights dashboard is a comprehensive data center that gives well-represented and actionable info to the Business. It is a key feature to boost the customer experience as the brand gets to know what is working for their customers and what is not through their communication.