Being a trusted customer engagement software provider, Ameyo believes that businesses should focus on easing customer engagement journeys while also ensuring hassle-free customer interactions. This is utmost important. In order to maintain a high customer satisfaction rate, you should not forget to consistently improve the way you carry out your business operations to resolve your customer queries.
Well, our customer support solutions – Ameyo Voice (Call Center Management Software), Ameyo Omni (Omnichannel Customer Support Software), and Ameyo Fusion CX (Omnichannel Customer Support Software & Ticketing System) have all got new exciting features to make sure that your agents can perform with maximum efficiency! Sounds great? The 4.8 GA Release brings a lot to grab your attention, here's it!
New Features in Omnichannel Customer Support Software
Enhanced Data for Channels Added Via CAF
Ameyo started out with Channel Addition Framework where businesses can get their customer preferred channels added without any hassle. This channel addition can be self integrated by your IT team or we can integrate your preferable channels. For instance, if your customers prefer to communicate via Instagram as a customer support channel, you can get Instagram added with Channel Addition Framework and get started serving your customer queries via Instagram.
The new feature enables call center managers and supervisors to view all important metrics for interactions happening via new channels added through CAF. These metrics reflect relevant insights about Agent Productivity. Also, supervisors can download the reports for better analysis.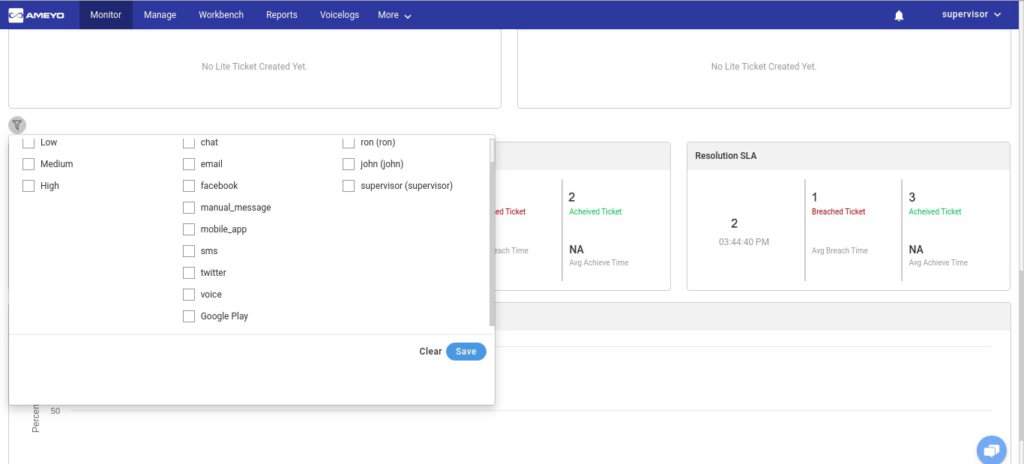 Engage With Your Customers Via WhatsApp
Ameyo allows you to proactively engage with your customers via WhatsApp for Customer Service Channel. With this new update, you will be able to proactively reply to your customer tickets regarding some queries. For an instance, if a customer reaches out to your customer support via WhatsApp, a ticket gets created and your agents instantly get a notification for this ticket. As the notification appears, your agents can revert to the query from Ticket Details Page by clicking on "Reply Via" or "Continue Chat" Buttons. WhatsApp has defined a restricted revert window of 24 hours, beyond which the outbound messages are chargeable.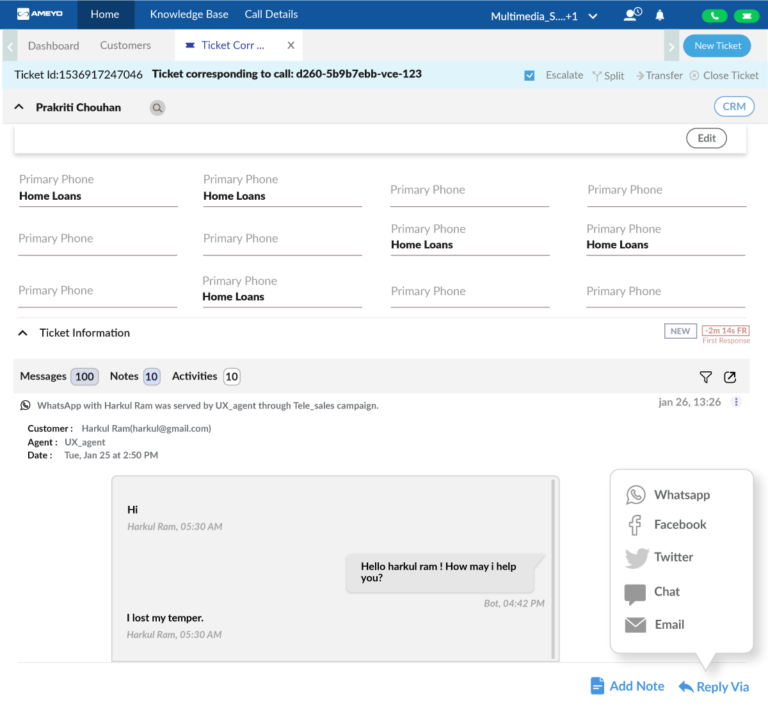 New Features in Call Center Management Software
Agent Monitoring Has Got More Relevant Data
When it comes to monitoring the performance and productivity of your agents, every metric holds importance. The more relevant data, the improved operational strategies. With this new update, we wish to help operations managers keep a closer track of the agent's productivity, be it their lead conversion rate or and customer handling. Ameyo Agent Monitoring Dashboard will now show 'Average Talk Time of Agents' to help you get more insights about agent performance.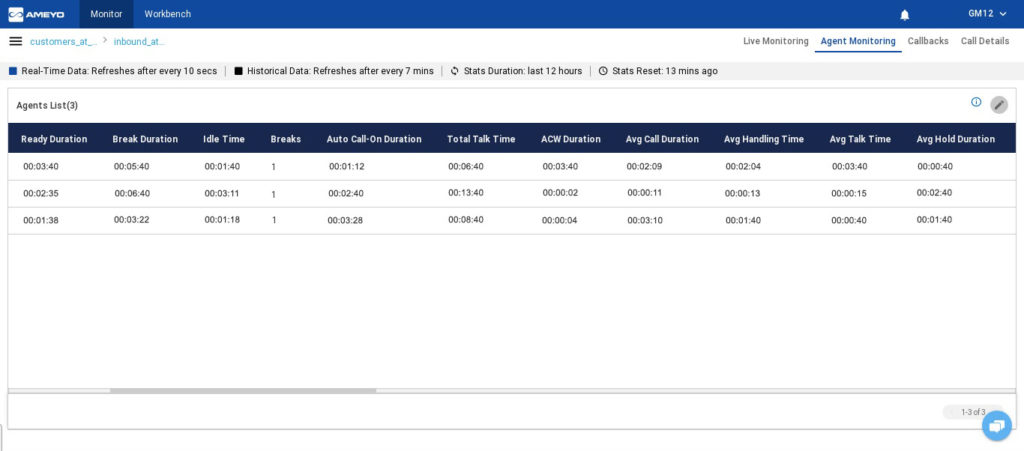 No More Missed Callbacks
Businesses as well as customers often get frustrated with missed callbacks. It usually happens when agents are working in different campaigns and they don't get callback notifications for a campaign they're not logged in currently. To eradicate this problem, we have improved our callback notification feature. The agents will now be able to view callback notifications for different campaigns. A 'Click-to-Call' functionality is also provided to make it easier for agents to callback without any hassles.
This improved notification will also help agents to plan their schedule according to their callback logs while also ensuring that no callback is missed.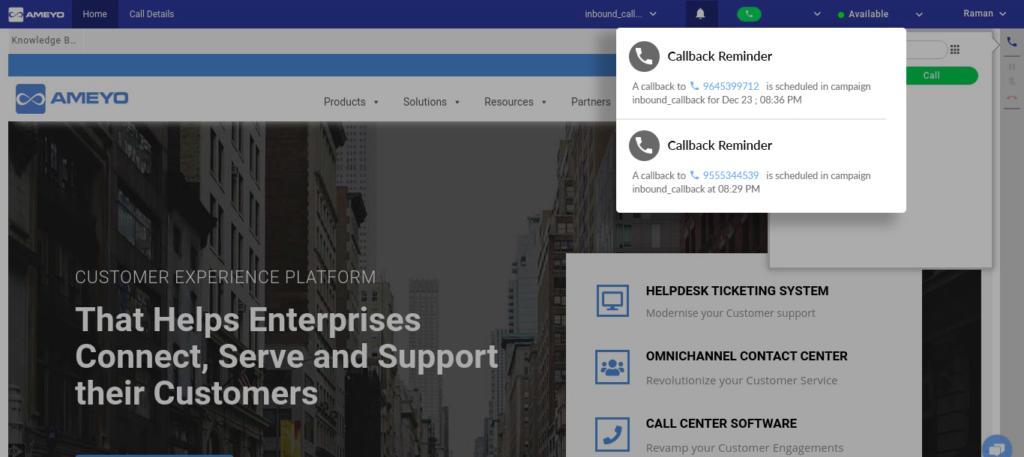 Call Dispositions Have Got Two Levels Now
With this new feature update, Ameyo lets your agents choose relevant call dispositions at two levels. The agents would now be able to identify categories and filters through two levels of disposition. This feature is applicable on Ameyo's Call Center Management software as well as Omnichannel Customer Support Software & Ticketing System. The agents will be able to use this two level disposition in the telephony panel, toolbars, and chat campaigns to make the call context clearer.
Manage Your Leads With Dialing Slots
With this new enhancement in the lead management, the operation manager or supervisor will now be able to specify a time window for calling a lead list with its start and end time. This will help you save your manual efforts for switching the dialer settings for different lead lists as per the requirements. Also, this will ensure that a particular lead list is being called at the right time to ensure improved lead conversion rate.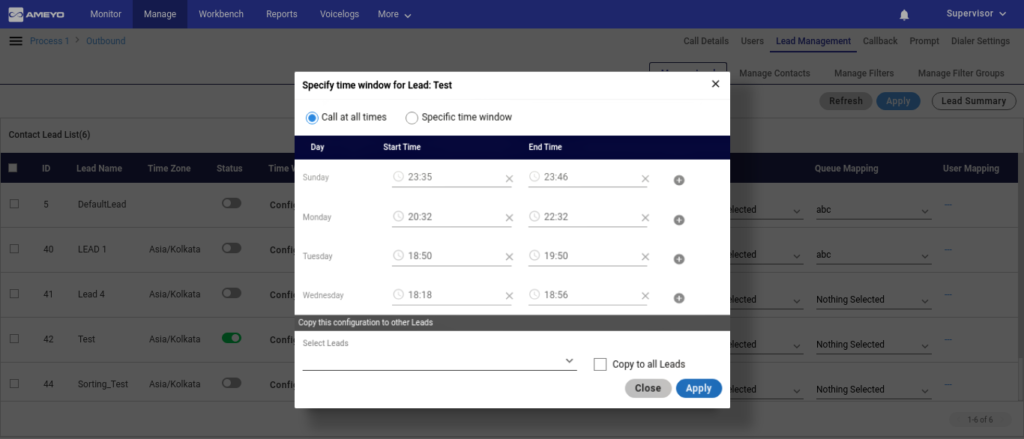 Enhanced Agent Flexibility with Toolbar Integrations
Ameyo Integration Toolbars have got enhanced flexibility options for your agents. This will allow your agents to choose different campaigns while making manual dial attempts. The agents can choose a campaign in which they want to make a manual dialed call. Earlier the agents were restricted to only a single campaign (the default campaign in which the agent is currently logged in) for making manual dials in the case of toolbars. Agents had to frequently switch between the campaigns for making calls. This new feature enhancement will save your agents time while working in different campaigns.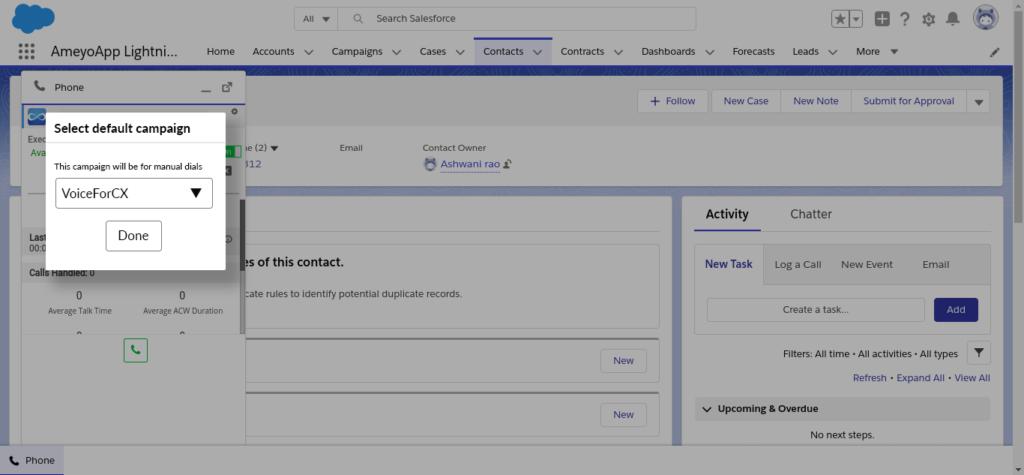 With all these exciting features and updates in our customer support software, I hope you will definitely be able to make your business operations smoother and more efficient. Be it call center management software or omnichannel customer support software, what holds importance is ease of use, relevant dashboards with statistical data and graphical data about key metrics, and customizable and configurable fields to ensure you get to see the data that you actually want to see as per your business requirements.
As we always try to match our steps with our customers' exact requirements and consistently bring new features and advancements in our products, stay tuned for more updates and feature enhancements!