Whether offline or online purchase, the customer wants a smooth and excellent customer experience. To ensure this, Most brands have deployed conversational bots to provide a seamless customer solution and experience.
Chatbots have traditionally been restricted to websites, passively waiting for your customers to arrive and engage with them. However, according to research statistics, customers spend more than four hours daily on their mobile devices, with 44% of that time spent on social media or messaging apps.
The brand opportunities are also excellent, given that 81% of consumers say social media helps them discover new products or services. For details, click here
Bots are specially developed to ensure quick resolution to customer issues. In addition, they can automate and personalize interaction with the customers. There's a long list of benefits of using conversational chatbots for your business; one is improved customer experience.
Top Four Ways how Conversational Bots Improve Customer Experience
There are several ways of improving customer journey and their experience by integrating conversational bots to your businesses.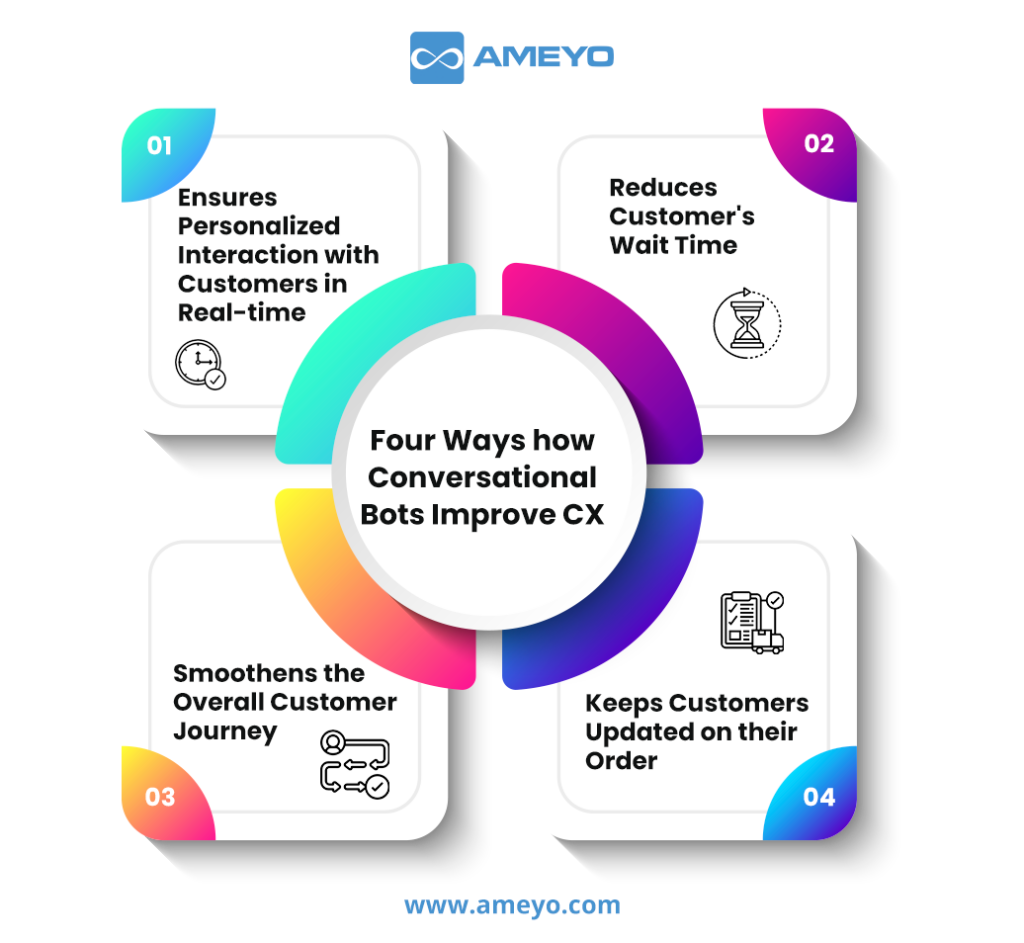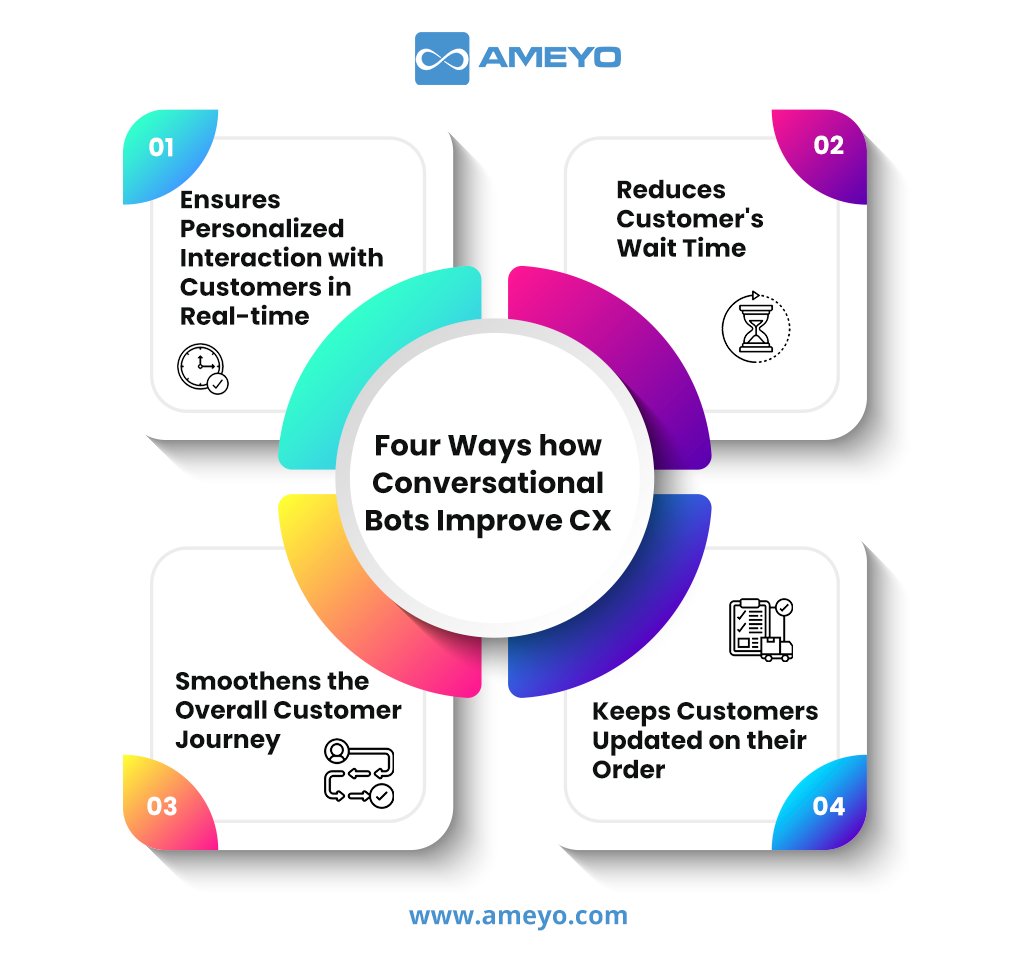 1. Ensures Personalized Interactions with Customers in Real-time
Conversational bots can help improve the customer experience by ensuring personalized interaction in real-time. If a customer wants to enquire about anything related to the customer support team of any business, this will get done in a few clicks only. The availability of chatbots around the clock and helping the customer instantly makes them feel important. Bots can quickly answer customers' queries, no matter the time.
If a customer asks for a specific product or webpage of the business, chatbots can automate engaging conversations with the customers to have that personalized touch.
Personalizing the chatbots makes your business stand out from the market competition. The business deployed bots for personalized customer interaction makes them feel more valued. If the customer is satisfied with customer support, your website will have repeated purchases and increased browsing time.
The chatbots can gather basic customer data from their interactions.

With the collected data of the audiences, chatbots can personalize their interactions.

Through bots, all the customer information can easily be fed to the support reply in real-time.

This way, support replies from the bots can provide relevant solutions to the customers based on their previous interactions and current needs.
2. Reduces Customer's Time
One of how conversational bots can improve customer experience is by reducing wait time. Waiting for any reply or response is frustrating for the customers. Audiences often require immediate responses about the business's products to make purchase-related decisions.
The good thing is that chatbots can reduce customers' wait time and help them quickly get the things they want. Those days are gone when a consumer had to wait many minutes and listen to on-hold computerized music.
The advent of AI-powered bots just revolutionized the way of customer support. Businesses deploying chatbots can offer their audiences an incredible customer experience by reducing wait time. With the help of bots, customers will get instant answers to common questions related to the order status, locations, delivery, etc.
3. Smoothens the Overall Customer's Journey
For any business, it's the potential customers that can help them to grow. So, it's always crucial to focus on improving the customer experience with their brands. If there are any queries related to the products or services of your business, customers can get answered immediately with the help of bots. Not just this, chatbots allow customers to resolve issues without speaking to any online agent.
Read More: How can Conversational AI Help the Healthcare Industry?
Whenever a customer arrives on your company's website, a chatbot can start interacting with them by asking about the order number, name, type of queries you're having, etc. Conversational bots make the purchase process quicker, easier, and hassle-free. When customers get excellent service and experience from any brand, it helps make a strong bond of trust and reliability with the brand. As a result, there will be increased chances of frequent visits of the customers and increased sales.
AI-chatbots deployed by the brands can provide the customer with basic information. This information includes the brand's products, videos, product suggestions, etc. Because of the business's bot assistant, the customers will be relaxed and have no frustrations as they can discover more about the brand and products.
4. Keeps Customers Updated on their Order
Connecting with a chatbot allows customers to get regular updates on their purchases. However, asking questions about orders from online agents is one of the most frustrating things for many customers. This is because they'll have to wait for some time to speak to the customer support team.
However, the utilization of conversational bots helps you to know each and everything about your order status. By relying on automated chatbots, businesses can ensure efficiency towards their support team. Along with this, there'll be a reduction in the workload of the team. This will make the support team focus on delivering an excellent customer experience.
Read More: Future of Work at Contact Centers
If there's any additional assistance that a customer wants to know about their order, chatbots can help you in all possible ways. Bots can either clarify or resolve an issue related to the orders.
Conclusion
These days, conversational bots have gained more traction because of their benefits for a brand in improving the customer experience. If the utilization of bots is done properly, it can help a business grow efficiently by ensuring a positive impact on the quality of customer experience. In addition, Businesses can optimize their customer's journeys using real-time customer-employee interactions. Thus, most brands are now opting for the bots technique to reach potential customers and solve their issues.