Technology is the knowledge of techniques that has become a global requisite and is not just a mere application tool. As per TOI, Technology refers to all the methods, devices, or systems used for research in the advancing world. However, to use it properly requires appropriate skills, knowledge, and competence. Unfortunately, this knowledge is lacking in massive numbers in society.
Here comes the future: Contact Centers that help gain those skills.
Technology is best when it brings people together; the future of work at contact centers seems highly bright here.
Companies and all kinds of businesses today need perfect communication with their customers. This is highly important to cater to a better customer experience and have excellent and appealing feedback. Contact centers set by the companies can do this interaction and communication.
Now, let us see how the future of work at contact centers will expand and what all vulnerabilities can be faced by it for several factors.
What is Driving the Need for Contact Centres ?
There are various factors that act as driving force in the contact centers:
Driving Factors of Contact Centers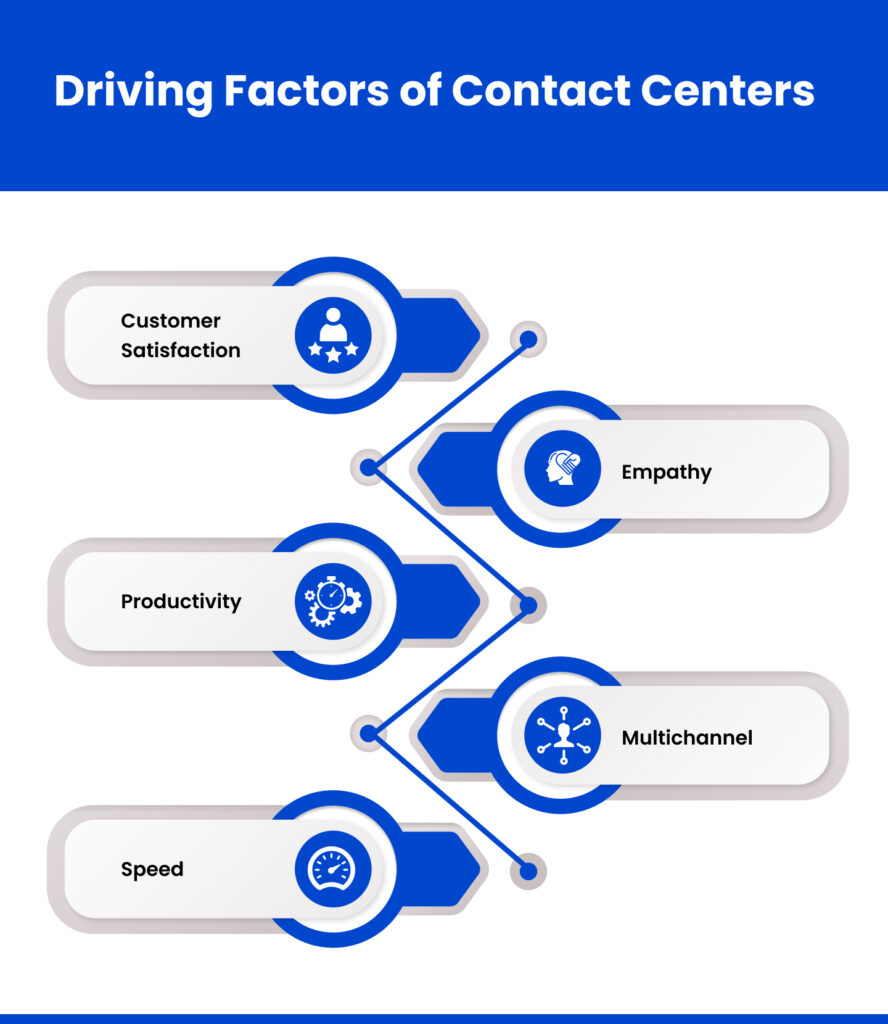 – Necessity is the mother of invention. So is the need for contact centers in today's world. It's a necessity rather than being considered just a formality set up by any company.
-There are several problems faced by people nowadays considering the latest nuances of technology. In such cases, they demand help, and that help can be catered to them by the contact centers.
Since customers are the real assets for any company or organization, safeguarding them should be the chief goal of any company. Therefore, the employees at the contact centers work efficiently for that.
-Any issues, feedback, suggestions, etc., can be embraced in the company with the help of their contact center solutions.
Read More: Top 10 Benefits of Cloud Contact Center
– Therefore, companies today need an expanding number of contact channels to interact with their customers. From normal phone calls, emails, and video calls to live chat support systems, contact center agents are needed on all platforms.
-This also serves as a huge reason for the question of why contact centers still play an integral part and a significant role in receiving great and positive customer feedback.
-These satisfactory and high-quality relationships with customers drive the need for contact centers as this will help transform them into potential customers. And consequently, this will nurture the company's growth.
What can be the Future of Work at Contact Centers Seemingly?
-Seemingly, companies cannot imagine how to promote good customer experience measurement without contact centers. Also, people can not think to get rid of their technical handling issues without the help of customer care contact services.
-The contact center's primary purpose is to help people in either ways, whether it's the normal customers who are striving to learn the technology usage or the people who require employment to cater to the needs of their families.
-Many people have their jobs as contact center agents and help others get with the flow of the latest technology. Their importance gets displayed whenever an everyday consumer faces a problem with any product or technology. In such cases, one can simply grab their phone and go to the contact center services, where they get instant help.
Read More: Top 6 Keys to Operational Excellence in your Cloud Contact Center
Latest Technologies Engrossed in the Contact Centers
Now, talking of the latest technological trends incorporated in the contact services domain, we must first understand a few things. In the last few years, we have seen how the customer service industry has been outplayed. Also, people have come to rely more on this service in the pandemic era.
The new pandemic-driven ways of working included the growing digital transformation trend. All of this increased the bar for productive customer service experiences.
Many of the new techniques include these trends. However, a few of them can be named as follows.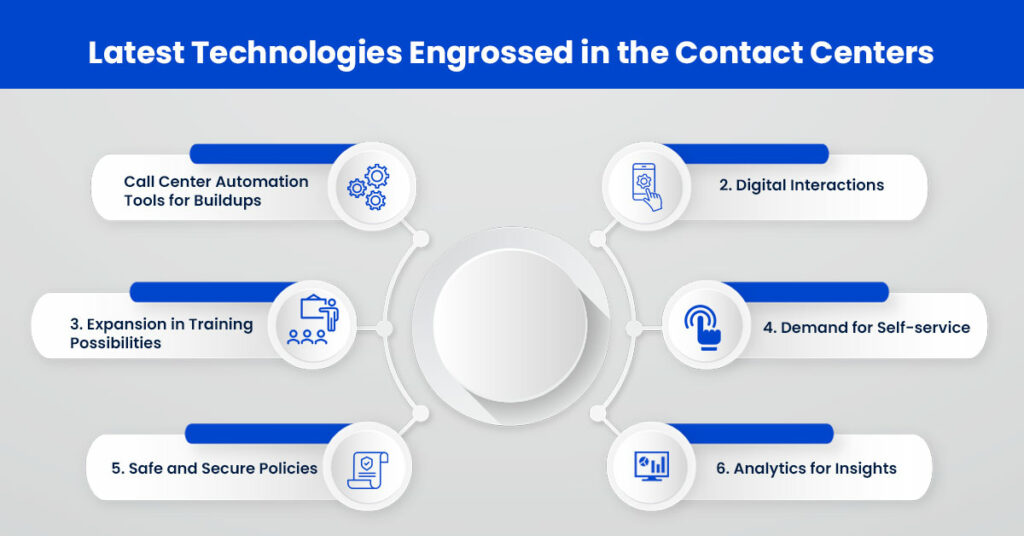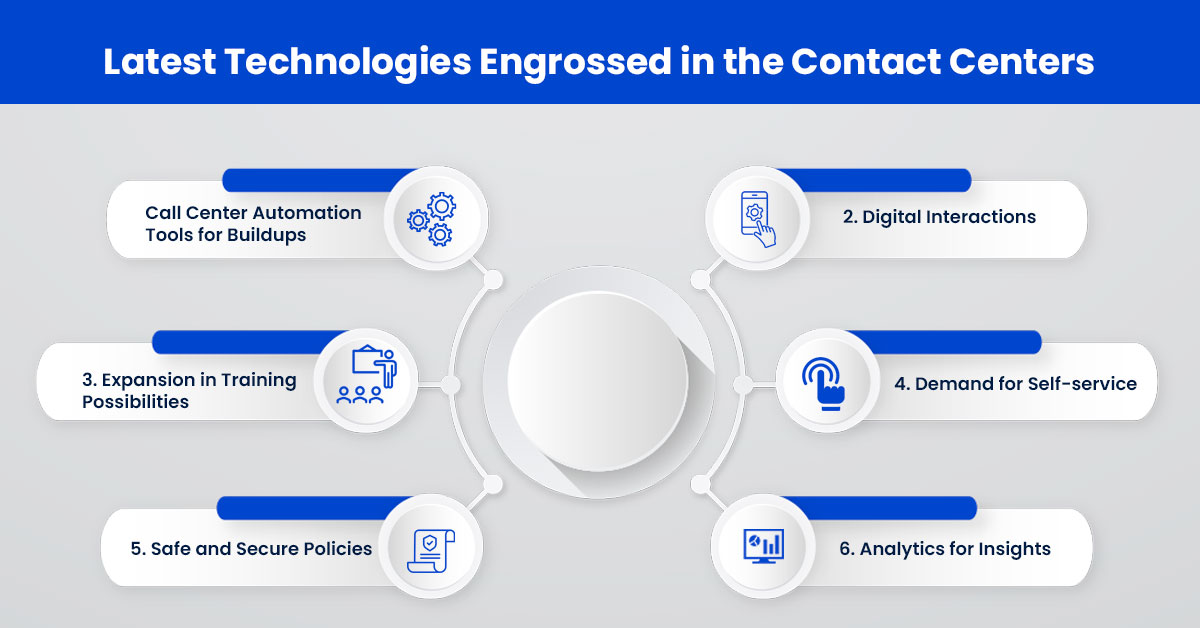 Call center automation tools for buildups
Digital interactions
Expansion in training possibilities
Demand for self-service
Safe and secure policies
Analytics for insights
There are many more such new initiatives, ideas and technologies bolting up in the market. Their main aim is to help the customers by endorsing more with them.
What are Few of the Vulnerabilities that can Affect the Future of Contact Centers?
-There is no doubt that technology has helped both people and contact agents to interact more effectively with the customers. However, there are various vulnerabilities faced by the contact centers from the too advanced technology.
-Advancement in technology has started replacing many things which have been there for decades.
-Artificial intelligence has got into the game and can handle simple and repetitive calls. It can automate portions or even all of the customer calls. This helps the customer support agents by giving them time to handle more sophisticated calls. However, their high usage can replace contact agents completely.
–Artificial intelligence (AI), digitalization, and voice automation are a few of the challenging long-term viabilities of contact centers nowadays. They tend to be presented as an alternative to contact agents.
Since the advent of technology, various threats are visible for human contact agents. Moreover, there are chances that the latest trending technologies will soon reintegrate the call center services. It's easier said than done.
Building such well-positioned and renowned contact centers can be a much more hefty task than imagined. It is a big and important task. However, since setting up a proper contact center in any company is a big project, it demands foolproof and premium planning. After that, it will be much easier to get up gradually.
Once done with the setup, the main goal of achieving a perfect customer relationship is accomplished. Thus, businesses can speculate that contact centers play a role of grave importance in today's world. Though one cannot assure about the future, one can, however, indeed be sure that the future of work at contact centers is at a fast pace and also is very helpful.