Databases are very essential in today's digital age. Information has been made accessible and mobile as well with advancement in technology and the widespread use of cloud and shared networks. In this scenario, it is important that information which existed on paper be digitized and be made easily accessible. Government offices, hospitals, schools and colleges, and legal entities need digitization urgently. Their processes are complex and information is very important for their smooth functioning. Digitized information will make it easy for the employees and customers to interact.
Of the organizations mentioned above, none needs digitization more urgently than hospitals and other such healthcare organizations. The urgent nature of these services is hampered when nurses have to search for patient files and histories in big cupboards full of dusty files. The large-scale computer literacy of healthcare workers and the availability of computers and mobile devices can make sure that work gets done quicker. After all, would it not be easier if every nurse station in a hospital had a record of their patients which they can access with a click and update within seconds?
CRM to the Rescue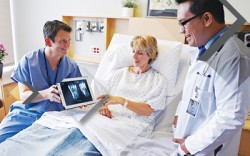 Hospitals of the past were legendary in keeping patients waiting for life-saving procedures, medicines, and even consultations. Leading healthcare provider Fortis learned this early on and sought to correct this as soon as they could. They realized the challenges and gaps in IT advancement within the healthcare sector and wanted to organize the system of recordkeeping. Appointments which were done manually were not efficient. There was also dire need of a patient management system which would facilitate interactions with healthcare experts and track patients progress. How could all of their needs be met?
They looked for a robust solution which would automate these processes and make life easier so that healthcare workers could focus on what was important: the patients. With automation, Fortis enabled online booking of appointments which eased patient and doctor load. A dedicated patient interaction management system allowed minor issues to be dealt over the phone by siloing patients according to their queries and directing them to the right resource. Patients could reach the hospitals and healthcare workers anytime, and the hospital could check in on patients by quickly accessing their records.
The CRM allowed the incorporation of all the different processes and ensured smooth functioning. Fortis saw a marked improvement in day-to-day activities, and their patient interaction management system saved time and efforts of the administration, doctors, and patients. With a proper database of information stored in a cohesive manner, Fortis utilized their information in the best possible way and drastically decreased the chance of any manual errors.
CRM of the Future
As the central hub of all information in any enterprise, CRM ensures that customers receive enhanced service. It also helps businesses easily gather customer responses and create new products and improve existing ones. CRM in contact centers is very important as well. Information is constantly being updated through live interactions with agents, and by tracking e-mails, trends and comments on social media, and customer history. It helps agents know about each caller and makes the conversations more informative. CRM simplifies agent-customer interaction and helps businesses increase productivity through reduced operating costs, increased cross-selling, customized service, and customer retention. It is the tool that will build our future.