Lack of customer communication is something that even legacy enterprises can't choose to afford in today's business landscape. Customer support and experience have become even more imperative than before to generate new business and retain existing customers. This communication channel between a business and its customers, either existing or potential, must be prompt and super smooth. It is needless to say that failing to create a customer success-based experience would adversely affect the business.
AI-based chatbots prove to be the biggest ally of businesses in such a scenario
However, it would be only half of the story if we say that these programs are only beneficial to the business end of the spectrum. For example, an AI-powered chatbot used for customer support is as beneficial to the customer as to the service provider. What'sWhat's more fascinating is how machine learning and AI evolution have helped chatbots make leaps in solving customer problems.
Customers themselves are vouching for more companies to use chatbots in their customer support process. A collection of data from various sources shows that 35 percent of users want businesses to deploy chatbots in their process.
Whether it's real estate, finance, travel, or healthcare, every industry is lapping up AI-based chatbots to reap the benefits of a smooth customer experience. And these benefits are not just limited to saving resources in the long term.
The interest in chatbots in the market has increased by five times in the last 5 years, and almost 50 percent of the big companies of the world are toying with the idea of increasing their investment in technology
– AI Multiple
Benefits of Chatbots for Businesses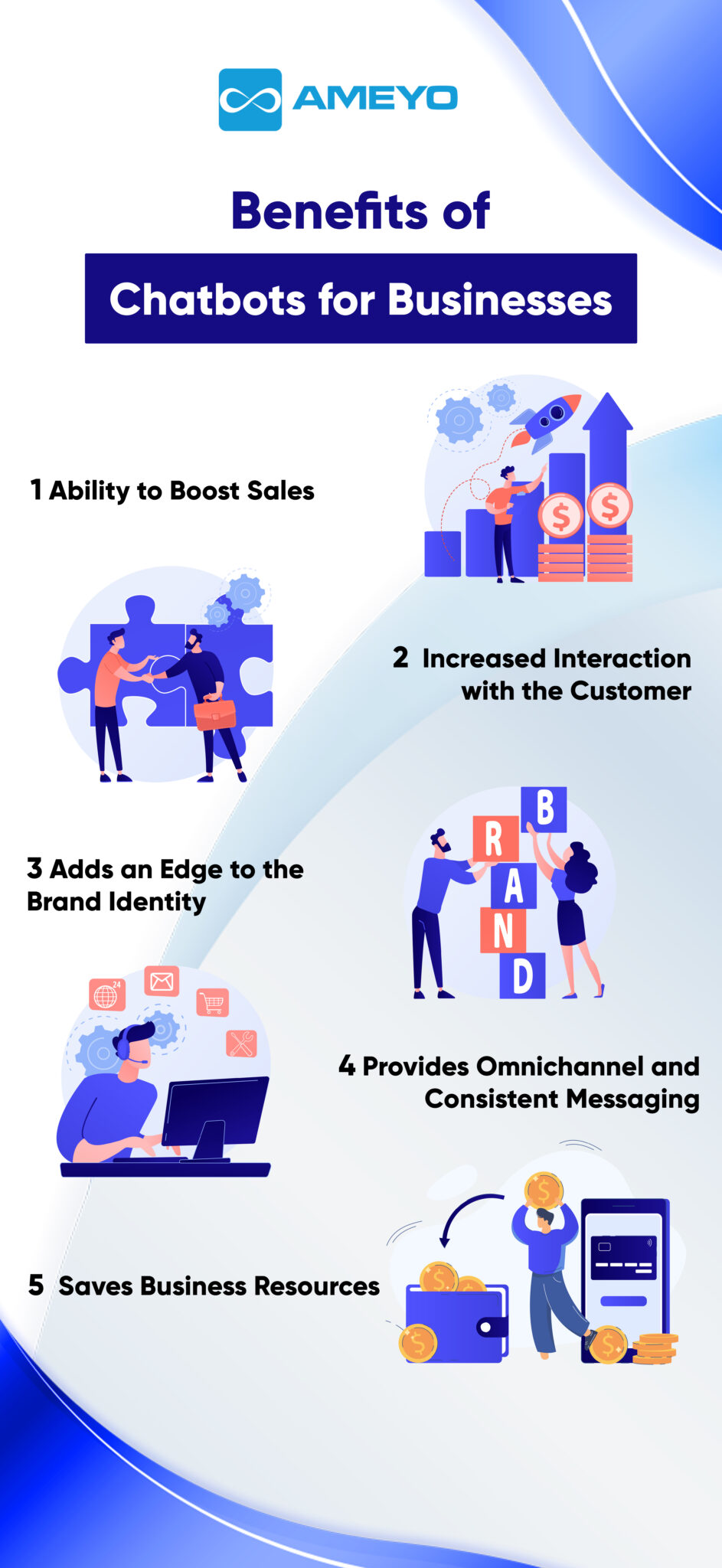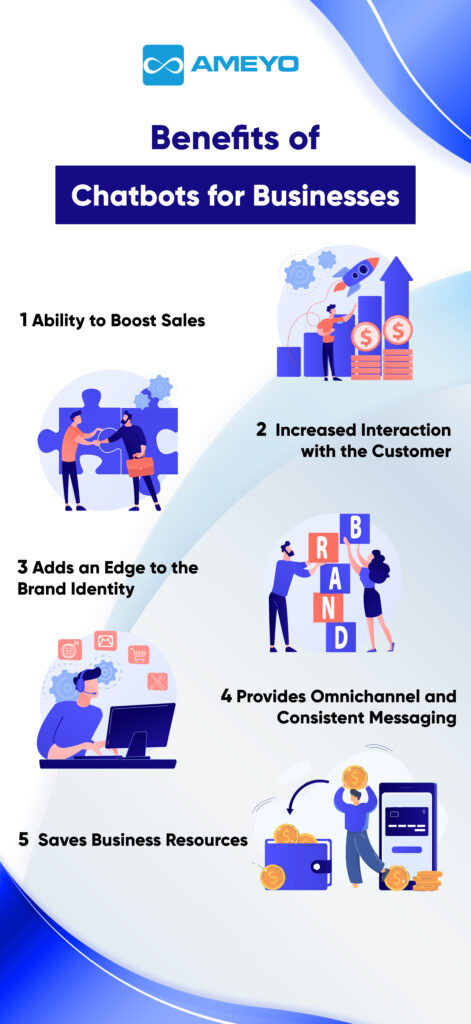 1. Ability to Boost Sales
The deployment of a chatbot allows a business to present a platform to its customers that bring valuable recommendations about their product and services. In addition, this type of frictionless experience, 24*7 availability, and faster resolution makes the user more likely to purchase and hence helps in boosting sales.
2. Increased Interaction and Better Understanding of the Customer
The real-time interaction of AI-based chatbots and consumers helps businesses gather more detailed information about customers' issues. Businesses can use these insights in multiple ways to enhance the service offering on a large scale.
3. Adds an Edge to the Brand Identity
Personality-based AI chatbots play a significant role in shaping a business's identity amongst existing and potential customers. Being the initial touchpoint, a chatbot has way more potential to feel personal to a customer and carry out a conversation to shape a brand identity in their head. Hence, it is important to set the right tone for a Conversational AI bot to match your brand guidelines and ethics.
4. Provides Omnichannel and Consistent Messaging
Chatbot helps businesses create a blueprint for efficient and consistent issue resolution and feedback aggregation. At the same time, AI chatbots provide omnichannel and consistent messaging to customers and allow them to interact with the business across various channels like websites and messaging apps.
5. Saves Business Resources in Several Ways
AI chatbots allow agents to use their time and ability for tasks that require deep and critical thinking. An AI-based chatbot can significantly decrease the number of executives needed to process queries and provide basic resolution. As per the data, 34 percent of executives have benefited from chatbots as it has allowed them to create value for the business in other ways.
Chatbots Benefits for Customers
As we said earlier, chatbots are not just tools for businesses to flourish. The value generation at the business end is coming through an elevated customer experience. And there are multiple ways in which AI-based chatbots are helping customers.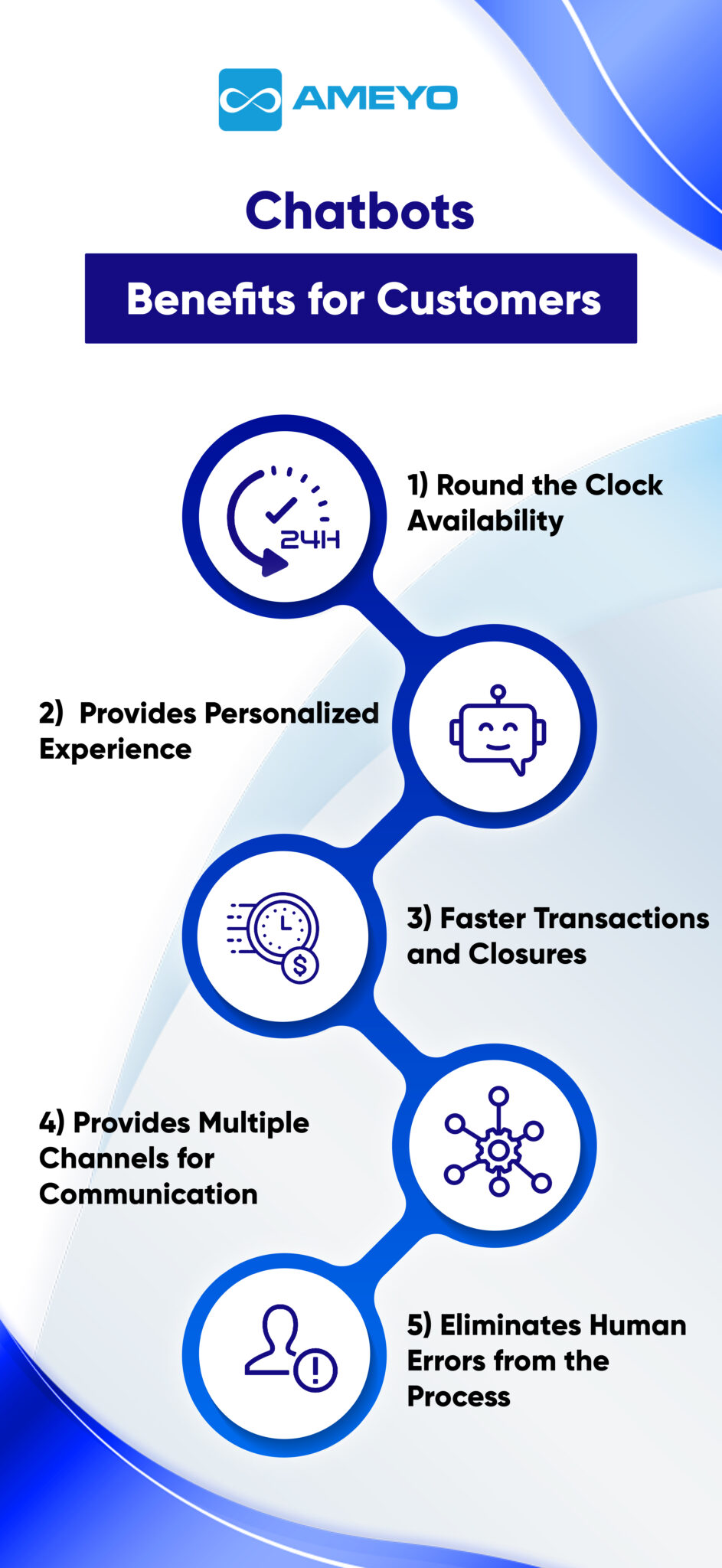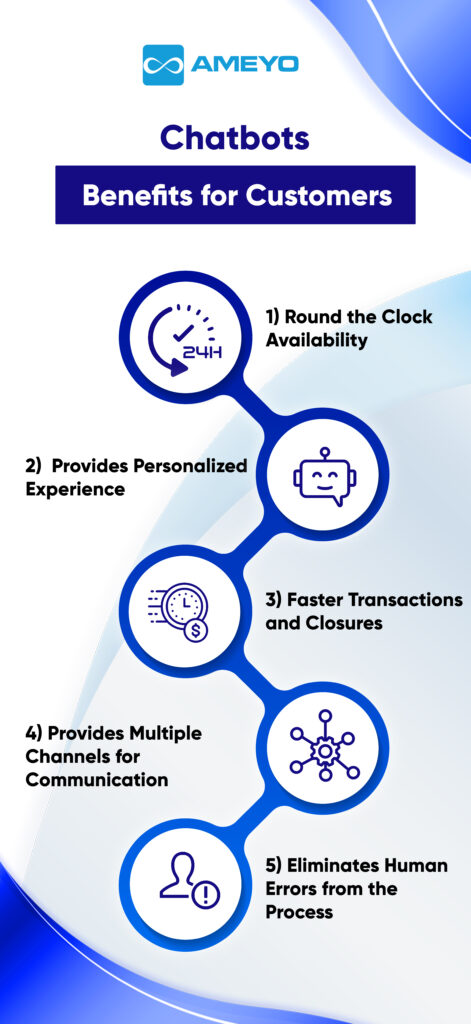 1. Round the Clock Availability
The 24×7 availability of chatbots has to be one of the biggest takeaways of this technology. Nothing attracts consumers more than a business that gives its users attention, and chatbots are great at doing that.
2. AI Chatbots Provides Personalized Experience
Giving a personalized experience to customers is not the strongest suit for chat support executives because of the sheer volume of requests and queries. However, Chatbots can deliver a higher level of personalized experience to the users because of their data processing prowess.
3. Faster Transactions and Closures
There are several queries that chatbots can carry out without zero human involvement. These could be customer walkthroughs, making recommendations, or looking for the right product/service for the user instantaneously. Unfortunately, these processes become relatively time-consuming even with the most efficient customer support executives.
With the help of chatbots, customers can transact faster and get their queries resolved quicker.
4. Provides Multiple Channels for Communication
A major part of enhancing the consumer experience is to support where the consumer is most comfortable and actively present. The omnichannel feature of chatbots not only helps businesses but is a significant help for consumers as well because they give multiple windows to reach out to the business/service provider without any lag in communication.
5. Eliminates Human Errors from the Process
AI-based chatbots benefit from endless patience and error-free processing to the customers. Moreover, Chatbots can efficiently handle basic to intermediate-level queries on their own, bringing an executive in the loop only during complex issues. This arrangement drastically brings down the ambiguity involved with human support staff eliminates human errors, hence ensuring a seamless customer experience to a significant extent.
Further Evolution and Implementation
We have discussed how much a chatbot can save per interaction, but the depths to which it allows business resources to be used at its best ability is just amazing. Many businesses are taking their conversational marketing strategies to the next level with the help of AI chatbots, hence bringing a new wave of ideas to the marketing industry.
With the innumerable benefits and strong supporting data for the same, it is easy to conclude that businesses using AI chatbots for their customer support processes have a massive edge against their competitors.