In my previous blog post, I had highlighted how Turkey has transformed into a hub for call center excellence. The response at the 13th Turkey Contact Center Conference and Expo reaffirm's that thought. The two day event that concluded last week witnessed a host of speakers talking about the challenges and solutions that modern day businesses need. Topics like cyber security and voice biometric took center stage. The premise of this write-up is point out the key takeaways from the event and the future of contact center infrastructure in the country.

Contact Center Evolution- From IVR to Omni-Channel Solutions
Contact center technology has come a long way. In the mid 80's and through the 90's, contact center solutions were mostly single vendor portfolio with a common reporting and management system. With the onslaught of the web, contact centers started offering multi-channel support (namely email and chats) under the purview of channel KPIs. Two decades later, there is a new wave of change and Omni-channel contact center solution has taken precedence.
Omni-channel contact center software is advancement to multi-channel support system. A customer gets in touch with a contact center when he or she is looking for specific solutions to a problem at hand. In such a situation, a customer expects a quick response irrespective of the channel (Text/SMS/Mobile/Social Media/Email) he or she has chosen as a medium to correspond.
Technologies like Omni-channel solutions are specifically built to tackle this issue by enabling businesses to reach out to their customers in quick turnaround time.
Scope of Omni-Channel Solutions in Turkey, the Largest Social Media Market Today
Turkey has a love and hate relationship with social media platforms. Since 2007, the Turkish authorities have imposed ban on YouTube, Facebook and Twitter on many occasions. However, despite these restrictions, the Turks are obsessed with these platform and today the country is dubbed as one of the fastest growing social media markets in the world.
As per statista.com: Social media users in Turkey are expected to grow exponentially, eventually reaching 42.49 million users by 2021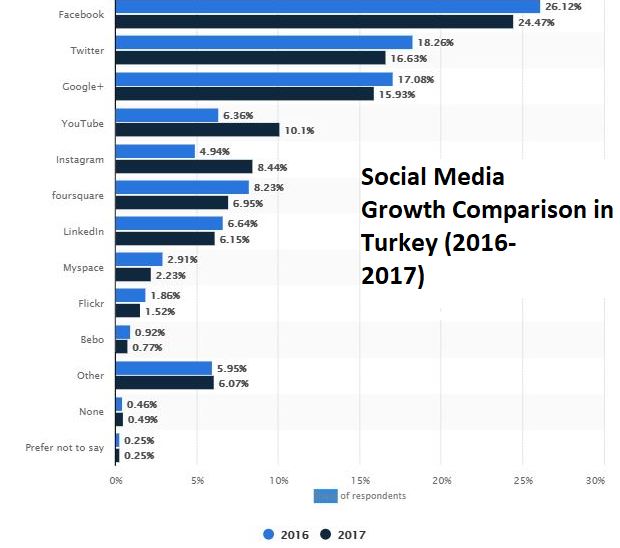 Given the social media outreach, Omni-channel solution that offers chat-bots, social media touch points is likely to make a mark in the Turkish market. In fact, Turkey is an evolving market that is open to new technologies in the domain of contact centers.
Customer Experience Solutions- The Way Forward
One of the most common complaints that customers have is to repeat the same issue to multiple representatives. This is not only frustrating for the customer, but also contributes in building up a negative perception about an organization or brand. It is for this very reason why going forward contact centers will have to focus on case management and CX memories.
Sagar Junkal, representing Ameyo at the event discussed the growing need to transform contact centers into customer engagement centers that would inevitably influence CX Memories. Below are some of the key points from the presentation.
6 Major Components of CX Memories
Customer service relationship does not end with purchase. It is an on-going process and needs to be nurtured with trust and respect. Happy and satisfied patrons are not just consumers, but overtime also becomes promoters. Holding to that thought, let us examine the 6 major components of CX Memories-
When a customer calls a contact center for assistance there is always a context. For example, if he/she is an existing customer, the call could be an escalation towards the product and service. At this juncture, the consumer is looking for a quick fix of the issue at hand. The agent should be empowered to understand the problem and quickly offer the necessary help.
In such a situation, providing information on new offers or promoting new product is not such a good idea.
As stated earlier, customers absolutely detest having to repeat the same issues over and over again. All interactions should therefore be effortless through case management contact center software that allows agents to procure all information on the fly.
If customer experience is consistently positive; CX memories shall reflect the same. Contact center managers and agents have to ensure that every interaction with the customer is valued and processed with equal priority.
Many a time, the emotional aspect of customer experience is put on the back burner. To start ahead in the market, organizations have to empathize with the customers and address the pain point in the most humane ways. There is a growing need to create awesome CX memories with delightful experiences.
Genuine concern and empathy develop trust which again is a very crucial component of CX memories.
With necessary information at hand, agents feel much more comfortable in handling customer queries in a proactive manner.
Case Management Software: Promoting Contact Center Engagement, Transforming CX Memories
One of the key components in transforming CX memories is empowering agent with the right set of tool, technology and training. The key is to bring greater visibility between front end communication and back end processes. Sophisticated contact center solutions are capable of providing –
360 Degree View of the Customer
The agent have access to critical information like purchase history, past interaction etc. in a single view. As a result, they are able to service the customers better.
Lays Down Clear Accountability
With more clarity and visibility, real time monitoring becomes simpler. Stakes and accountability are higher which is crucial for delivering top-notch customer service and defining SLAs.
Assists in Conducting Sentiment Analysis
With access to customer information and data, conducting sentimental analysis and mining valuable data from a pool of raw data becomes a possibility.
Customer interaction has various touch points and social media is a major one. Social media interaction if leveraged properly can also contribute in creating memorable CX memories.
Conclusion – Turkey Contact Center Conference and Expo 2017
It is evident that Turkey is an evolving market that is open to change. Things are moving at a very fast pace and in the coming years, Customer Experience Technologies will be incorporated in the existing contact center infrastructures across the country and transforming them into engagement hubs.