When it's about sales, every second is important
It is well known that time is money. This is the reason why cloud-based predictive dialer is in demand these days. Predictive dialers have become imperative for most businesses or organizations in today's market as they save time and optimize outbound calls by getting the agents connected to potential leads.
Gone are the days when agents used to dial the numbers to call customers manually. The manual dialing system was time-consuming besides being unpredictable. Prior agents had to dial calls manually, wait for customers to pick up the call, and traditionally manage everything.
Thus, most of their time was wasted dialing numbers and waiting for the call to be picked instead of their core job,' selling'. This is why they could make only a few calls a day, which used to influence revenue negatively.
These issues are solved by predictive dialer software by automating tasks such as automatic dialing, managing a list of contact numbers, scheduling calls, notifications, reports, and many more things, along with several other additional features to help the agents.
A predictive dialer is suitable for every type of outbound call that your call center makes. As per a study by Instapage, nearly 32% of marketers reveal that outbound calls are very efficient in promoting their marketing strategies and lead generation.
Indeed, the advancement of predictive dialer software has proved to be beneficial in the enhancement of several companies' outbound calling strategies.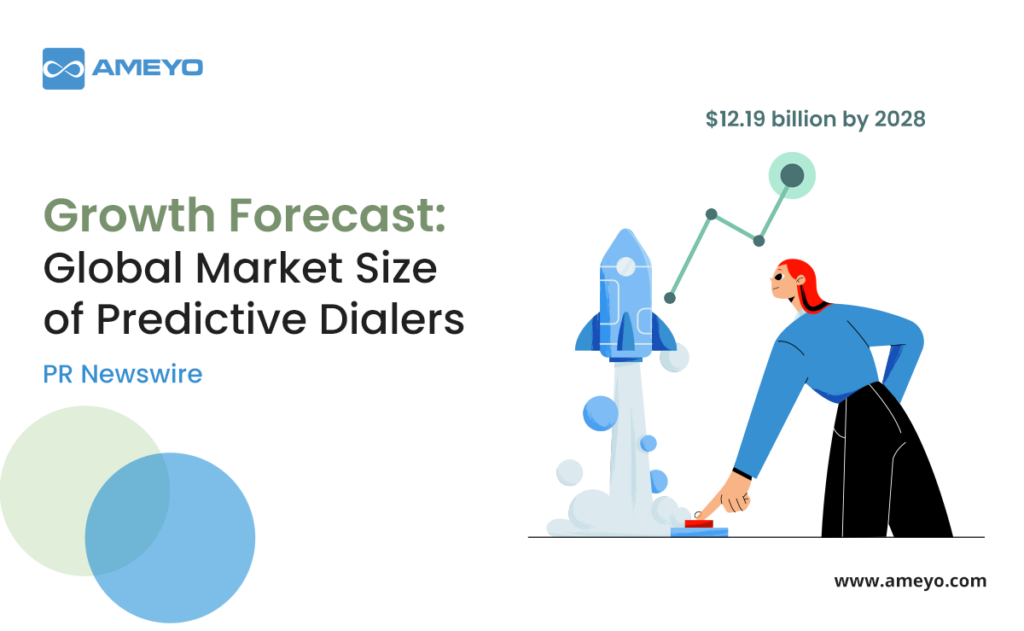 The market size of predictive dialers is estimated to reach nearly $12.19 billion by 2028 as
PR Newswire
What is a Predictive Dialer?
A predictive dialer is an automatic dialing system used for outbound calls as it can dial multiple numbers from a given list of phone numbers. The dialer is proficient in filtering outcalls with no answer, busy signals, voice mails, disconnected numbers, etc. When a customer answers a call, it is automatically transferred to an available agent.
Initially, dialers were created to lessen the burden of agents of manually dialing phone numbers. Apart from this benefit, the dialer predictive dialer also increases the connect rates and minimizes the agent's idle time.
Key Benefits of Predictive Dialers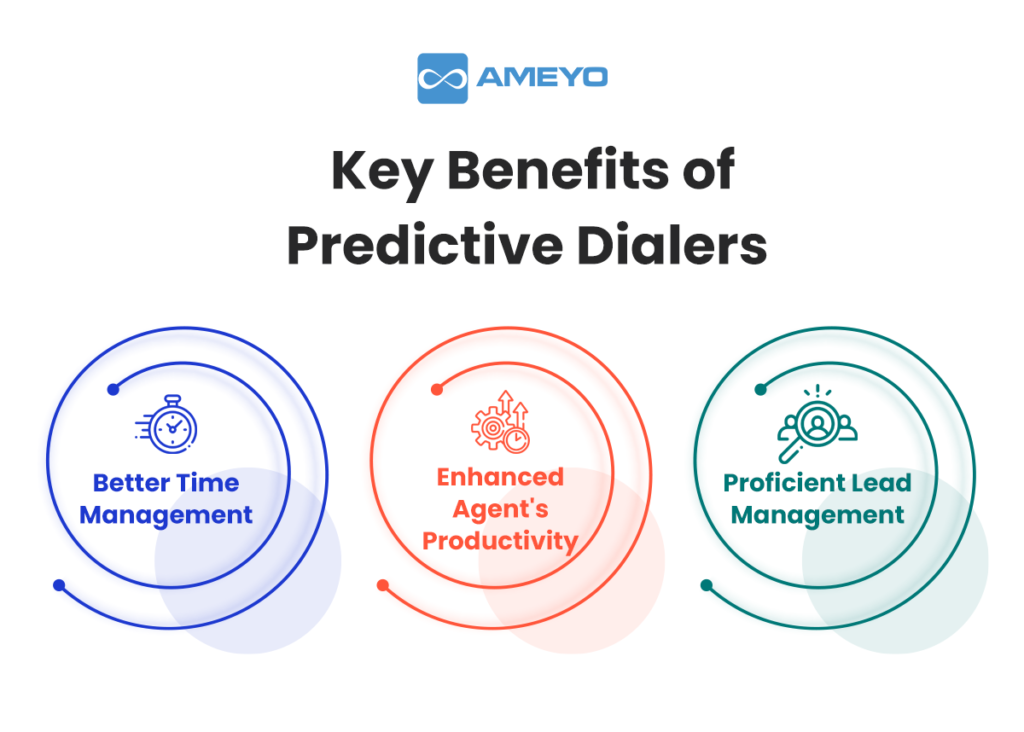 1. Better Time Management
When talking about contact centers, time management plays a crucial role and with the help of an algorithm, predictive dialers provide call management. It predicts when the agent would be on call with a client and for how long; also it ensures that the agent's time is not wasted by getting connected to a busy tone, recordings, or an answering machine.
2. Enhanced Agent's Productivity
Predictive dialers dial a number automatically thus, reduces an agent's time of dialing manually. It also reduces the call connecting time and aims to connect agents directly to the customers every time. Thus, it helps to enhance productivity.
3. Proficient Lead Management
Usually, predictive dialers have lead management software incorporated in the application. Also, they can screen out do not call numbers, busy signals, voicemails, as it ensures that the numbers to be dialed are working and appropriate for calls.
Key Features: Optimize Outbound Call Center with Predictive Dialer
Prior to jumping into an in-depth discussion regarding predictive dialer features, let us talk about a few questions.
For your business, are you using a predictive dialer solution? Or are you still in doubt about the functionalities and benefits of a predictive dialer?
Don't worry, here we will discuss features of predictive dialers to help you get the solution to all your questions and get a better understanding of predictive dialers.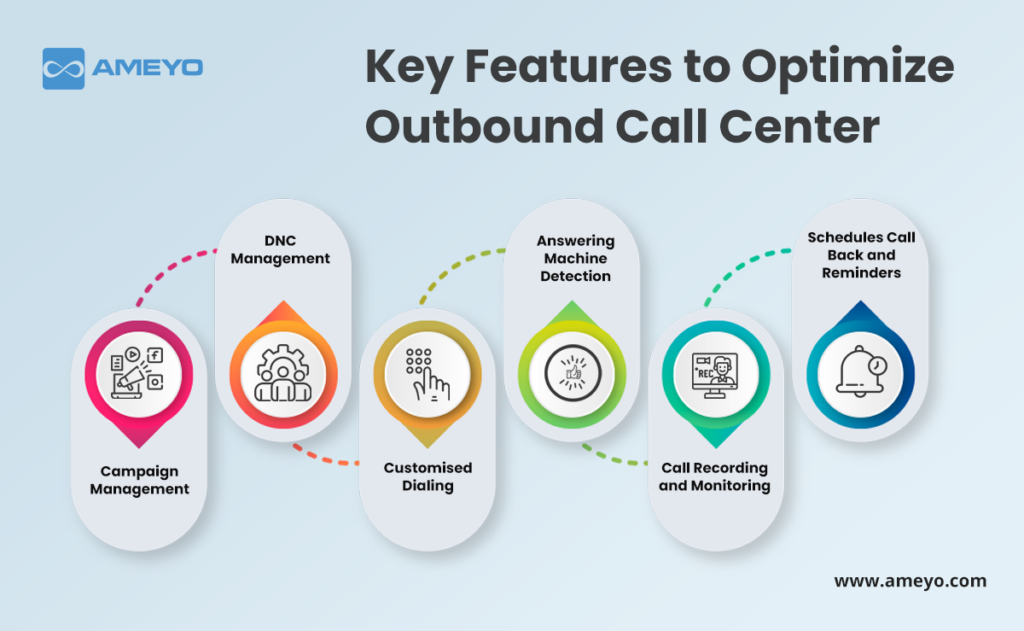 1. Campaign Management
Predictive dialers help managers to implement multiple campaigns from the same login. Managers also have an option to customize marketing campaigns as per their needs.
Campaign management includes editing, pausing, rerunning, deleting, etc. Campaigns are run to attain the targeted goals of the business.
2. DNC Management
This feature is an option to limit telemarketing phone calls. DNC is known to be the list of contact numbers registered under government regulation not to receive any promotional calls.
Thus, call centers cannot make a call to DNC numbers, and even if they do so, they need to pay a good amount of fines to telecom authorities.
With predictive dialers, you get a feature of DNC management, so it checks the contact list to figure out the DNC numbers and eliminates them to assure fine free calling.
Read More: Auto Dialer: Key to Improve Agents' Productivity
3. Customized Dialing
Every country has a different time zone, and predictive dialers filter out the numbers on the given list based on their area codes and time zones. This feature makes sure that a call is made to the customer at a specific time.
The predictive dialer matches the country name and area code, and preferred time and then initiates dialing the numbers at the most appropriate time.
4. Answering Machine Detection
Answering Machine Detection (AMD) filters out the numbers on the answering machine. In addition, predictive dialers ensure that a human answers the call before passing any call to the agent.
This feature is beneficial in saving a lot of time for an agent because an agent will only be connected to a call that the customer answers.
5. Call Recording and Monitoring
Call Recording is the most desirable because it helps record calls for quality and training purposes. Without any other equipment or device requirement, managers can listen to the previous calls at any point with this feature only. Also, recordings can be saved for future references.
Predictive dialers record and store all the calls in HD quality for the future and save these on the cloud.
However, Call monitoring is an option with a predictive dialer to track every activity regarding ongoing calls. It lets you know which agents are busy on a call and who are not on call. This feature also allows you to preview the call quality in between any call.  
It is also beneficial for the on-job training purposes of new joiners as they get the opportunity to learn from other agents. Further, the two most imperative features of predictive dialers are barging and whispering, allowing the managers to share their input in an ongoing call.
The call whispering feature allows the manager to interact with the agents while on call, but the third person cannot listen to their conversation. Therefore, it is beneficial for agents to handle customer calls efficiently. Call barging allows managers to interact with both agent and customer; it helps handle any query faster without even putting the customer on hold.
Read More: Best Autodialer Software: Features That Win You More Sales
6. Scheduling Call Back and Reminders
The predictive dialer has a call feature, which helps remind the agent of call back at a customer's preferred time. This feature is beneficial for follow-up purposes.
When a customer receives a call back at their preferred time, there are higher chances of getting leads converted into sales.
When the agent logs in to their system at the start of the day, they receive a popup list of callbacks. This feature is beneficial in following up with the customers who have asked for a call back later. These are some features making predictive dialers outstanding software to choose for your call center.
How does a Predictive Dialer Works?
Now, it's time to look at how predictive dialers work. Well, a predictive dialer works just like its name. This software predicts when the agent will be free and accordingly dials a number on the agent's behalf.
This software uses an algorithm to determine the accurate time when the agent would be winding up the ongoing call and accordingly dials another number for the agent. It helps to maximize the productivity of agents thus decreasing the idle time of agents.
Efficient predictive dialers provide agents with a seamless flow of calls with negligible to no downtime. Here are a few simple steps to explain the working of predictive dialers:
Initially, the dialer software begins by dialing a number from the given list. Based on statistics, it predicts how many numbers should be dialed per agent to reduce their idle time.

Then the dialer identifies, answering machines, busy signals, no answers and filters them out besides connecting the agents with the live calls.

While using the algorithm along with the collected statistic regarding previous call attempts, the dialer is able to predict the approximate time an agent would take to complete the call and accordingly it dials the next number.
It calculates the estimated dialing rate depending on the collected statistics, percentage of abandoned calls, and contact rate.
Conclusion
Today you will come across several companies offering predictive dialer software that is usually cloud-based. Suppose you are willing to get perfect predictive dialer software. In that case, you should choose one that comes with features like call scheduling, call monitoring, dynamic caller ID, answering machine detection, etc. The key requirement of running a thriving contact center is to create a good experience besides offering better customer satisfaction.