One of the currently introduced features of WhatsApp is WhatsApp Chatbot for Business which has acquired more than 5 million business users within a year of its launch. In today's fast-paced world, every business requires a WhatsApp chatbot to reach customers, increase customer engagement and solve the customer's queries.
WhatsApp Chatbot for Business – What is it All About?
Whatsapp chatbot sounds interesting, and is considered good for businesses. It is an automated software powered by artificial intelligence that automates your sales and customer support.
Using the WhatsApp chatbot, people can communicate via chat interface about the services and products of the business. In addition, there will be a set of automated replies in the chatbot to make a human conversation on WhatsApp.
The entire concept of the WhatsApp chatbot is based on an artificial intelligence program because of which company simulates human interactions. This currently introduced feature of Whatsapp opened the WhatsApp API for businesses irrespective of the business size, business owners can use this feature to reach and serve their customers better.
Suppose you have a business looking for a way to offer excellent customer service. In that case, you must consider using WhatsApp chatbots. For a business, AI-powered WhatsApp is of great usage in many aspects.
When consistent business growth and an extensive client base, it becomes difficult to communicate with each client manually.
Responding to every customer's query will also increase the waiting time for other customers.
When a business cannot reply to the queries or provide better customer service, this results in lower customer satisfaction. This is something that no business would want.
To overcome these business issues, business owners can use the AI-powered WhatsApp chatbots. In this way, businesses will stay in touch with the customers and respond to them automatically in just a few seconds.
When it comes to the number of whats app users, it has billions of users across the world. Let's have a look at some important statistics:
1 billion people use WhatsApp every day.
India (200 million users) and Brazil are the two biggest WhatsApp markets (120 million users)
Spain (83.1%), Italy (85.1%), and the Netherlands (85%), have the highest penetration rates (83 percent )
Users of WhatsApp for Business: 3 million
65 billion WhatsApp messages are sent each day (29 million messages per minute)
Why does a Business Require WhatsApp ChatBots?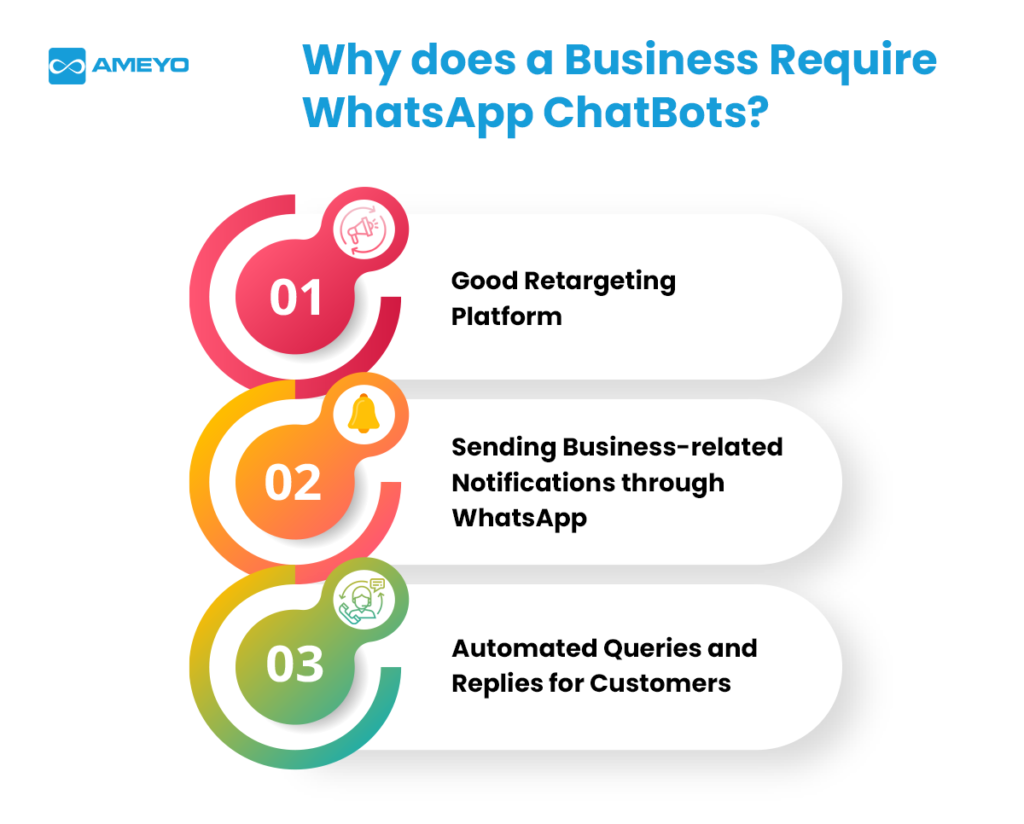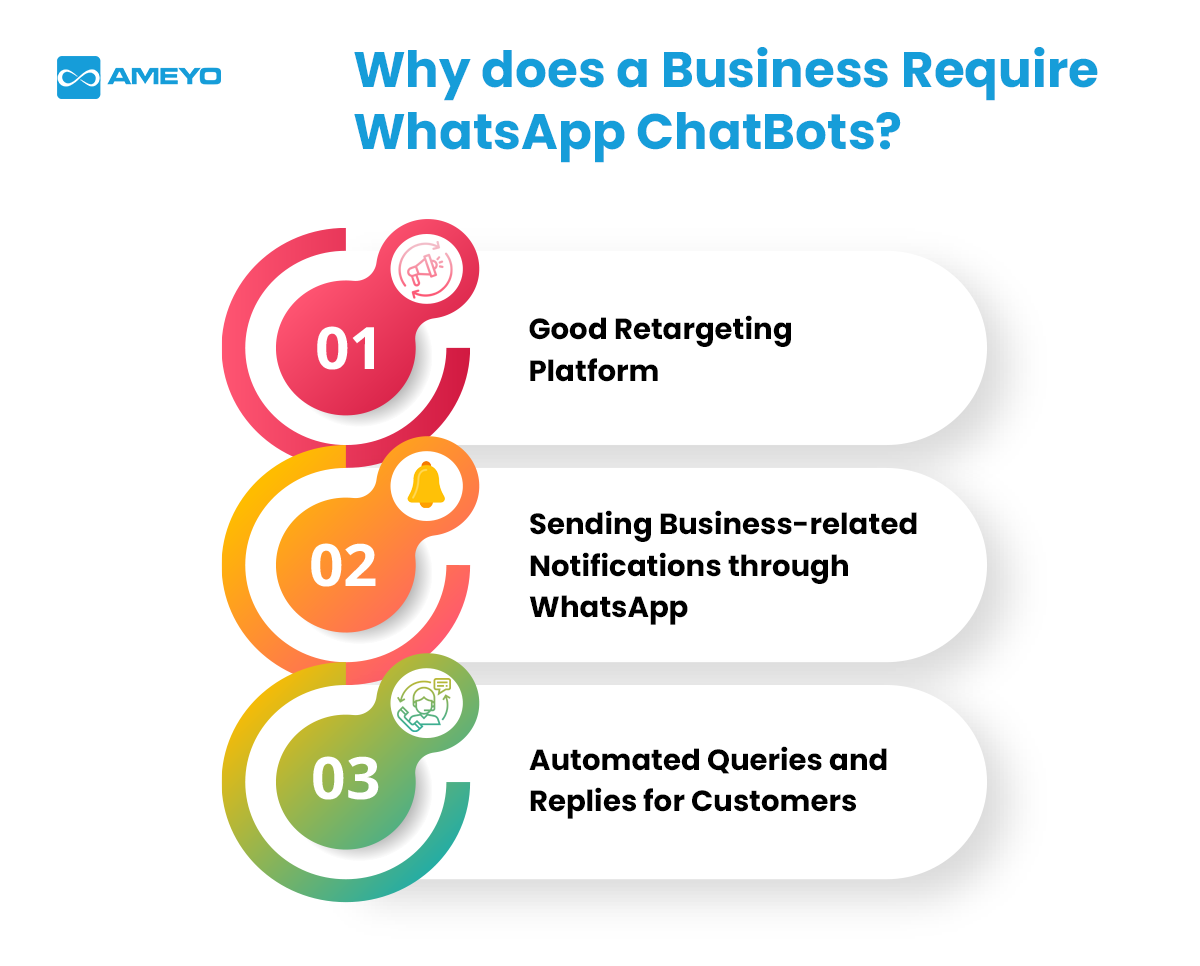 As mentioned above, the WhatsApp chatbot is useful for staying connected. If there are highly engaged customers, they might buy more of your services or solutions, which further helps businesses to grow organically. Here are some of the ways through which any sort of business can automate their processes via WhatsApp chatbot-
It's a good retargeting platform
Sending business-related notifications through WhatsApp
Automated queries and replies for customers
Reasons Why your Business Needs WhatsApp Chatbot
WhatsApp is the most popular global app for communicating with others. The introduction of chatbots also increased the number of its customer base globally. There are several reasons that every business owner should know-
Around the clock, automated customer support use of emails, texts, and calls are traditional customer support methods. But, WhatsApp is a messenger platform that is convenient and quickly available compared to the traditional ones.
Undoubtedly, WhatsApp has become the primary support channel through which it's easy to stay connected with customers. By using the Whatsapp Chatbot, businesses can provide around-the-clock automated customer support. No matter what time it is, a business will be able to answer customers' queries and provide assistance to them.
Read More: Best AI Chatbot Features to Deliver Expectational Customer Service
With WhatsApp chatbots, you can connect with your existing and potential customers at the same time. As chatbot is available 24*7, there will be a delay in assisting the customers, which can increase business sales. Sometimes, a business's customer support team might go on leave or vacation, but this won't be an issue with WhatsApp chatbots. It will be there around the clock for your audience.
1. Quick Resolution of the Query
No matter what business it is, your customer will only be satisfied if their queries are answered, and assistance is provided right on time. Customers find the business worthy of trying when they get a quick response. The new-age customers want an instant response from the business regarding services and products.
While buying the service or product, customers will have a lot of queries in their minds. Suppose customers do not get a quick reply from your customer support. In that case, there are chances that customers might change their minds about product buying.
Whatsapp Chatbot is any business's savior that enables the business to automate queries related to their product range and services. AI-powered Whatsapp helps businesses craft different conversation stage.
2. Ensures Customer Engagement
Customer engagement is one of the biggest reasons every business must have a WhatsApp chatbot. Every business, small or big, knows the importance of customer engagement. One of the factors on which customers' behavior depends is how well you assist them in solving their queries.
With the help of WhatsApp chatbots, the business can easily reach out to customers without any limitations or geographical boundaries. Traditional texts and emails will have a low open rate as compared to the chatbots of Whatsapp. Therefore, AI-powered WhatsApp is boosting the customer engagement strategy for many enterprises globally.
3. Saves Time and Boosts Productivity
Using WhatsApp Business Platform not only helps businesses to reach customers but also to save customers time. To get connected or seek customer support, they don't have to use their laptops or download any specific application. 
WhatsApp chatbot can help both businesses and customers in saving time. Businesses can send information about their service and products to many people through this platform. Also, they can automatically interact with many customers at the same time.
To Sum up…
By looking at all the points mentioned above, it can be concluded that the WhatsApp chatbot is an effective communication platform for any size of business. AI-powered WhatsApp helps businesses provide around-the-clock customer assistance to their clients and satisfy them completely.