When an organization decides to set up its contact center, one of the most important (if not the most important) considerations is to decide whether to go for an on-premise contact center solution or a cloud-based solution. With so much conflicting information available today (thank you internet), making this decision can be tricky.
Today, let us try to simplify matters and discuss everything there is to know about both cloud contact center and on-premise contact center solution.
First things first… The Definitions
What is an On-Premise Contact Center?
On-premise contact centers are the traditional contact center setup wherein all the hardware and other physical equipment and servers, etc are stored at the company's location. In the case of an on-premise deployment, the onus of maintaining the systems relies on the company. This might require them to set up a specialized team also.
A cloud contact center is the opposite of an on-premise situation. Here, the organization does not have to invest heavily in the physical infrastructure. This solution only requires internet access with sufficient bandwidth for virtual agents to comfortably manage inbound and outbound calls.
Differentiating between On-premise and Cloud-based Contact Center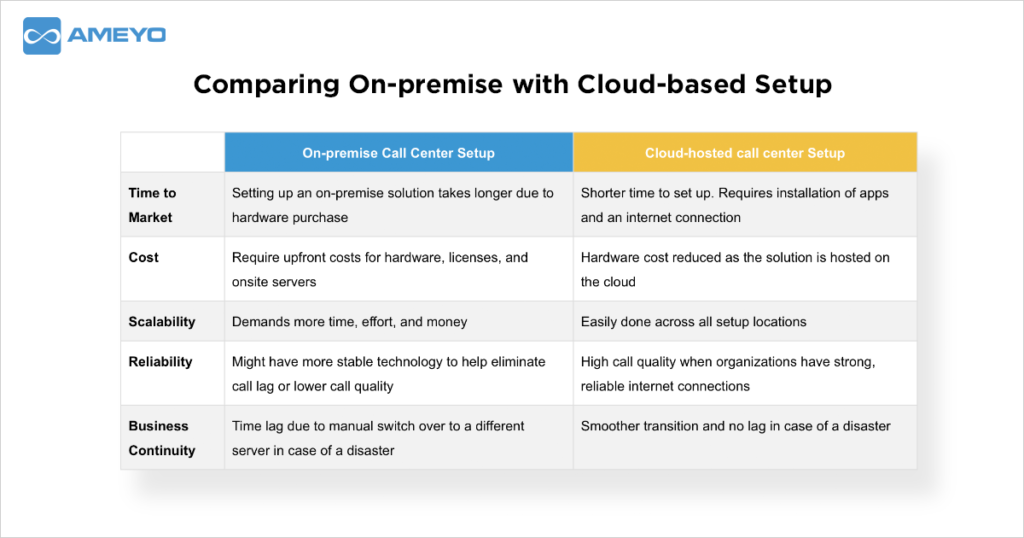 Businesses often compare cloud contact center and on-premise contact center on certain parameters. Let us look at them in some detail.
Time to market essentially means the time it takes to go live with your contact center. Since, an on-premise contact center requires the company to purchase hardware and shortlist a location to put in their servers, etc the time to get started is longer. On the other hand, it is much shorter in the case of cloud call center software where you only need the application and internet connection.
When thinking about the cost of contact center, it all comes down to whether you are looking for capital expenditures or operating costs. For on-premise deployment, you are looking at upfront costs for the space to put your servers, hardware, licenses, etc. And for cloud, you have an ongoing monthly subscription cost along with the cost of internet and agent device.
You might need to physically upscale or downscale in an on-premise setup as opposed to a couple of clicks and tweakings for a cloud contact center solution. This makes a cloud setup a lot more flexible and scalable according to the business needs – compared to an on-premise solution.
The on-premise contact center should provide more stability in terms of call lag and call quality. However, the quality will only be as good as the contact center technology that you are using. Similarly, for cloud contact centers, the call quality is dependent on how strong and stable is your internet connection.
With so much hardware involved in an on-premise startup, it can cause an issue when a disaster hits. It takes a lot longer to physically switch servers and get back up and running. However, the down-time is significantly less in the case of a cloud-based contact center solution.
Now that we have seen the difference between the cloud contact center and on-premise contact center, let us discuss some of the benefits for both of the deployment options.
Advantages of Cloud Contact Center Software
Some of the benefits of a cloud-based contact center are listed below:
Cost-benefit and thus, higher ROI
Pay only for what you use
Increase or decrease operations without much effort
Fast deployment
Advantages of On-premise Contact Center Software
If you are looking for an on-premise contact center solution then you should definitely consider the following benefits:
Upfront cost
More control over your functions
In-house storage of data
Complete ownership of hardware and maintenance

Choosing the Best Contact Center Software
Investing in contact center technology is a big decision. You might think something but it might be completely different when you use that software. We have listed down the advantages and differences for both on-premise and cloud contact center solution. However, it never hurts to get a demo of the solution to get a better understanding of what you are getting yourself into and more importantly get a hand's on experience.
Now that you are armed with information about both sides of the contact center coin – cloud and on-premise, hopefully, you will be able to make the right choice for your business.