The onset of the COVID-19 pandemic has profoundly impacted our lives, teaching us many timely lessons while offering us a glimpse into the future. As most of the civilized world experiences frequent lockdowns and is forced to isolate itself, organizations are forced to rethink their user engagement strategy and come up with new ways of connecting to prospects.
There is also a huge surge in customer service call volumes currently, forcing businesses to formulate new strategies to deal with them. Many organizations are also discovering the advantages of letting their employees work remotely and are looking to find a way to empower them through technology.
Thus many of these businesses are considering setting up a virtual call center to address customer issues and ensure better communication throughout. Over 46% of sales firms made a shift to an indoor sales model to accommodate customer needs while prioritizing employee safety.
Call centers are a viable alternative for companies to keep customers happy while ensuring business growth owing to benefits such as ease of set-up, improved efficiency, and cost-effectiveness. However, even with a good call center management system at hand, there are several steps needed to set up a well-functioning virtual call center for your business.
Right Steps for Switching to Virtual Call Center: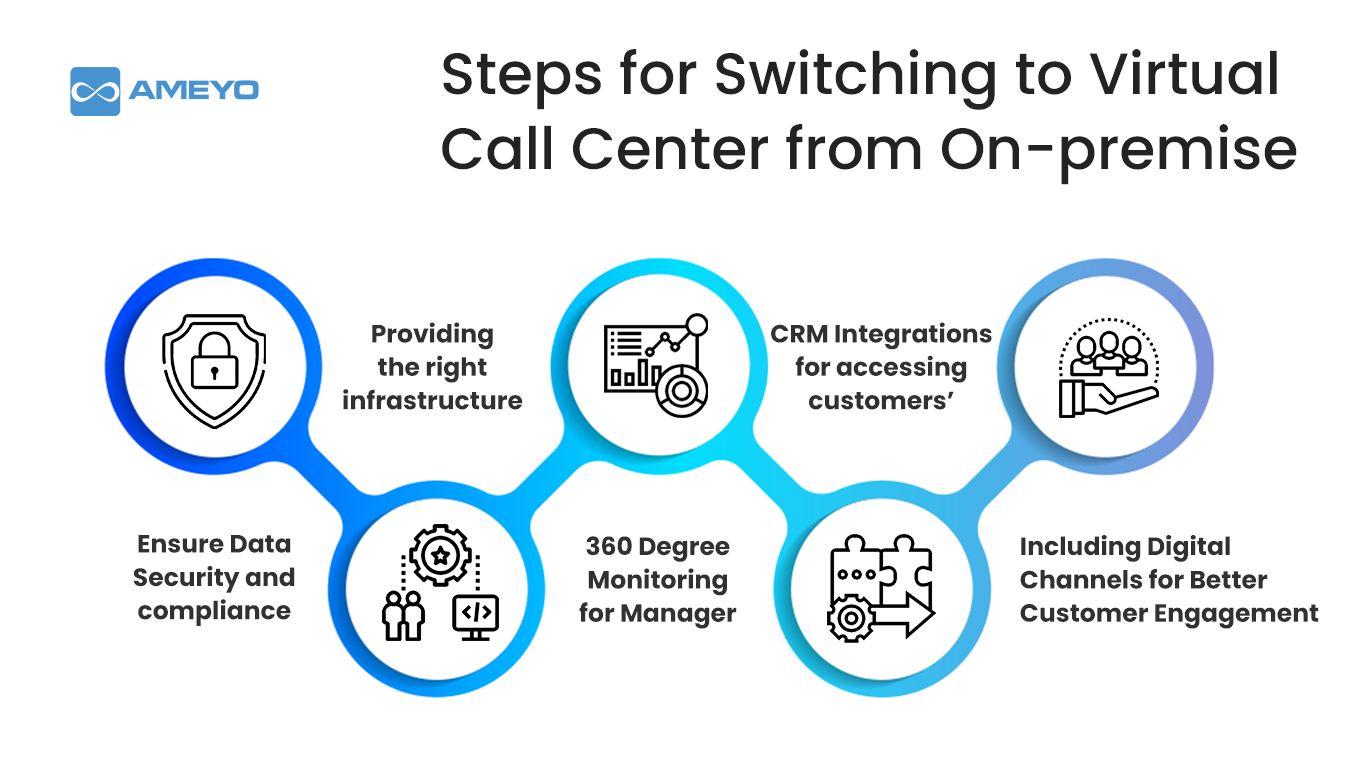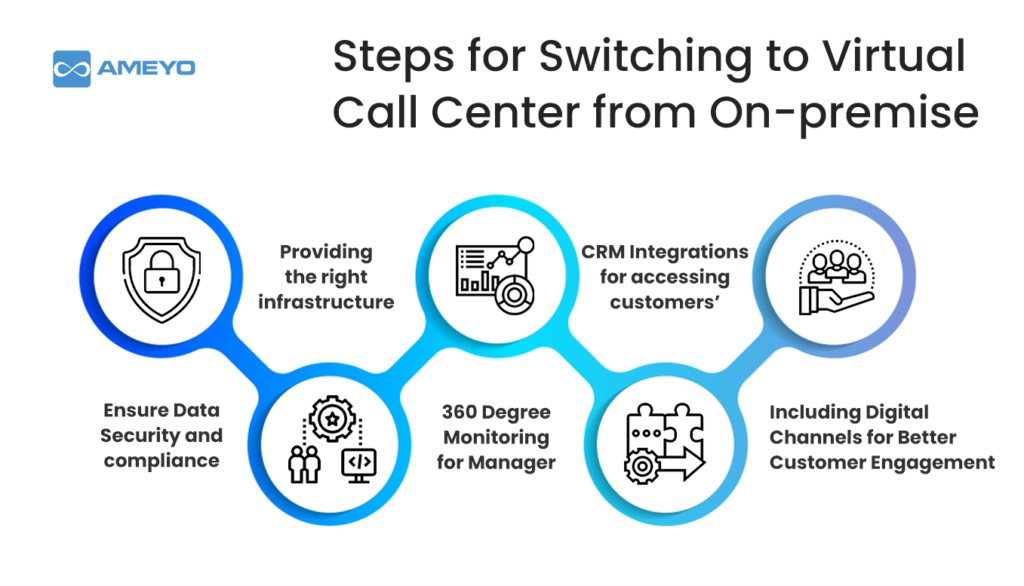 Ensure Data Security and compliance
The first and foremost thing you need to take care of while shifting to a virtual environment is data security and adherence to compliance policies. This helps in eliminating the risk of data theft or breach, which can happen during remote working.
Setting up a corporate VPN can be a great start towards security as it helps you monitor employees remotely and ensure that your resources are engaged in line with your requirements responsibly. The system should also record all the data on the cloud, preventing call center agents from taking screenshots or recording calls while working. Dealing with sensitive customer data remotely can be tricky, and as a service provider, it is your responsibility to ensure that it is safe at all times.
Providing the right infrastructure
Before providing your agents with the required infrastructure, you must understand their nature of work and the responsibility entrusted toon them. Accordingly, agents must be provided with all the tools and facilities needed to provide the right kind of service to customers. Therefore, agents would either need a smartphone or a laptop, depending upon the process being followed and a stable internet connection. Moreover, the system in use must be capable of running on low internet bandwidth to ensure that agents are connected to the system at all times.
For inbound calls, make sure that you have a smart routing algorithm that routes incoming calls through Smart IVR to your virtual agents. The automatic call distribution feature must map calls to the correct agents according to their role and skillset for outbound calls that use a virtual dialer.
360 Degree Monitoring for Managers
Once you have successfully set up your virtual call center, you must ensure that the company's business and operational heads have a central view of all the remote contact center operations. These operations include office and remote work and agent activities across each campaign through an interface.
Supervisors and Managers must be able to track and monitor the following activities at all times:
Managers/Supervisors must be able to monitor live calls and provide assistance to agents on call to ensure greater customer satisfaction
They must be able to analyze the real-time call flow in each campaign and have the ability to shift the remote agents to different call queues to ensure higher productivity and proper resource allocation
Managers/Supervisors should also be able to pull up reports to analyze call quality and rate agents on their performance
They must also be able to monitor various parameters in remote devices using Application Infrastructure Management tools to ensure that the process moves ahead smoothly
CRM Integrations for accessing customers' information:
To deliver customer service virtually, agents would also need to access their data remotely. They need to have access to the previous interactions, the product or package availed by customers, and their complete profile to better understand their requirements and provide them with the assistance required. Thus using your CRM software, you will need to ensure that all customer details pop up automatically on your agent's screen when they are speaking with customers.
Customer experience would be hugely impacted if agents have to painstakingly retrieve information from various sources while on a call. Hence, you must have a system that helps agents increase their efficiency and provides them with the necessary data to solve customers' problems. The system must not only provide them with the context for the customer call received/dialed, but agents must also be able to log current conversations in the system. Agents must also be able to virtually transfer calls to superiors with the necessary information for better issue resolution.
Including Digital Channels for Better Customer Engagement
Engaging with customers remotely can be tedious if you rely on a single channel for communication. Moreover, customers prefer brands that engage with them through the communication channels of their choice. Mediums like web chat, social media, and Whatsapp have shown huge adoption rates among customers, especially in today's contactless world where consumers seek instant support from service providers.
Including digital channels not only improves customer satisfaction rates but also helps in the First Contact Resolution of consumer issues. Moreover, it reduces the burden of agents if bot agents can take away some of their tasks.
Setting up a virtual call center initially appears to be a daunting task. However, once everything is in place, and you have total virtual control over the processes and operations, you can offer great customer service to your clients far more economically. You can also get hold of a virtual call center management software that suits your organization's needs, providing the necessary support and flexibility to your agents.
Author-Bio
Asmita Mhaiskar is an SEO Executive at ControlHippo with vast experience in the SaaS management platforms. During her Spare time, she likes to read about trending SaaS tools or binge-watching Netflix.