Irrespective of the type of business you run, your customers expect a lot in terms of proactive communication. They need your team to offer required support on time and via the channel they prefer. This is one reason behind the tremendous growth of the customer support industry worldwide.
As per statistics, the global customer experience management market size is expected to grow at a CAGR of 18.1% from 2022 to 2030.
If you are struggling to keep up with the customer communication needs of your business, the chances are that your communication stack is the reason that holds you back. This is where switching to a hosted contact center can make a significant difference.
93% of customers are likely to buy again from brands that offer excellent customer services.
– HubSpot
If you are hearing the term 'hosted contact center' for the first time, you might have several questions in your mind. Before we dive deeper into the advantages of a hosted contact center for your business, let's cover the basics.
Is a Hosted Contact Center and Call Center the Same Thing?
Before we jump to the hosted contact center, you should know that even a contact center and a call center are two different entities. Although these terms are often used interchangeably, there are distinct differences between the two.
A call center generally refers to a company that handles inbound and outbound calls for itself or other clients. Their target audience includes existing and potential customers, resellers, or internal staff. Different types of businesses take help from call centers to provide customer service and increase their sales.
Traditionally, most call centers use PBX or Private Branch Exchange systems that are based on physical phone lines. On the other hand, modern call centers use either VoIP or IP telephony to handle a high volume of calls. The main difference between a call center and a contact center is that the former only handles voice calls while the latter encompasses other channels like live chat, SMS, email, and support tickets.
Contact centers are omnichannel as they allow the targeted customers to communicate via their preferred channel. With the rise of live chats and support ticketing systems in the market, voice calls are mostly served as an escalation channel. This has given rise to the contact center platforms which you can use to run sales and marketing campaigns.
The next level transformation is a hosted contact center in which the communication solutions are hosted at the location of a third-party (service provider you select) or a cloud server instead of an on-premise installation.
Now that you know about the differences between a call center, contact center, and a hosted contact center, you might be wondering which one will be best for your business.
How to Choose Between A Contact Center and A Call Center?
If a major proportion of your customers heavily rely on phone calls as a mode of customer support, go for a call center.

If yours is a large business in which the customer communication and support are handled by a large number of people (internal or external), choose a contact center.
7 Reasons to Convince You to Switch to a Hosted Contact Center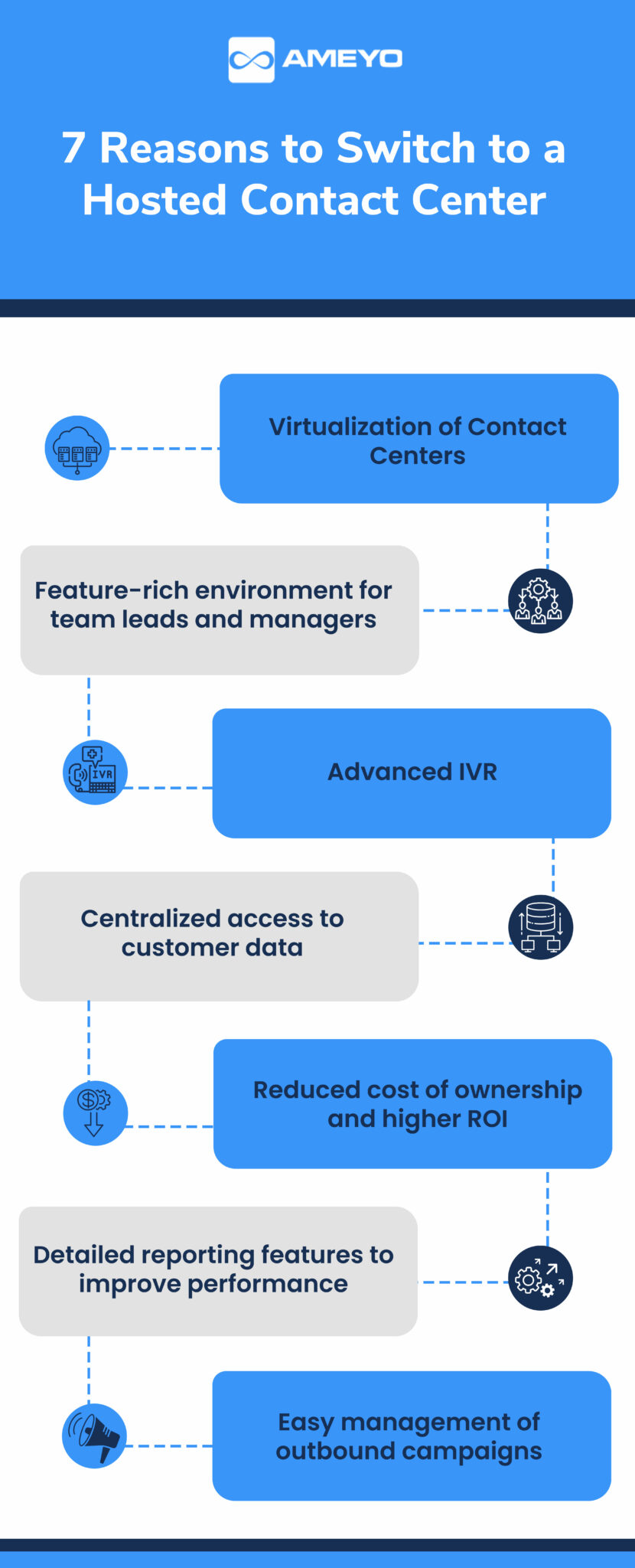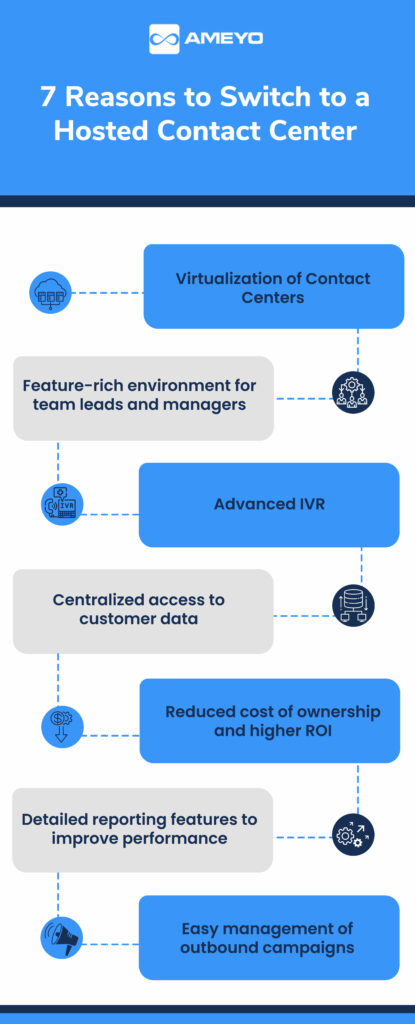 1. Virtualization of Contact Centers
Noisy contact centers have diminished gradually in their operations. Unlike a traditional contact center, its cloud-hosted counterpart does not rely on the on-premise IT infrastructure. As a result, your agents and support team members can access their workstations remotely from wherever they are via an Internet-connected device.
A hosted contact center is best suited for remote workers as it does not inhibit their day-to-day tasks even when they are on the go.
2. Feature-rich Environment for Team Leads and Managers
With contact centers, the limitations to handling several calls at once often act as a bottleneck. However, when you switch to a hosted contact center, you also provide your support agents and team managers access to advanced features like call queue, call parking, call monitoring, and easy call transfer.
This will not only help them manage work-related chaos in a hassle-free manner but also improve their overall productivity.
3. Advanced IVR
Basic Interactive Voice Response (IVR) systems that are used for customer support and sales needs use voice recognition technology and keypad entries for call routing. While these systems can give on-demand, self-service options to the customers, they lack advanced features which you can get with hosted contact centers.
Cloud-hosted contact centers use Natural Language Processing (NLP) technology that understands full sentences asked by customers and provides answers. It not only helps customers get quicker responses but also improves agents' efficiency.
4. Centralized Access to Customer Data
Flipping through multiple sheets and documents containing customer data while providing support services can be quite a hassle. This can be best tackled with a hosted contact center that allows you to implement Computer Telephony Integration (CTI) to connect the phone system to different business tools and apps
For example, you can integrate your preferred Customer Relationship Management (CRM) tool to get instant access to all the customer-relation information like past purchases, interactions, and queries. This will help optimize every customer interaction to deliver maximum satisfaction.
5. Reduced cost of ownership and higher ROI
Traditional contact centers require you to invest in hardware and software licenses and hire in-house staff for maintenance. You need to bear all these upfront costs while knowing the fact that the hardware/software will most likely become obsolete with time.
You can benefit from a cloud contact center in the form of a reduced Total Cost of Ownership (TCO). Neither you need to invest in on-premise equipment nor hire professionals for maintenance. As the service provider takes care of it all, you enjoy increased ROI.
6. Detailed Reporting Features to Improve Performance
To improve the performance of a contact center, you need to first look at certain key metrics, such as queue time, agent uptime, and call handle time. This is possible with a hosted contact center.
By getting detailed reports containing these metrics, you will be in a better position to decide how to split work between agents and how to automate certain tasks. You will also get access to other metrics like the location of maximum customer requests, abandonment rates, and first-call resolution.
7. Easy Management of Outbound Campaigns
With a hosted contact center, it becomes easier to manage an outbound calling campaign. It will help you configure the platform in a way that it automatically dials contacts from an imported list and directs the call to an available agent. Since it does not require the agents to dial each number manually, it frees them from this draining task and allows them to focus more on their conversation with the end customer.
Top 4 Factors to Consider Before Selecting a Hosted Contact Center
If you are feeling convinced to switch to a hosted contact center, consider these four things before selecting one as you do your research: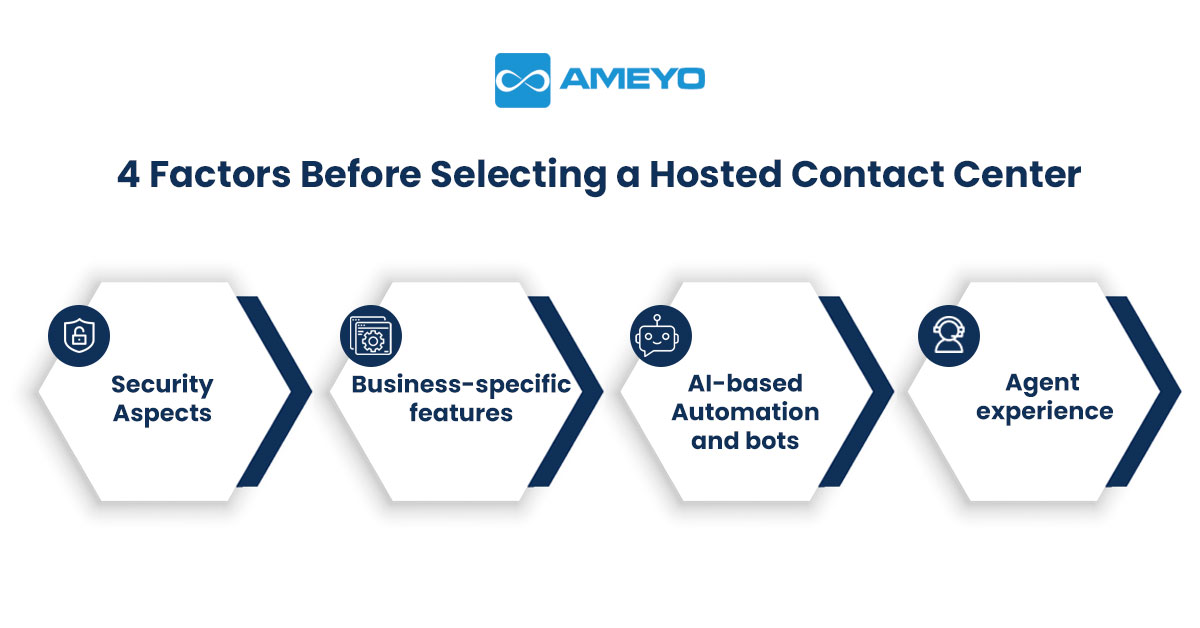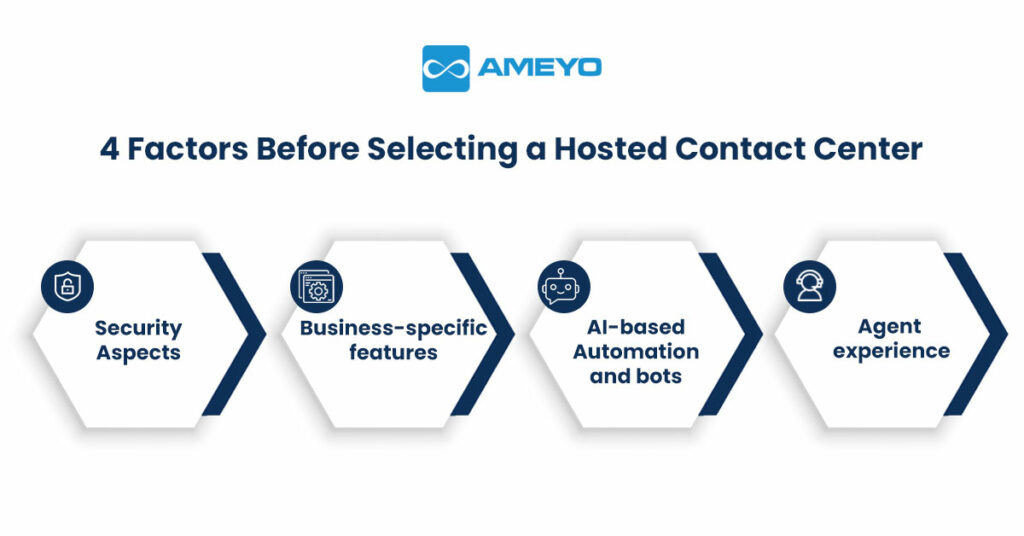 1. Security Aspects
While you review different contact center vendors, it is important to check and ask about their policies and deployed security measures for the protection of your data. In terms of certifications and affiliations, check if the chosen hosted contact center vendor:
Offers PCI-DSS compliant cloud environment
Abides by the Information Security Standard and is ISO 270001 certified
Adheres to the code of practice to protect the information in a public cloud and is ISO/IEC 27018 certified
Is GDPR and HIPAA compliant
2. Business-specific Features
Before you start searching for a contact center vendor, it is advisable to make a list of non-negotiable features related to your business communication. In general, such a feature list will include but is not limited to the following:
Scalable offering to support your business as it grows
Integrated omnichannel solution
Automation and intelligent routing
Automated call distribution
Predictive dialers
Once you have this list ready, compare it with the list of features offered by different vendors to double-check that you will get everything you need.
3. AI-based Automation and Bots
Bots and AI automation have already made a mark in customer service operations with the availability of chatbots and virtual customer assistants. Amidst the growing number of digital channels that your potential customers might be using, it is imperative to look for automation based on AI.
For example, automation based on conversational AI will help your system learn from different interactions and answer recurring questions without an agent.
4. Agent Experience
Since your customer support agents stand at the front lines, it is quite important to consider their needs and experience before selecting a contact center service provider. In case you select a solution that complicates how the agents work instead of simplifying things for them, it will most likely have an impact on the resulting customer experience they deliver.
Hence, it is important that you empower your agents with advanced but easy-to-use software solutions that help maximize their focus on work and minimize redundant tasks.
Final Words
Organizations across the globe are gradually switching to using a hosted contact center software to experience benefits and growth. With Ameyo's contact center solutions, you can further streamline the customer experience you deliver while also saving on costs and resources. Our team is here to help you make the switch to a cloud contact center.