From rain to storage, our lives have exponentially changed regarding clouds. What felt like a word in childhood has changed how we live our lives & conduct business all over the world. Since the inception of the internet in 1960 and its usage in the business world in the 1990s, things for the world have significantly changed. Cloud computing as we know it now, was technically launched in the 1990s though it came to public attention in mid-2000 when the 3 giants GCP, Microsoft Azure, and AWS became known to the world.
With it getting more and more popular and advanced this decade, at the end of 2020, the virtual weight of all the information in the world was 44 zettabytes. Enormous, Isn't it?
As we are moving forward to the cloud advanced world, individuals need to be more enriched with cloud computing information
Here, we have compiled a cloud computing definition with its key usage and benefits that would help you in contextualizing your current capabilities to lead to future growth.
What is Cloud Computing?
Simply put, Cloud computing is one of the most innovative uses of technology to leverage the internet that reserves and preserves data on remote servers and access it wherever required. And overall, everything without even owning the physical infrastructure. Cloud computing became popular due to its simplicity in usage, cost-effectiveness and above all its advantage in easy storage and backup of important files.
There will be over 100 zettabytes of data stored in the cloud
–Cyber Security Ventures
With business usage of cloud computing getting popular, personal usage of cloud computing can not be left unseen. If you are using dropbox or Google Drive for data storage, you have already been a part of this evolution. Additionally, all your favorite tv shows and movies are already hosted on cloud storage like Netflix or youtube.
As per Markets and Markets, it is estimated that by 2025 it will rise to a staggering $832.1 billion.
Since cloud computing is huge, there are three types of cloud computing deployments: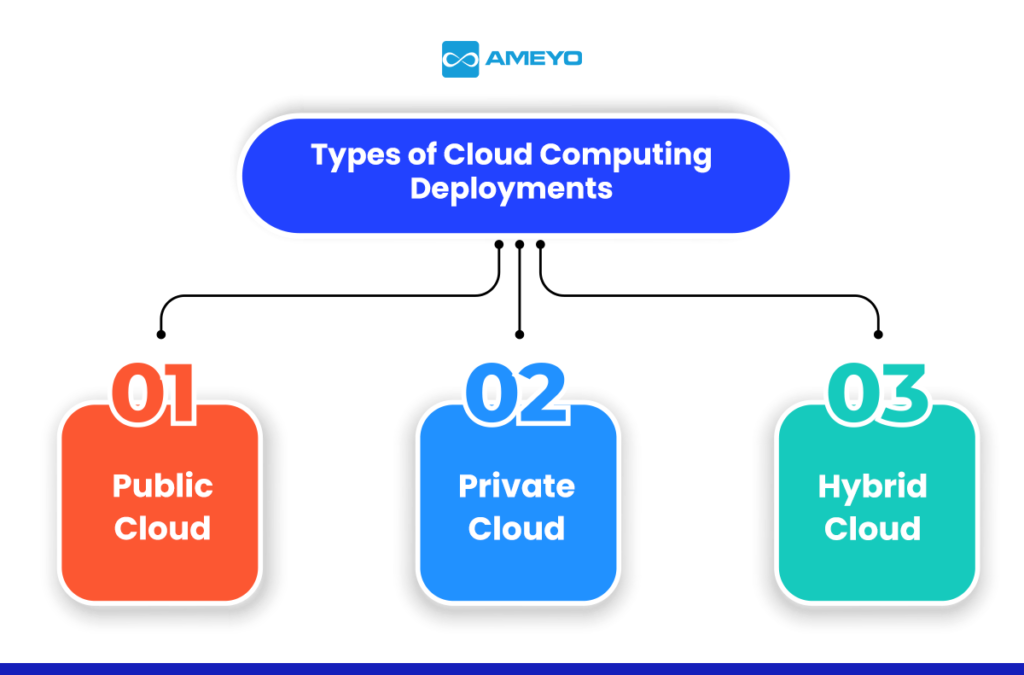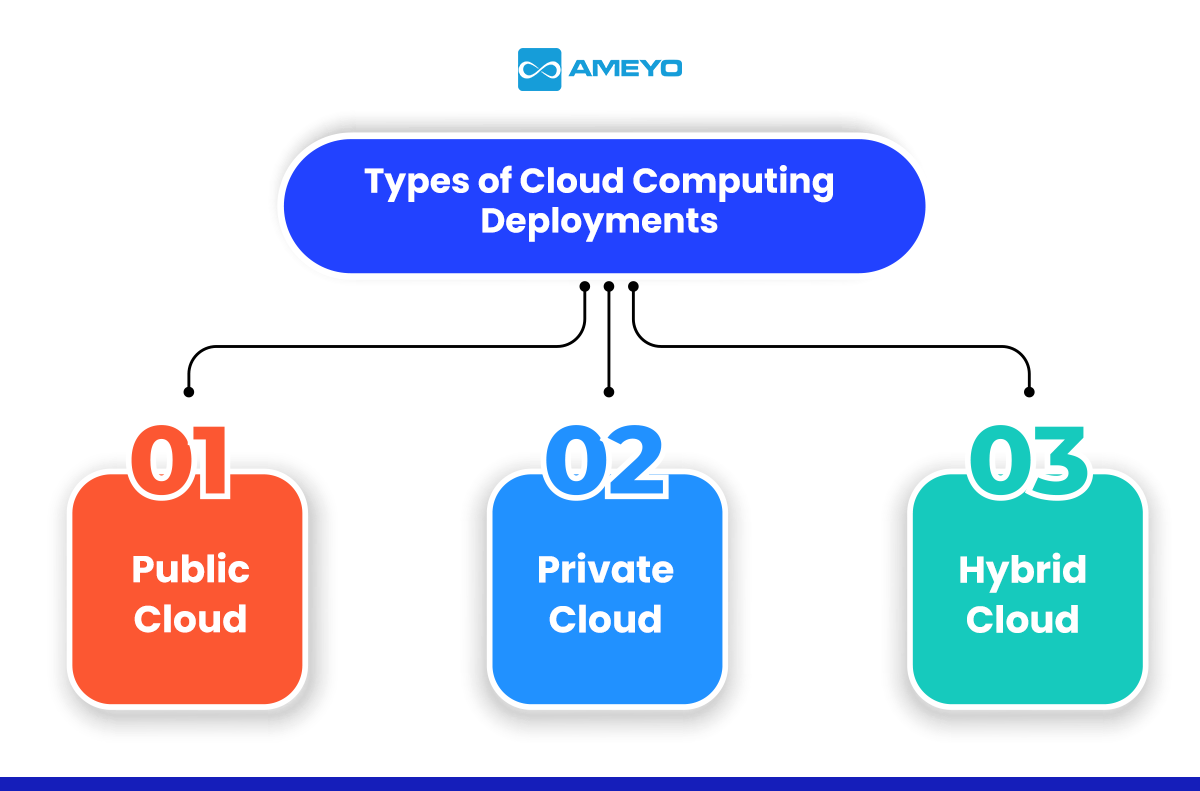 1. Public Cloud
As the name describes, public clouds are owned and managed by third-party companies and are not owned by any end-user. Public clouds are highly reliable for the audience as it comes with lower cost and lower maintenance.
These types of clouds are divided among different tenants and are shared out by multiple individuals or companies. A few of the major players in the public cloud arena are AWS (Amazon Web Services), Microsoft Azure, and Google cloud.
2. Private Cloud
These types of clouds are completely managed by a single user in the back of a firewall with completely isolated access. These are majorly owned and managed by giant private companies or government organizations for better data privacy.

Plenty of organizations are structuring private data centers located outside of their premises. Private clouds are further bifurcated into:
Dedicated Cloud wherein a particular team of a department can have a cloud within the cloud. For example, a finance team at an enterprise can have their own secured and private cloud on the company's cloud.

Managed Cloud wherein a private cloud is deployed and managed by any other company if the organization's core team is not skilled enough to manage a cloud by themselves.
3. Hybrid Cloud
Use of a mixed environment of clouds including private, premises, and third party clouds for better flexibility & data deployment. These clouds come with highly advanced security and cost-efficiency factors as there are flexible pricing options that can be on a Pay-as-you-use basis.
Plenty of data-sensitive industries like banking and finance are opting for a hybrid cloud environment to develop new apps and store their confidential data. Also, healthcare companies are using private as well as public infrastructure for data security and easy access to data respectively.
The key Usages of Cloud Computing
Before people opted for cloud computing, companies and individuals were downloading programs on their personal computers or physical servers to use them. Owning, managing, and allocating resources and money to a personal data center was a challenge.
The introduction of cloud computing changed everything for companies and individuals as it saves a humongous amount of time, effort, and money. Businesses are now avoiding paying a hefty amount for setting up and managing their data centers.
Ranging from emerging startups to giant enterprises or government organizations, numerous companies are opting for the cloud environment to access solutions to enhance communications, run workforces, and much more.
Here are how organizations are using cloud computing in their day-to-day operations: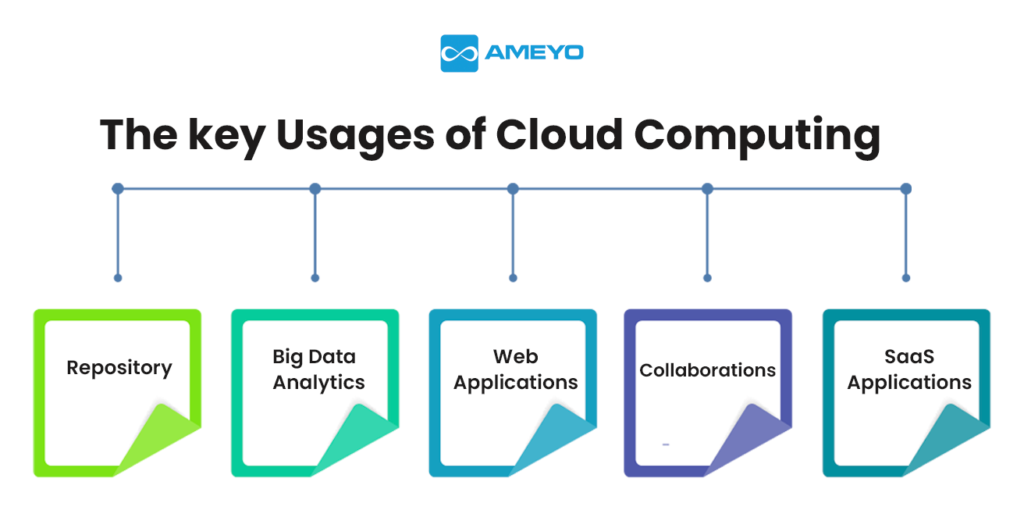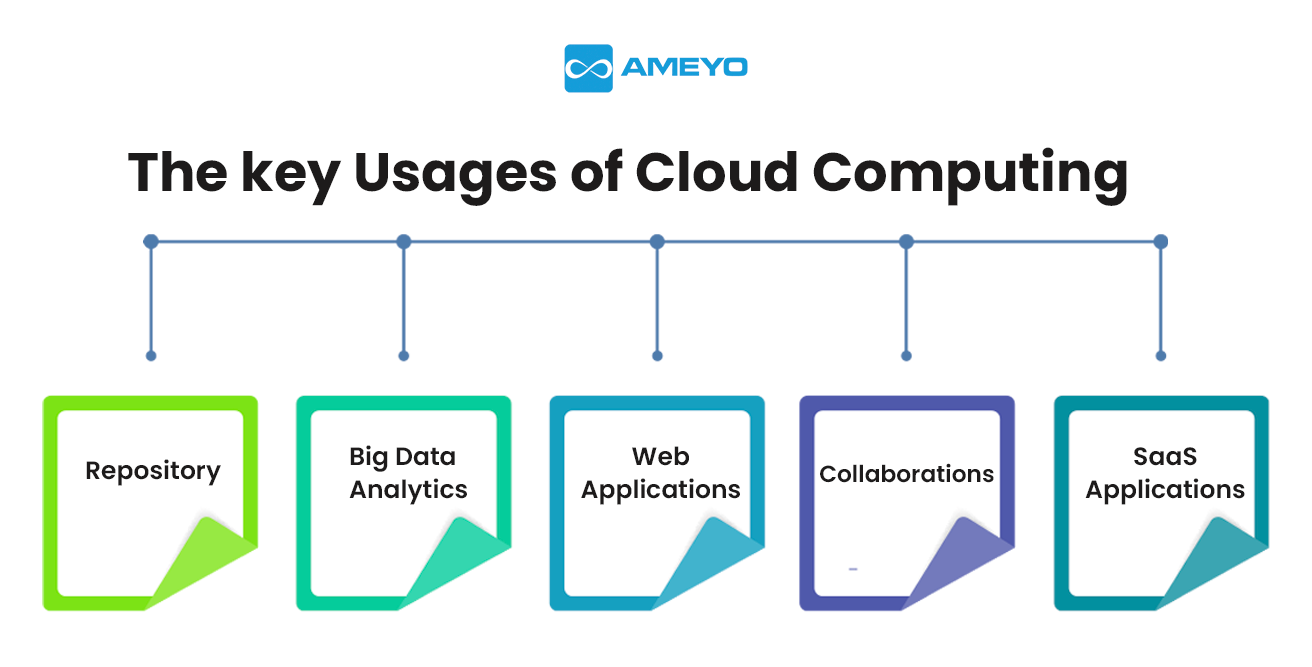 1. Repository
Storage being one of the most common reasons for using cloud computing makes it easier for companies to store and access data at their ease.
Storing data on hard drives and USBs is now vanishing slowly. Companies are leveraging cloud storage to seamlessly use data when, where and whenever required. With providers like Dropbox or one drive, cloud storage according to requirement has become an ease.
Read More: Top 6 Keys to Operational Excellence in your Cloud Contact Center
2. Big Data Analytics
Data-led decisions have become a primary factor in companies' future at every level. Be it customer acquisition, user engagement, or retention, analyzing user behavior is important. Companies are investing a good amount of money in collecting behavioral data to create personalized campaigns. But when it comes to customers' likes, dislikes, trends, and patterns, the data calculation and storage are huge.
Leveraging cloud computing makes it easier for companies to store massive data and make data analysis an easier bet.
3. Web Applications
Web applications are one of the highest priorities for organizations today. Whether it is for workforce management, client management, or data management, web application plays an important role. Thanks to cloud computing, companies can access remote information through a web browser. This allows companies and their teams to get instant and real-time data and information to collaborate with customers and colleagues on the go.
4. Collaboration
Internal and external organization collaboration is a necessity in today's time. Companies are relying on cloud-based tools like Microsoft 365, and Google workspaces for easy collaboration among teams internally and with clients and customers externally. Also, tools like Google Drive and Microsoft suites are used for enhanced productivity within the company.
5. SaaS Applications
As companies grow and expand, ways to store, manage and retain data have become challenging. SaaS technologies through cloud computing have helped companies in organizing data. SaaS platforms like salesforce and Hubspot have helped companies in doing their business more efficiently.
Key Benefits of Cloud Computing
According to Statista, as of 2021, around 50% of all corporate data is stored in the cloud. Businesses are using cloud computing to a great extent as it gives organizations the ability to increase and decrease their infrastructure as and when required. 
Numerous leaders across the globe have successfully implemented a cloud-first setup and are availing humongous benefits of the cloud.
Listed below are some of the most important benefits of cloud computing.
1. Reduced Cost
As companies do not need to build their infrastructure or set up hardware for data storage, they are saving a huge amount of money. With cloud computing, one need not invest in purchasing new equipment. Along with that, organizations saves cost on power consumption and space which are usually taken by in-house infrastructures.
2. Flexibility and Scalability
With businesses of any size, cloud computing comes with a great scalability option. Cloud computing partners/vendors can scale or descale bandwidth, power, or space at any level according to one's needs and budget. Moving to the cloud allows companies to scale business according to the business requirement without spending extra costs on extra services.
Read More: ​​Cloud Contact Center: A Guide for 2022 (With Actionable Tips)
3. High-end Security
Data security is one of the primary benefits and reasons which make companies go for cloud setup. With security parameters like data encryption, authentication, etc, cloud vendors ensure extra safety for sensitive data on the cloud. Major cloud players like AWS and Microsoft Azure have all the data regulations requirements in place for making your sensitive data safe and secure.
4. Ease of Access and Collaboration
With easy data access for users, cloud computing became a go-to option for companies specially post-world going remote. With just a mobile app, data can be easily accessed, used, and modified as per the requirement of companies or individuals.
Work from home culture has increased the requirement for easy transfer of files, and data and to conduct meetings on cloud-based platforms like zoom. Cloud-based solutions have allowed individuals to work and collaborate even when the geographic locations are thousands of miles away. Cloud computing has drastically enhanced faster collaboration with customers and solving queries in real-time.
5. Automatic Updates
Manual software updates have been proved to be a time & cost-consuming activity for organizations in the past decade. Manual updates utilize a lot of time of organization key resources. With cloud computing, systems are regularly updated and taken care of by service providers to provide faster and more effective services across the globe.
Final Thoughts
Globally, businesses are trusting cloud service providers with their data. Companies are relying on vendors across the world for their data security, uptime, and availability. cloud services providers are taking away all the pain of data storage and allowing companies to move faster and innovate better.