Back in 2020, due to the pandemic, many business owners switched to operating remotely. As businesses these days are considering remote work in their long-term plans, it is imperative to consider contact center solutions as communication from home and office is seamless.
Now as most companies are opting for cloud contact centers, Gartner predicts an annual growth rate of 29% for contact center software. If this prediction goes right then by 2024 its total value will reach $17.9 billion. Automation and chatbots have also been in demand along with cloud migration since the COVID-19 was triggered.
20% of US contact center professionals and 21% of UK professionals believe that in 2022 there will be fewer staff requirements in a contact center because of rising in automated solutions
– PCI Survey
What is a Cloud Contact Center?
A Cloud Contact Center is a wide range of applications, tools, and cloud-hosted services for contact centers. These days it is much in demand for every organization irrespective of its type of business as it offers multichannel communications like via email, phone, SMS, and so on.
For client-facing organizations to succeed, having the right contact center is imperative. If the sales and client interaction is not well handled it can lead to a loss in revenue and a damaged reputation.
Most of the organizations face several challenges while handling communication with the customers:
Customers usually prefer to get connected to a contact center using their preferred mode of communication channels like phone calls, instant messenger, or email etc.
Contact centers need to transfer customers' calls and messages to the correct department so that customers can get quick solutions to their issues.
Contact centers should be much more efficient and could manage their agent's time proficiently besides automating most of the processes and functions such as auto-attendant or music-on-hold.
The supervisors of the Contact Center need to monitor and optimize the services they are offering.
A cloud Contact Center helps organizations meet the challenges of communicating with customers. A cloud contact center usually provides solutions like:
Integrates multiple communication channels into a single system as it helps agents communicate with the customers through emails, phones, or instant messaging.
Provides advanced call routing, ensuring that the customers can speak to the qualified agent in the right department.
Includes automated services such as music-on-hold and auto-attendant.
Implements workforce management tools as it helps agents and supervisors to manage their time proficiently.
Read More: Top 10 Benefits of Cloud Contact Center
So, it is necessary to have the right contact center to achieve good revenue and success.
Cloud Contact Center and The Future of CX
Cloud Contact Center is one of the tools that will enable a brighter future for CX. The replacement of the traditional call centers is the cloud-enabled cloud contact center. It helps the customers connect with organizations through all channels like phone, email, chat, and text. 93% of customers would spend more time with companies allowing them to connect with customer service through their preferred channel.
Besides giving more options to customers, Cloud Contact Center also provides customer agents with the flexibility to work from anywhere with the tools that would give efficient interactions with the customer, making them more satisfied.
Organizations prioritizing CX services can gain much success and stability. If a good CX team is built and maintained, it can be a significant asset, thus adding value to the brand. Well, as per North Highland, nearly 87% of business leaders feel that CX is considered their top growth engine.
Whereas only 1 in 3 believes that their company is well prepared to handle the area. This unreadiness shows why it is crucial for a business to partner with a service provider offering products, services, and support to initiate and maintain CX that would exceed customer expectations.
Opting for a CX service provider can help you see a future where customers would no longer dread dealing with the customer service department. Instead, the customer would like to connect with a business to solve their issues quickly without any hassle.
In the future, there will be no need for the customers to re-verify their identity over the calls. The customer will not be required to repeat their problems at every touchpoint. Enhanced CX will benefit not only customers but also AI tools, instant customer account and journey data, and real-time collaboration, agents will have improved productivity and enjoyable workdays.
Top 7 Best Practices of Contact Center for 2022
The shift to the cloud was seen as an acceleration due to the pandemic. In addition, Many companies embraced a hybrid model work environment in 2020; thus, cloud-based solutions are not just a choice anymore bust; instead, they have become business-critical.
Irrespective of your industry, here are some of the best practices of a contact center that is beneficial in delivering great services besides exceptional customer experience.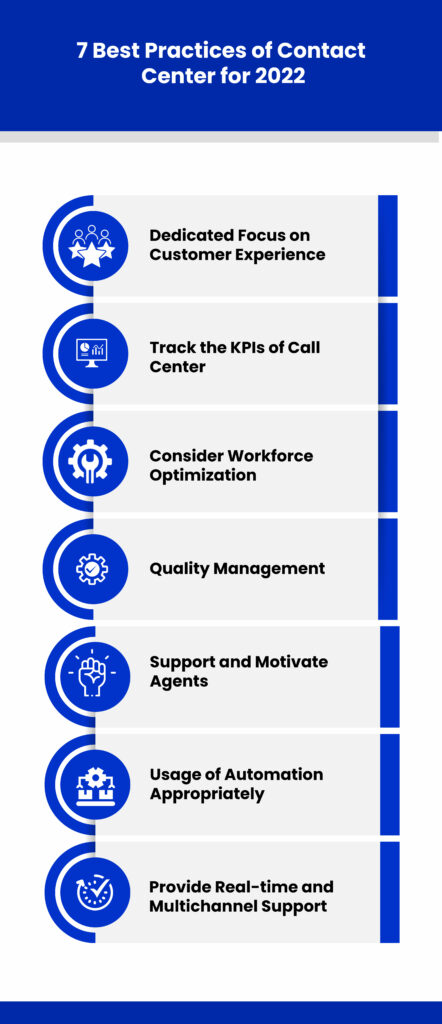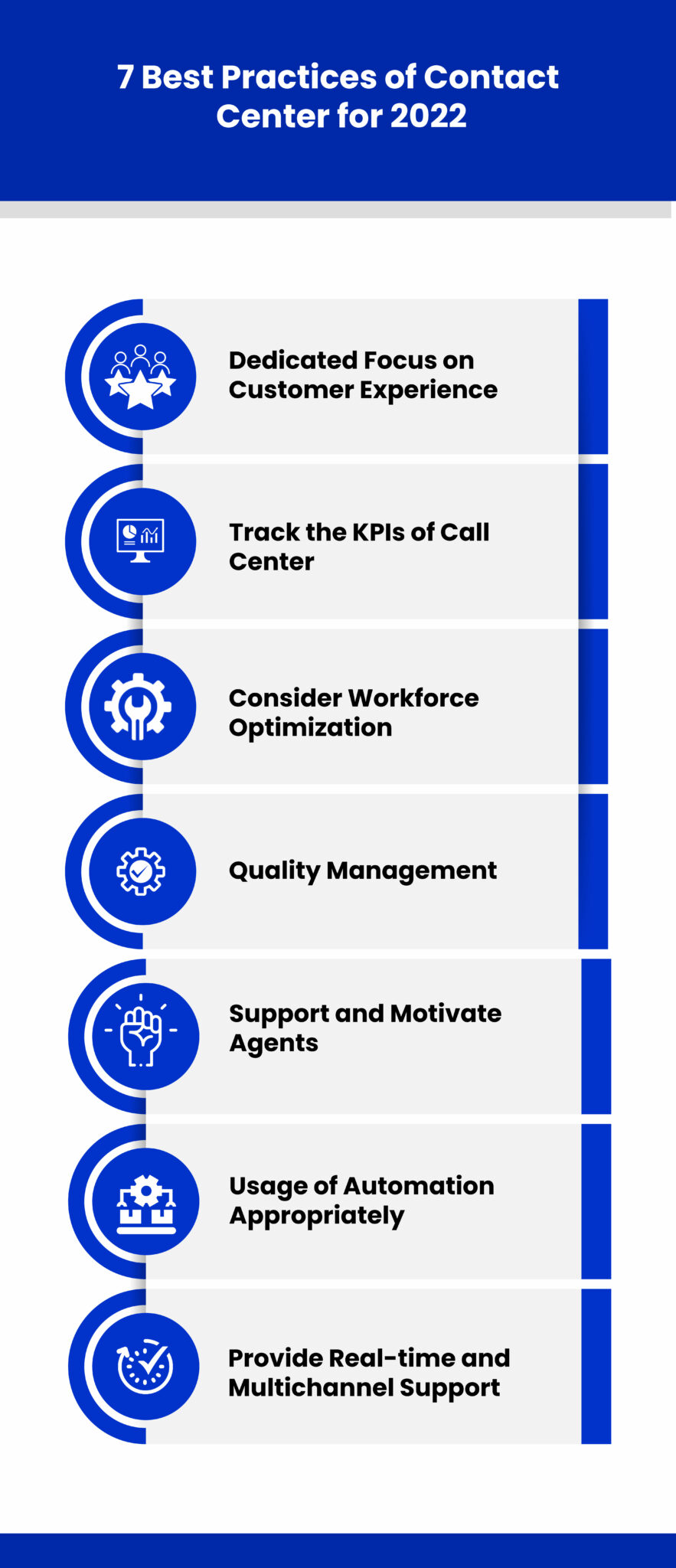 1. Dedicated Focus on Customer Experience
A thriving contact center must have a dedicated focus on customer experience. Customer experience has never been that imperative, but due to the pandemic building unshakeable loyalty by offering exceptional customer experience is necessary for any business to succeed.
There is a saying, Businesses that focus on dedicated customer experience rise above the competition.
Customers interact with your business through different mediums like, chat, website, email, phone, and so on. You should make sure that their experiences on all these channels are excellent. Some of the things to follow to make their experience good include:

Reduce wait time
Offer multichannel support
Resolve issues quickly
The response rate needs to be quick and proficient
2. Track the KPIs of Call Center
To ensure that your call center is performing well as per the standards, it is imperative to keep a track of progress through metrics or call center KPIs like:
Average Handle Time
Average Response time
Average Queue time
Customer experience
Occupancy rate
The average number of calls
Abandonment Rates
Going through these metrics properly can help you to understand your areas of strength and weaknesses in your call center. Later based on this analysis you can train your employees accordingly to enhance the quality of your call center to meet the company's standards and mission.
3. Consider Workforce Optimization
These days native workforce optimization (WFO) software is becoming an important need of a contact center for ideal customer experience. Where the change is inevitable, and stress is high, the most effective way to ensure workforce satisfaction, productivity, and stability.
Components that an efficient WFO system include:
Workforce Management (WFM) is effective for intelligent staffing and scheduling depending on real-time forecasts and historical data.

Besides screen recording, quality management can be done by call center recording software as it helps to monitor, coach efficiently, and evaluate agents.
Performance Management is an efficient way of setting personal targets, achievements, and benchmarks for every agent to provide customer interactions.

One of the important benefits is reducing the need for multiple systems and interfaces. Native WFO helps make it easy for supervisors and agents to learn things and swiftly gain proficiencies.
4. Quality Management
Quality management is considered an imperative key in enhancing customer experience as it pinpoints your areas for improvement and where the team is performing well.
A wide range of contact center quality management solutions such as CXEngage Quality Management can capture desktop screeens, record agent calls, and evaluate customer interactions besides identifying coaching and training opportunities for enhancing customer satisfaction.
Read More: Why is Cloud Call Center Better than On-Premise?
Here are some tips to get Quality Management right:
Create a framework for success: Prior to analyzing and recording calls, you should precisely document the goals of the quality management program.
Benefits should be communicated to the agents: When the agents get to know that they are monitored it may cause stress to them as they are already working under extreme conditions. You need to assure them that coaching and training will enhance their customer interaction besides making them more successful.
5. Support and Motivate Agents
During the pandemic, businesses worldwide have been focused on supporting and keeping customers. But several brands are aware that beyond customer satisfaction, it is also important to support employees through anxiety and uncertainty for business continuity and long-term ongoing.
When employees feel supported they give better performance thus, making it much easier for continuity of business even during a crisis. There is also a long-term impact of employee care programs on employee engagement, productivity, turnover rates, loyalty, and retention.
6. Choose Easy to Use Software
Agents at a call center use numerous software to track and store information and for many more things. Thus, it is important to ensure that the software used is easy to use and learn. In this way, agents won't be spending days and weeks learning how to use these systems. If the software is easy to use they can quickly learn how to use it and start managing work through it.
7. Usage of Automation Appropriately
To properly distribute the incoming call it is best to consider automated IVR systems. This makes sure that the customer receives an appropriate solution from the correct department. It is also beneficial to distribute calls equally to agents to make sure no one employee is over or under burdened. Calls can be routed as per different criteria.
Time-based routing – It is based on the timing of the call
Location-Based routing – It is based on the location of the call
Skill-based routing – It is based on the skills of the agents
Regular routing – It routes the call as per a predetermined list of agents
Least occupied routing – It routes calls to agents who have answered less number of calls
Simultaneous routing – It means ringing multiple phones with one number
8. Provide Real-time and Multichannel Support
Recently it is observed that call centers are providing real-time support through multi-channels like email, phone, live chat, trouble tickets, and so on. If you want to step up your contact center's success then it is highly recommended to provide more channels for communication. You may also consider chatbots, an IVR system, to offer the clients a way of communication and a quicker way to resolve an issue.
Now it's high time to implement these call center best practices and provide your agents with the best support they need.
Also Read – What Is a Virtual Call Center: 5 Tips to Manage Remote Agents.
Final Words
As customers use more digital channels to connect with the businesses, it has become imperative to modernize the contact center. A cloud contact center can be deployed in minutes with zero upfront investment. It also lets your company provide proficient services to transform your legacy contact center into a modernized contact center. Now, the agents have the flexibility to work from anywhere, and it also enhances their productivity.