The customer engagement landscape is changing, and so are contact center dynamics. That makes cloud call center solutions more critical than ever with the growing consumer expectations and time. Technology empowers businesses and agents to provide omnichannel customer service and enables customers to handle most queries through self-service. Achieving high omnichannel engagement requires streamlining communication across voice, email, and other digital channels.
According to the Digital Journal, 90% of enterprises will be incorporating cloud technology by 2021 – and call center businesses are no exception. As the COVID-19 emergency continues, cloud call centers are becoming the essential tools to ensure business continuity and resilience by integrating agents and customers into the cloud world.
According to Statista, Cloud telephony will be one of the significant growth segments in the market, with forecast growth of 8.9 percent in 2020 and 17.8 percent in 2021. Moving forward in this article, we will discuss call centers and the advantages of cloud call centers over on-premise call centers.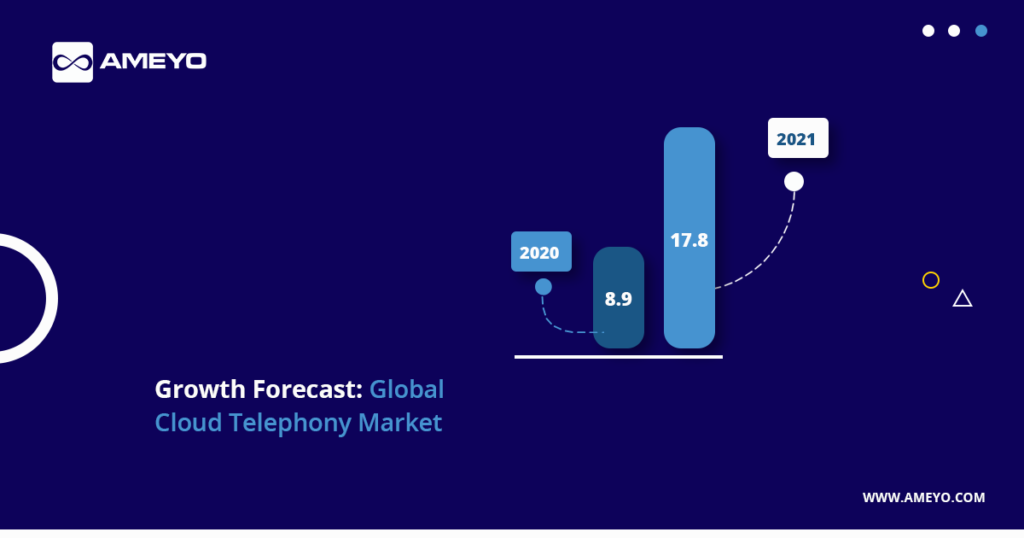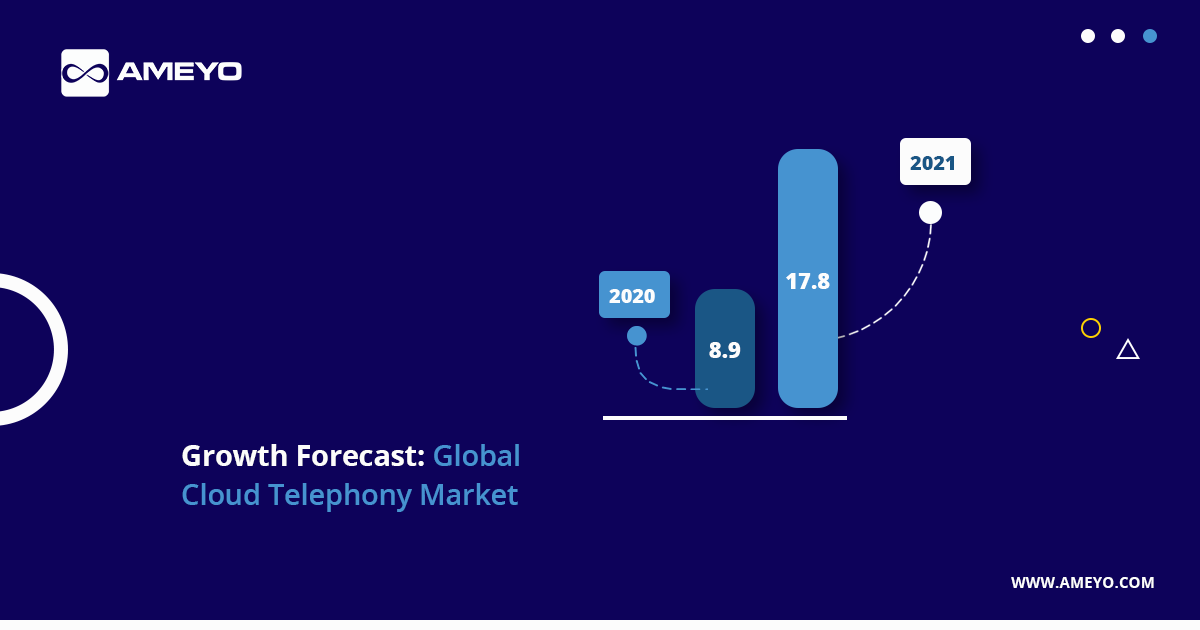 What is an On-premise Call Center?
An on-premise call center is a traditional setup for call center infrastructure. Also known as an on-site call center, it uses physical equipment, including desk phones and servers stored at the company's location. Though, an increasing number of businesses are moving away from on-premise call centers due to the complexity of setup, process, maintenance cost, and efforts.
In on-premise call centers, the local IT team of the business is responsible for the installation and maintenance of the software. Everything from exchange servers to wires/cables to software support is controlled internally.
On-premise call centers are traditional and hardware-based that often require upgrades every few years, which makes them a costly choice. With an on-premise call center, your communication hardware, software, and infrastructure remain on-site at your organization with dedicated communication servers. Thus, your IT team is responsible for installing, maintaining, and to upkeep everything from servers to headsets to integration support.
What is a Cloud Call Center?
A cloud call center is a comprehensive suite of voice communication tools and applications that can be accessed over the internet without requiring a local setup. It enables brands to access state-of-the-art capabilities and connect agents with customers across geographies.
Over cloud-based call centers, users can manage call centers and their inbound and outbound call center operations from anywhere over secure access. Integrating it with a contact center solution, you even manage other channels of communication, such as email, social media, live chat, WhatsApp, and Google's Business Messages among others.
The cloud call center is hosted over internet-based servers to engage customers, deliver exceptional customer experiences, and faster deployment of omnichannel customer engagement.
With cloud-based provide, agents can communicate with customers virtually using any internet-connected device. Cloud call centers enable to reduce costs, optimize agent efficiency and improve ROI by delivering better customer experiences and employee empowerment.
Cloud Vs. On-Premise
Here are some of the key differentiators between the two technologies that can empower your call center.
Differentiators
On-premise Call Center
Cloud Call Center
Features
On-premise call centers have traditional features, including transferring the calls and holding them, Call logging, music while waiting for the agent, and conferences.
Cloud call centers have similar features to on-premise call centers, but they are capable of adopting advancing technologies and feature features faster. Moreover, these features can be accessed remotely over the cloud.
Setup and Cost
Implementing an on-premise call center can take several months to purchase licenses and hardware, set up the infrastructure, and find the most compatible software.
On-premise call centers require upfront costs for equipment, licenses, and housing servers on-site.
Setting up cloud-based call centers involves installing an app on a computer that functions out of the box without any hardware setup.
Conversely, cloud call centers do not need large upfront hardware or infrastructure cost as long as the organization has a strong internet connection and sufficient bandwidth.
Agent Productivity
On-premise call center solutions are usually less compatible with remote operations. In current circumstances where agents need to work from home over mobile devices, an on-premise call center can struggle with agent productivity.
Cloud call center solutions are easily compatible with remote operations. They can use AI to increase the agent's productivity with advanced features such as a predictive dialer, voice bot, and more. It helps to reduce the AHT and increases agent productivity.
Scalability
On-premise setup lacks scalability, as it is restricted to have agents at specific locations to work and resolve customer's queries. One of the most challenging parts of on-premise centers is scaling up the hardware during high- demands/seasonal businesses.
Cloud call center solutions enable employees to work seamlessly throughout the organization and interact with customers despite their physical location. Cloud-based solutions are comparatively more elastic than on-premises solutions.
Reliability
On-premise call centers rely on local servers, leading to the central point of failure and increasing the risk of downtime. They are also vulnerable to hardware and infrastructure-related issues.
Cloud-based call centers have a robust and reliable internet connection that leads to high call quality. Cloud call center solutions have greater resiliency and reliability at a lower cost than many company-specific on-premises solutions.
Benefits of Cloud Call Centers
Cloud-based call centers require no capital investment upfront and deploy in a matter of hours. They empower businesses to address customer calls with a better adaption for changing needs while providing metrics that improve agent performance.
The top benefits of a cloud call center include:
Increased flexibility includes adding/contracting user counts, more accessible access to new functionality, and ease of adding users in recent locations. It also has the ability to try new applications.


Accelerated deployment: Implementing an on-premise call center often takes between 6 to 12 or more months to complete while, cloud call center deployments are generally completed in weeks as it doesn't require hardware installation.


Integration with CRM to provide omnichannel experience: Cloud-based call centers enable seam CTI integration with leading CRMs to leverage data for enhanced customer service and impeccable customer experience.


Lowered costs: A Cloud-based call center enables you to deploy state-of-the-art technology with the minimal upfront capital expense. This capability is a key reason why many firms switched to the cloud over the past few years.


Provide better reporting and analytics: Another benefit of cloud call centers is that they provide managers with better reporting and analysis capabilities by providing in-depth data about the agent-customer conversation. Cloud call centers provide analytics dashboards with advanced speech analytics to monitor the agent's performance.
Conclusion
In a nutshell, Investing in call center technology is a big decision, so make it right considering the future dynamics. There are numerous differences between on-premise and cloud call centers that give a clear vision and outweigh the cloud-based call centers.
The reduced reliance on IT and the pay-as-you-go model makes cloud call center solutions cost-effective, more scalable, and reliable, especially in uncertain times where it is impossible to work from a workplace and employees are working remotely. We can see with some certainty that remote working is going nowhere anytime soon, and investing in cloud contact centers can help businesses generate more ROI.