Contact centers have evolved from the ancient switchboard model to the digitized model over the past decade. It was after all, a need of the hour. A call center relying on their agents to fish contact information then call a hundred numbers before finding the right customer is already obsolete. Chunky hardware of the past involved a lot of maintenance and hampered customer service. The need then was a solution which relied on the latest software and speedy servers to deliver maximum customer reach.
Contact centers rely on technology because of the huge volume of data collected on a daily basis. To reach even a hundred customers a day involves going through the customers past history, their responses, their views on products, their wishlists, etc. Agents earlier manually dialed customers at random, hoping to find the right now sooner or later. But this is a tedious process and not fruitful at all. What if software could streamline data instead AND dial the right customers?
Software is the way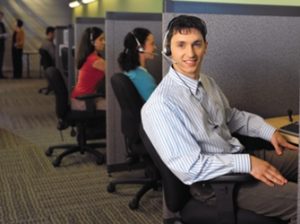 This is the digital age, of course. The use of a software solution gives a contact center the edge of technology. Automation has the huge advantage of integrating data collected over time which maximizes the agents on-call efficiency by being able to provide quick issue resolution. The software analyses the new leads and siloes them based on set criteria, avoiding the human element of error. When customers are siloed, it helps the agents reach out to the right customer much quicker. Agents can access all customer information within seconds and this is the boon of technology.
Legacy solutions involve huge hardware costs which medium- and small-scale contact centers cannot always afford. Software-based solutions on the other hand can be customized according to the business needs as well as be updated with advancements in technology. A robust software solution guarantees customer satisfaction, good customer experience, and ultimately, higher revenue. Quick delivery of customer service through software also prevents customers from waiting in long queues to talk to an agent. If you ignore a customer it can propel them to leave you and join a competitor. That is not good for the business at all.
Some must-have features of the solution you choose are IVR System, ACD, Predictive Dialing, Voice Logger, CRM, reporting, wallboard, and Virtual Queue Pass. Make sure the solution is customizable and can be upgraded with changes in customer requirements, technology, and market fluctuations. The solution should make sure that agents are not wasting time on repeat calls and inquiries. Automated messages and campaigns using ACD and voice blasts save the agent time. Queries which can be self-resolved by customers should be handled through IVR.
The Best Practices to Succeed
Contact centers need technology to garner customer satisfaction and new customers. Optimization of resources should be a priority along with growth and development. The cycle of customer satisfaction starts with recruiting and training the right agents, investing in robust technology, reaching prospects quickly and easily, and selling the service successfully. To achieve all these, technology has to help agents increase their productivity. Contact centers will gain a lot by investing in the right solution and keeping their IT constantly updated and upgraded with innovations in the market.