The year 2020 introduced the need to collaborate amongst ourselves in the AV format. As opposed to a traditional call, video calls have their benefits and requirements, but video calls and conferences are gaining much traction in the market.
According to Global Market Insights, the video conferencing market size exceeded USD 15 billion in 2020 and is projected to expand at around 23% CAGR from 2021 to 2027.
Customers emphasize accessibility and usability during a customer support call in today's digital world. However, telephones are limited in providing additional accessibility options. Hence, customer-focused enterprises are looking for technologies to help customers when they need them the most.
Furthermore, the increased penetration of smart mobile devices has further accelerated the development of accessibility options for customers. 
In addition, the existing telephone lines could elevate the customer experience with options such as IVR, auto-dialling, scheduling calls, and reconnecting in the event of a call drop.
Smartphones bring a completely new setup available at the customers' disposal. The camera can be used to take pictures of a delivery or record the issue with the sound if any electronic product malfunctions. However, there can be multiple scenarios where a real-time video chat can help the customers resolve the issue.
What is a video call center?
A video-enabled contact center can replicate the in-person interaction with live video communication, building meaningful connections with the customer.
Today, most social media messaging platforms (such as Facebook, WhatsApp, WeChat, and Instagram) offer a video chat choice to connect with your contacts through a live video chat.
Similarly, a video chat-enabled contact center allows your customers to interact with the customer support agents in real-time directly. 
Benefits of Video Call Centers: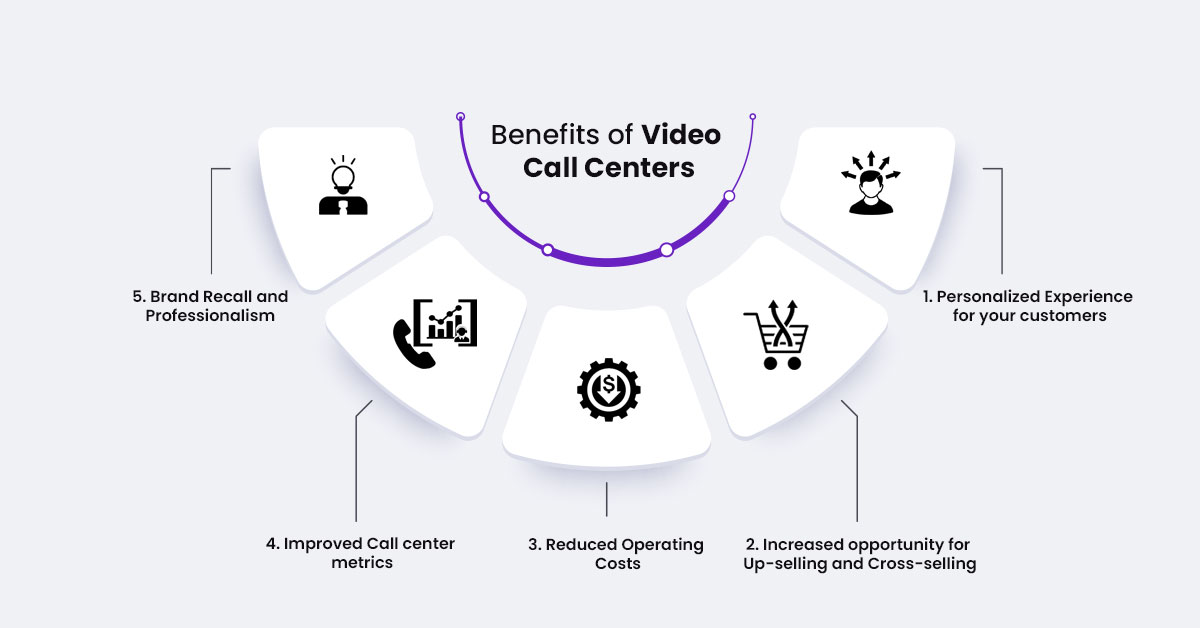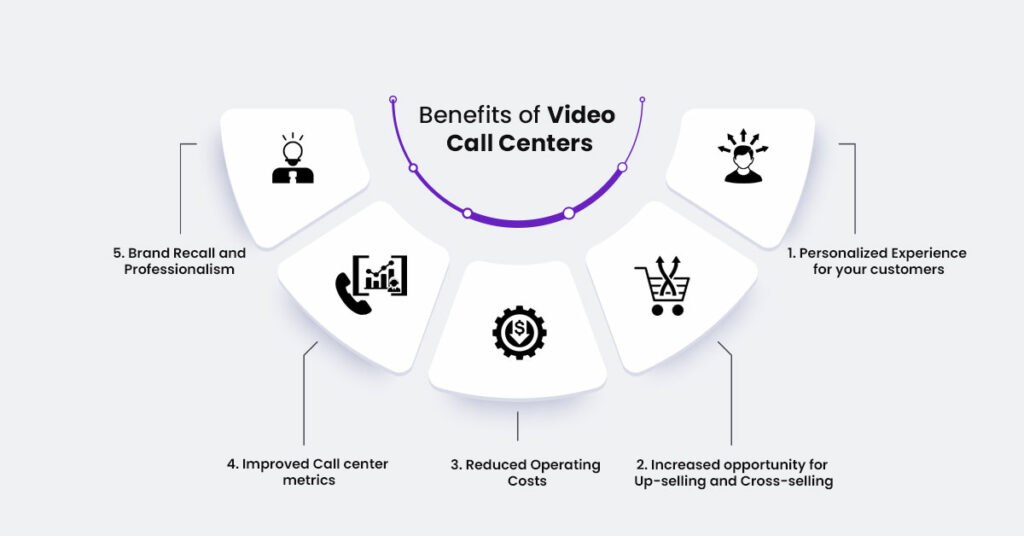 Video call is no more a party trick to impress customers. On the contrary, it benefits all stakeholders: contact centres, customers, and brands. We have listed a few benefits of video chat enabled contact centres:
Personalized Experience for your customers:
Video chat is a one-on-one communication channel that is in real-time. The next best thing would be to have the agent meet the customer in person.
However, since logistical, economic, and practical factors cannot allow an agent to meet with the customer in person, video chat is the closest to a personalized experience.
According to a study by McKinsey, hyper-personalization affects customers' shopping behaviour profoundly. It is not mandatory to have all your agents work on video-enabled communication channels.
Based on the agents' ability to handle a disgruntled customer, the call or request can be transferred to a video chat for a personalized approach to solving customer issues.
Increased opportunity for Up-selling and Cross-selling:
A simple telephonic conversation often revolves around the customers' complaints or issues. Therefore, there is not much scope for an upsell.
However, customers' attention is more focused during a video chat. Since the sense of sight is also involved, agents can use this opportunity to upsell.
They can also keep the products handy and perform a quick demonstration if necessary. The effect of visual appeal increases the conversation rates and gives a chance to increase revenue for the brands.
Another feature called Video-on-hold can show a promotional video to the customer while waiting for the agent to come back online.
Reduced Operating Costs:
Video calls and conferences have already discounted travel costs of a company by almost 30%
In many industries, the customer service agent often assigns a field agent who will travel to the customer's place (home, shop, factory, clinic, showroom).
Video call centers will change the entire process:
The customer dials the number to connect with the agent.
The agent attends the call and finds the field agent who can help resolve the issue.
Instead of travelling, the field agent directly looks at the customer's situation through video chat and performs basic troubleshooting.
This scenario can rectify issues that do not require the physical presence of a field agent. An example would be in the home electronics durable industry.
For example, the customer calls the agent because the electronic item has gone into child lock. The child lock can be disabled, but it's not made very user-friendly by design.
A video chat can serve 2 objectives in this case. First, the agent can confirm the age of the user. Second, the agent can help the user in opening the child lock.
Improved Call center metrics:
Better FCR (first call resolution) and AHT (average handling times) metrics are observed when video call centers work in tandem with traditional call-based operations.
Sometimes people cannot articulate their point of view and ultimately lose the chain of thought. Since it becomes tremendously easier to explain a situation or problem in a video chat, the metrics such as FCR and AHT are reduced by a huge amount.
The customer can show the issue they are facing, and even if there is a language barrier, the agent would be able to figure out the challenge faced by the customer in most cases.
Brand Recall and Professionalism
Every customer wants to know more about the brands they are interacting with. The millennials even want to know how sustainable these brands are and go to lengths to ensure that they buy products that are not harming the environment.
A video chat gives a glimpse of the brand to the end consumer. In the backdrop of a well-lit and clean room, a well-dressed professional can represent a good image of your brand in front of the customer.
Meticulous use of logos and product placements during a video call increases the brand recall in the minds of your customers.
The call center managers can quantify it as you would know the number of impressions your brand will have during the entire customer lifecycle.
While a video call center has considerable benefits, it also needs strategic thinking to ensure it doesn't harm the brand. So before embedding a video chat in your contact centers, you should take a few precautions:
Video chat will expose your call center facility in front of the customers. If your facility cannot elicit a professional image, it would be wise to hold your plans of including video chat until the facility goes for a makeover.
The traditional agents used to communicate with customers through calls or digital channels such as social media, emails, and messages. They would need added training to be in front of the customers. This will require an added budget for training.
Due to the undivided attention that your agents have during a video chat. It is not suitable for heavy call volume industries but a few industries, such as healthcare, benefit from the undivided attention.
Conclusion:
According to McKinsey & Co., telehealth (video-enabled) utilization has increased 38 times since the pandemic. Video call centers will reap the benefits of the modern-day tech stack with AI, bots, and 5G rollouts and will become ubiquitous soon. 
As a result, organisations must look at ways to incorporate video call centers at the earliest. Brands must carefully study their customer needs and see if there is a fit for video call centers. 
One way to mitigate the risks is to start small. Dedicate a small number of agents for video chats and set up an automatic routing mechanism to direct customer calls that will receive help from a video interaction.
The video chat has more pros than cons and can bring drastic changes in metrics such as FCR, AHT, NPS scores, Customer satisfaction CSAT and agent productivity.